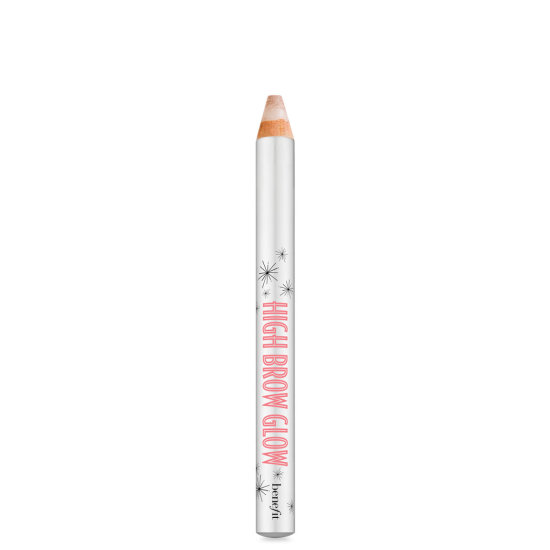 Rollover image to zoom
Reviews

Christine L.
Dec 27, 2012
Multitasker
I end up using this stick of glowing goodness to highlight my brows, my inner eye corners, sometimes my cheeks and even my nose. The highlight is bright and stays put. Usually I do quick lines on the outer edges of my eyelids (under my eyebrows), and two little dots on my inner eye corners. My eyeshadow highlighting is done!
The color is a touch pink. The champagne pink description is apt. The normal High Brow comes off as too yellow on my skin and looks unnatural.
The problem? The line takes a while to buff out with a brush or your fingers. But if you don't use a lot then you won't spend all that time buffing. Remember, it's a brow highlighter first. That doesn't mean it isn't flexible.

Fun, but not needed
Benefit's High Brow Glow is a new, shimmery twist on their classic High Brow highlighting pencil. Benefit calls this product an "instant brow lift! Champagne pink pencil for eye opening WOW! A single stroke under your arches instantly lifts and illuminates." High Brow Glow contains 2.8g (.1 oz) and sells for $20. This highlighter was bought for me by a friend. Benefit does not test on animals. This highlighter was made in Germany. Benefit products can be bought from the brand's website, at Benefit boutiques and counters, Sephora, and Ulta. High Brow Glow come in a long, champagne colored cardboard box. An image of the product graces the front of the box along with the product name. A description can be found on both sides of the box. Directions and a full ingredient list are printed on the back. High Brow Glow is a pencil form highlighter. The pencil is made of wood with a champagne coating and topped with a loose fitting black cap. The product name is written on the pencil in black lettering. Sharpening High Brow Glow is a pain in the ass for two reasons. First off, its made of splintery wood. Secondly, its a very awkwardly sized pencil. Thicker than an eyeliner, yet thinner than a jumbo pencil, it doesn't quite fit into either barrel of my NYX Pencil Sharpener. I'll probably just drop the $5 on Benefit's special pencil sharpener, but I'd rather not have to. I bought High Brow Glow with high expectations. Highlighters are Benefit's forte, at least in my eyes. The brand describes this pencil as a champagne pink, and that's pretty bang on, though I feel like it can have a bit of a gold reflect in some lights as well. This highlighter has a frosty finish when applied in a high concentration, but it blends out to a soft shimmer. High Brow Glow is like a warmer, shimmery, amplified version of it's sister High Brow, which is a matte light pink. High Brow Glow has a soft yet slightly waxy texture. This highlighting pencil glides on with little resistance and is very easy to blend. Once on the skin, it feels like a powder product. High Brow Glow's effect is quite subtle, it doesn't add much to a look, overall. It does, however, give the brows a lifted look, as promised. Honestly, I don't feel like the effect of High Brow Glow is much different than putting any shimmery eyeshadow on the brow bone. This highlighter only lasts about 4 hours. Of course, High Brow Glow can be used for more than just an under brow highlight, it can be used on the face. I use this pencil to highlight my cupids bow and inner corners. This pencil can also act as a shimmery eyeliner or cream eyeshadow (but make sure to set it, it works well with Urban Decay's Bootycall). I don't suggest using High Brow Glow on the waterline, I found it irritating and not very long lasting. I'm neutral about Benefit's High Brow Glow. The product has it's pros and cons, but overall High Brow Glow seems unnecessary and a little bit gimmicky. Do yo really need a separate highlighter just for under the brow? No, I never though that'd be the case. High Brow Glow was fun for me to try, and I'll continue to use it, but it hasn't become a staple in my routine. I wouldn't recommend this product. Should you try High Brow Glow? That depends on a few factors. Do you already have a highlighter you love? Does the shimmery champagne color speak to you? Do you really want to buy a special pencil sharpener? Think long and hard about these questions before forking over $20 for Benefit's High Brow Glow.
---