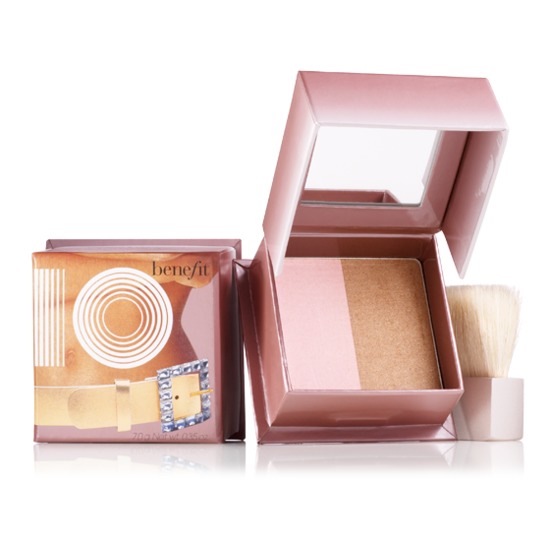 Rollover image to zoom
Reviews

Simple, natural, gorgeous
Honestly, I am not a highlighter/bronzer gal AT ALL. I probably scooped this up due to it's super cute packaging. I love BeneFit's little boxes of powders/highlighters!
OK, so even though I am quite the makeup junkie I really don't like to spend a lot of time putting on my everyday makeup. This is one go-to that has made it to the top of the list for me. It couldn't be easier: just swipe that little brush (which I had my doubts about) over the product once and position it so the lighter color is above the cheekbone and the bronzer is under the cheek bone and swweeeeeep it up and back. DONE. I'm not kidding, that's it. You look sculpted and glowing and not made up with separate streaky sections on your face. Amazing. I look more awake and refreshed than without it but I don't look like I'm totally overdone for just simple daytime makeup. It's really great when you want that no-makeup look but you still need contour and a bit of color. Gorgeous gorgeous gorgeous.

A great product
I have such pale skin I was worried about contouring and bronzing because any kind a orange looks terrible on my skin however this is my perfect product because it is a great brown and a very pretty highlight shade it complements my skin perfectly; I use the brush it comes with to initially apply it in a "straight" line across my cheekbone and then I blend it out with a dense brush in "swirls" so it isnt so harsh.
Thumbs up from me :D

I love this product. This product gives a highlight and a bronze look onto the cheeks. I think that this is a great way to understand how to give yourself a contoured cheek bone. I recommend this to anyone who wants to give themselves a bit of a shine to their cheeks, a bronzey-ness to their cheeks, and contour their cheekbones.

Adorable packaging, but not my favorite duo.
I think if you are the type of person who loves shimmer, this is perfect for you. The colors are beautiful, but I cannot take the shimmer in this product. The bronzer is very bendable and I'm pale so -- if it worked for me I'm positive it won't be a problem for anyone else. The highlight is very subtle (minus the shimmer). I think the shimmer in this product ruined it. It is sure to make your face look like an oily mess. :(
---