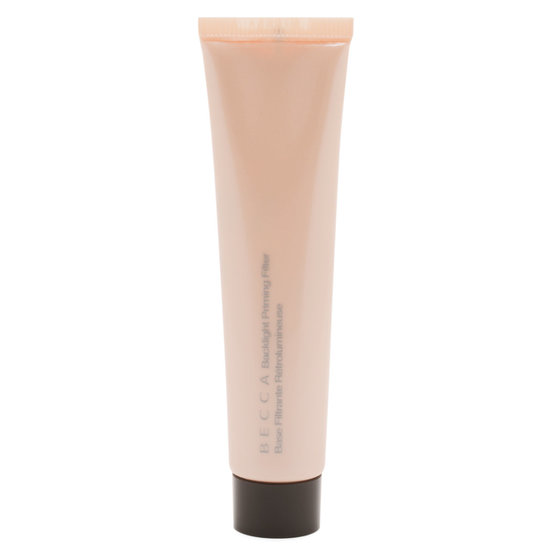 Rollover image to zoom
Reviews

Beautiful and glowing!
I am not a primer person... In general, I just work on keeping my skin in good condition and skip the primer step altogether. I received this product in my Lucky Bag a few days ago and have used it every day since, and I'm extremely impressed. I would never have picked it out for myself, but I think it has really made a difference.
I have super sensitive skin, and most primers/foundations break me out - this one has given me zero reactions. That's huge for me.
It isn't a "pore perfecting" silicone-heavy primer, but it does blur and soften the texture of the skin. It provides a very natural - but noticeable - glow, as well. I have been massaging this in before using a bit of Laura Mercier's secret camouflage and it provides a really excellent base for that product to stick to. I like to dust translucent powder over top of everything to make sure the concealer-covered parts of the skin blend with the bare skin, and this primer somehow still provides a "lit from within" look under powder.
I recommend this for people who want a little extra glow, something that subtly improves the look of textured skin, and for those who have sensitive skin.
PS - I own the Burberry Fresh Glow in Nude Radiance that I've heard people liken this product to. I find them very different. The Becca Backlit is a primer that gives glow but sets a good canvas for makeup to be applied on top of. The Burberry Fresh Glow is something I really only use for liquid highlighting on tops of cheekbones / high points of face.

Nice radiant glow!
This works best for me when I mix it with a foundation. As a primer I don't think it extends the wear time of my foundation in fact it breaks down much faster. When I mix it with a foundation the finish is a beautiful glow that isn't oily or greasy looking. I do feel like you can see a difference on your skin when you apply it. It does transform dull skin into skin that looks fresh and radiant. I've been using this daily mixed in with my Becca ever Matte foundation and the combo is gorgeous! However, I use a different primer underneath.

Ethereal glow
This primer is amazing for my combination skin it provides a soft focus subtle glow that makes me look healthy like a faux pregnancy glow. I find that it provides a great smooth radiant base for my foundation.
The smell is so addictive it's like summer in a bottle.

The new Youth Serum!
This product gives my skin a radiant glow. Use under foundation or alone on no-makeup days.

Thank you mother may I have another?
Lightweight and softly luminous sums this up. I am always on the lookout for a primer that layers effortlessly on top of three other products and it's not always easy to achieve. The BECCA Backlight Priming Filter held its own beautifully. The glow is on the candlelight side (neutral) and it is not over the top. There have been days where I stopped here and decided to forgo foundation due to loving the finish so much. I haven't had any issues with the product not following through on foundation longevity. Mine has lasted until I took it off in the evening. I started out with a sample and purchased the full size.
---