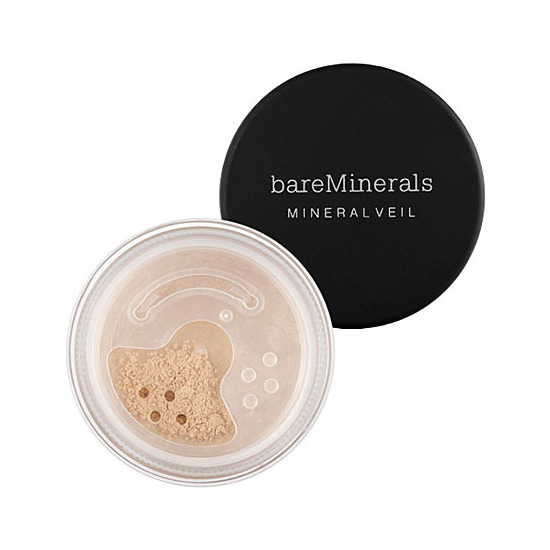 Rollover image to zoom
Reviews

Bare Minerals Mineral Veil is a corn starch and mineral based setting powder. The brand says that this powder will "make the most of your makeup" and calls it a "see through but spectacular finale for any kind of complexion. Minimizing lines, absorbing oils, and softening your complexion. It gives you a flawless finish that's too good to miss. And best of all, it's utterly weightless. Just a bare veil of minerals that locks makeup in place and give your skin an airbrushed perfection." Bare Minerals offers a few different formulations of their Mineral Veil, I just have the regular one, no SPF or anything. I have a 2g (.6oz) jar of this setting powder, it was passed on to me by my sister in law, who didn't like it. A full size jar retails on it's own for $20, but this product is also available in several value kits. Bare Escentuals and it's subsidiary brands Bare Minerals and Buxom are cruelty free. I'm not sure where this product was made. Bare Minerals products can be bought through the brand's website and free standing stores, as well as at Ulta and Sephora. Packaging isn't anything to get excited about. A clear plastic jar with a screw on black cap. The name of the product can be found on the lid. An ingredient list can be found on the bottom of the jar. This jar includes a sifter, which is convenient at first when you have a load of product, but gets in the way of dispensing product when you barely have anything left, like I currently do. Luckily the sifter pops out without much of a fight. Plain but very functional packaging, I can't complain. Bare Minerals Mineral Veil is a very finely milled, soft powder. Bare Minerals has a very specific application method that they recommend for this powder. I'm pretty sure "Swirl, Tap, Buff" is the brand mantra, and it works well for this product. Mineral Veil is very different from the only other loose powder I've used; Palladio's Rice Powder. I feel like I only need to use a very small amount of product per application. And the results? Amazing. Bare Minerals Mineral Veil sets any liquid foundation or concealer and really provides a flawless look as promised. It gives a more refined, almost airbrushed, but very natural look to the skin, all while being practically invisible. I've used this powder with every foundation I own, and in a variety of weather conditions, and never once has my skin looked powdery or cakey. Mineral Veil blends and buffs in beautifully. This look powder even provides a touch of coverage all on it's own. Not lots, just a slight reduction in redness, and some oil absorbtion. Mineral Veil lasts all day when applied over foundation, but it will need reapplied if you wear it alone over bare skin. Obviously, like any loose powder, this isn't the best product for on the go touch ups, so it isn't travel friendly. Bare Minerals calls the color of their regular Mineral Veil "translucent", but honestly it seems to be just about the same color of my skin; more of an ivory than translucent. I hate when brands call very light ivory colors translucent; they usually match my skin tone (which I do not consider translucent). I don't think this powder would work out too well for those with darker skin. I think Bare Minerals may offer a darker shade as well, I certainly hope they do. I really enjoy Bare Minerals Mineral Veil. I'm not a fan of their bronzer or mineral foundation, but their Mineral Veil setting powder totally makes up for their fail. The packaging is boring, but does loose powder really need a cute container? The texture of this powder is great and that totally translates into application, which is smooth and easy to blend. This powder is very natural looking on the skin and so lightweight. While I really enjoy this loose powder, I doubt I'd repurchase it. The price isn't too bad, but $20 seems a little bit much to spend on a powder that's comprised of corn starch and stuff. If you're on the hunt for a very good loose powder and don't mind spending a bit more for a great quality product, please consider Bare Minerals Mineral Veil. Thanks for this awesome powder, sister in law.

It's okay
It's an okay product after experiencing going outside with all of that shimmer on my face, I learned to simply use this as a base under my foundation. It really gives my foundation staying power because I have really oily skin. Without this the oils from my face would eat away my foundation. I say use this under your foundation if you don't want to go outside with illuminizing powder all over your face. This has glitter pigments in it so that's why I'm saying this. Overall it makes a great base; I only use this because it came in a kit that I got as a gift but I will not be purchasing this in the future.

Good stuff.
This is the very first finishing powder I've ever tried. I got it in a kit with the rest of my Bare Minerals stuff. It really opened the doors for me. This stuff is really super silky and smells great. I love how it feels on my face! Very soft. I wouldn't say this is my absolute favorite product, but I wouldn't be sad if this was the only one I got to use for the rest of my life.

Great set and finisher
I have use Bare Escentuals for years and I haven't found a translucent powder that can take me away from mineral veil. I alway come back. It is light and perfect for pretty much all skin tones. It gives the skin an almost air brush look, when used as a finisher. It takes very little product and one container last a long time. I suggest this product for anyone looking for a new face powder.

Impressed
I originally bought this in a small pot to try out as I was a little apprehensive at first. Im not a huge fan of powders, I know theyre useful for setting makeup once its placed, but in the past I have found that they alter the composition of my overall look from dewy to chalky, sets off my eczma as it dries my skin out, sits heavily on my skin, or does nothing at all! I have to admit, I have since gone out and bought the large size pot of this now, and love it! I find this powder sets my makeup without actually 'being there', theres no colour and no change in composition in the foundation. I also find it allows my skin to breathe, and more importantly, doesnt upset my eczma at all. The fact it gives my skin a subtly healthy looking glow is a bonus <3

Not bad
I got Mineral Veil in the starter kit that I had purchased. I would apply a little bit of this all over my face to set the Bare Mineral foundation and also prevent shine that I would get through out the day. Normally for my everyday makeup I don't use foundation all over my face, I find that's too much make up for me. I usually only use concealer and foundation around the blemish areas or certains areas where I needed to even out my skin tone. I use this to set my under eye concealer and on my t-zone (those are the areas that I'm most concerned about). The kit sized jar also doesn't come with a stopper so when storing this or travelling you have to make sure this is always upright or you will get spillage of product all over the lid and down the sides. The formula is really light, and translucent in colour. The jar that the kit came with is smaller than the standard size, but since you do only need a little bit of it it does last you a long time. I find that if you use too much of this, your face gets too matte. This isn't the best product for setting your face. I find that throughout the day or if it's a really hot day out, I still find that my makeup slides around after I set it. Also when it comes to covering shine, this product doesn't work well enough. I still find the need to use blotting sheets when I wear this, and when you take flash photos you still have lots of shine on your face in the photos. Unless you have really dry skin, this product may work better for you, but there is also the worry that this product could matte you too much so your face ends up looking dry. The full size of this is about $30, I think that there are setting powders out there that can do a better job at the equal price.

Wonderful Setting Powder
This works great as a setting powder. Its the only thing I ever use to set my makeup. It goes on light as a feather and makes my skin glow! I won't even bother trying another setting powder because this one works perfect! The large size container is pricey but lasts a loooong time. You really get your money's worth. Try it, you'll like it!!!
---