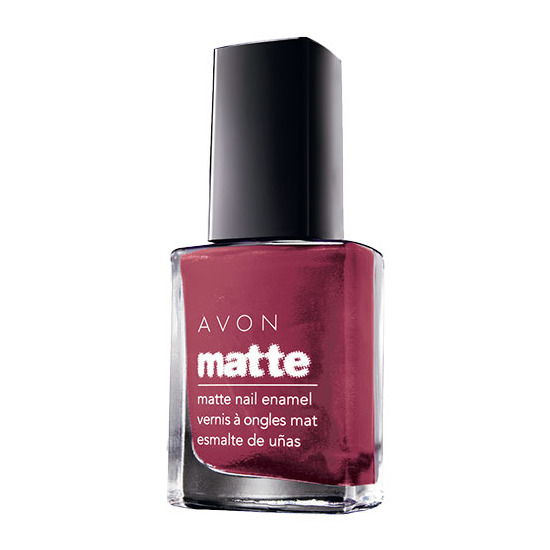 Rollover image to zoom
Reviews

Wanted my money back
I did not like this polish at all. I bought the "red" one. It is not red at all. It is actually a purple color, but the catalog says it is red. I got over the fact that it was not the red that I wanted, and gave it a shot any way because I paid quite a bit for it. Well, I was extremely disappointed. The only upsides that I can think of are that it is a matte polish and that it is opaque. However, it is impossible to do two coats to make sure that you got the entire nail. If you do try to do two coats, the dry polish will pull up and will make these ridges and bumps. It looks absolutely terrible. I wish I could have returned this.

how do they stay in the polish buisness
avon nail enamels have to be the most horrible enamels on the market and this one is no different,staying power of few hours at best.their polishes have been this way for years,top coat or not.i dont know how they keep selling enamels.i keep trying now and then holding out hope

Stephanie G.
Nov 13, 2012
Looks great, lasts okay.
I love this maroon-ish shade i got from their matte collection but even with a sephora matte top coat it doesn't last well. maybe 3 days top w/ no houshold cleaning. For the record I am ver hard on my nails as well. A great mani for me lasts 6 days.

Yes and No
I got the black and a purple color from the matte collection. I absolutely love how they look, but they chip hours later. I shouldn't need to touch up my nails like I need to touch up lipstick... But if I put a top coat over them, the matte effect would be gone. If only this polish didn't chip...it would be perfect.

I've been using Avon products since I was a little girl. A family friend was an "Avon lady". I really love Avon products because they are practical, easy to use, and of course BEAUTIFUL!
Buy nail polish and much more at my webstore:
Free Shipping with code: FIRSTREP
http://www.yourAVON.com/EmilyMeza

Jezabelle R.
Dec 25, 2011
I love these polishes, and purchased all four colors available (I believe I even purchased duplicates of some). The colors themselves are beautiful, and I find that that they resist chipping quite well. The "big test" was when I was wearing it and did some gardening without any gloves on - they held up pretty well, and I had already been wearing it for a few days with no chips.

I loved the look of this after seeing it on Youtube, but wanted to try a different colour. I opted for the red, seeing as I wanted something a little different. I loved the colour, but it seems to be a more warm, Christmassy colour due to the gold, bronze and violet tones. So I found it disappointing that I don't feel like I can wear it yet. Also, I find that it chips like nothing else! I would recommend it, but only for the Autumn/Winter season and if you don't mind re-applying.

Sweet!
I really really like this product. I'm not normally a huge nail polish person but I've been looking for a really nice matte nail polish, and boy, this was it! I got it in the violetta color and the grey and I really like it alot! I especially like that you don't have to recoat the polish to get a good even color going. It's set the first time! Great polish!

Louise-Lesley J.
Jan 12, 2011
Saw this on youtube before it was released on a few different people - most people where wearing the shade Violletta and I thought it was absolutely divine - it looked just as good in real life so I definitely had to buy all of the colours (*hits self* BAD LOUISE.)
I absolutely love matte looks in all forms of make-up and I never really found a decent matte nail varnish before but this is absolutely gorgeous!
Edit: After wearing all the colours I have a serious downfall - it chips like HELL! I mean, I literally put it on (without a top or base coat so I get the full colour affect) and it chips within an hour.
I definitely need to look into getting a matte base and top coat - but even using a normal base coat the colours aren't affected (apart from the black which appears shiny!)
The red is horrible though. I ended up giving that away. It looked really nice on the website but it ended up having an orangey tone to it that didn't suit my skin tone.
---