Clear Complexion Foaming Cleanser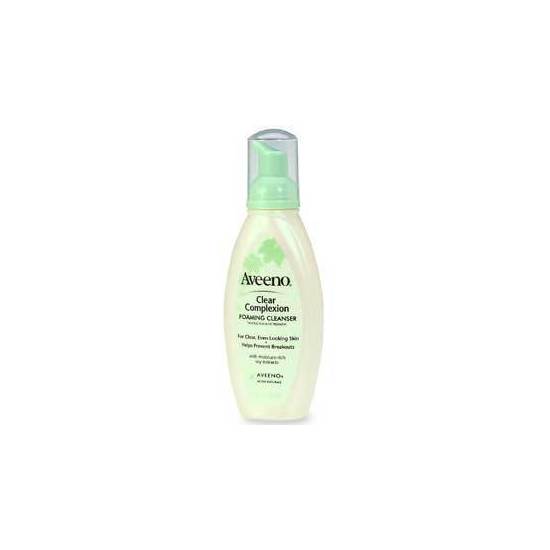 Rollover image to zoom
Reviews
AMAZINGGGG<3 I use it every day :)
Acne doesn't really run in my family, but a few months ago around "that time" i broke out horribly; unline any other breakout ive ever experianced. It seemed like every day i'd wake up to a new pimple on my face, and it started to really change the way i saw myself. I hated going out in public knowing that everyone could see my acne, because makeup never did its job when it came to covering it up and hiding it.. So, i decided to go to a dermatologist; which made my entire situation worse.. the medicines she prescribed to me were way to strong on my skin, and caused me to get even MORE red bumps while it also dried out my skin and made it really itchy and painful. I started to loose hope about my chances of ever having clear skin, and i was so close to just giving up & just accepting that there was nothing i could do for myself to change that i had acne, but then i found the Aveeno Clear Complexion foaming cleanser. It said it was for sensitive skin, and i knew from my past experiances that my skin was definatly too sensitive for most topical acne treatments, so i decided to try this out-- thinking that even if it hadnt worked, at least my acne couldnt get any worse than it had been so i may as well try. Litterally i used this ONCE before bed and in the morning i already saw improvements in my skin. Its been only three days so far using this, and my acne is 85% cleared up already. Im amazed that i actually found something that worked for me :) and i definatly reccomend this. Most other washes will dry out your skin and cause you more problems and turn out to be a waste of money, but coming from a girl who's litterally tried everything, this is the best decision ive ever made as far as caring for my skin goes. :) it was affordable, Its safe enough to use everyday, and i absolutely love it:)

Not what I was expecting...
Everyone loves this cleanser so I decided to try it out when I was at Target. It seriously does nothing for my acne, and it does not give me a "clear complexion". It doesn't even wash my face that good either! I'm so disappointed in this product. But, I do like that this cleanser has good ingredients in it.

If I could give this less than one star I would.
This product is not meant for people with oily, acne prone skin. I tried this and nothing came of it. The only good thing about it is that it is really gentle - but for me it's too gentle. I haven't bought this since and don't plan on buying it again in the future.

my everyday face wash
I have very sensitive skin,and most cleanser's dry out my skin and leave it red, i was hesitant to use this at first, but my mother sugested I give it a try as she uses it herself, and I have to say its quite a good cleanser,it didn't dry out my skin,I had no adverse reactions. I wear a lot of stage makeup for work every night and after using makeup remover this product really does leave my skin feeling clean and soft, i recomend it to any one who has sensitive skin.

Amazing!
I love this product! It is by far the best facial cleanser I have ever used. I don't really get a lot of pimples, but recently I broke out like crazy and that's when I went out and bought this! My face is so much clearer now! It is so gentle it doesn't bother any problem areas I may have. I would recommend this to everyone looking for a new gentle foaming cleanser! and the price is very reasonable which is awesome for people who live on a budget!

GREAT!
I really love Aveeno skin care products. This is by far the best cleaner I have ever used. It was the first foaming one I purchased and I love it. Within a week I saw a difference within my skin. It definently evened out my skin tone abit and helped my skin appear brighter! Might change my whole skin care to Aveeno now!

Great product, great price, great skin
Natrual, simple and caring product! I have sensative and acne prone skin and this product really respects my skin. Its feels good, and leaves my skin fresh and healthy. Really this may sound a little crazy but I have tried several different foaming cleansers and sometimes when you splash the product off your face some of it get a little in your mouth and some of them tasted brutal now that can't be good for your skin! This product is safe! lol!

MelissaLee V.
Dec 28, 2011
really pleasant
I like aveeno products overall and when i bought this i used it right away. I noticed a more evened out skin tone but with my type it gets really dry so i followed up after cleansing the aveeno clear complexion moisturizer. I usually had used it with a tint of bronzer just for a subtle glow. But after a week i noticed i was breaking out on the area closer to my jaw and chin and i dont know why. So i cut the bronzer out this beauty regimen and tried to see if it was the cause. And unfortunately it wasnt so i cut the moisturizer and i couldnt bear with the dryness this gave me. So i opt for the cream cleanser instead and it is gentle on my face but still drying. So i cut back on any of the cleansers of this aveeno product line to maybe once or twice a week. I would recommend to any combination skin as it might balance it more than the dry skin type. Very good smell though.

Pretty cool
This is a good facial cleanser but my son enjoys using more so than I plus it cleared his acne quite a bit and it smells awesome. I prefer something that will moisten my skin, and this does not do that although it does cleanse very well:)
---