Beauty Product Reviews

I really like this product, it glides on smoothly, it gives off a great pigmentation. It's not cheap looking. It lasts long so you don't have to reapply unless you just want to. I like that they give you a brush with it. So that's good for beginners who may not have makeup brushes. The only problem I have with this is it don't take long for it to dry up on you in the package. I'm good for closing my products because I used it in the past on clients.. I don't know if I just always get the wrong one or it's just old . But it's not a bad product.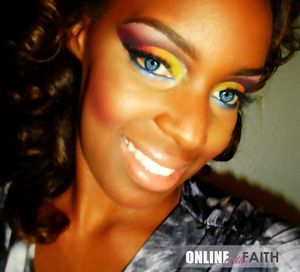 I have nothing negative to say about this! I'm glad Urban Decay heard our cries and put the primer in a different packaging. This is definitely a great product to keep in your kit but I must say I've seen primers that better and more affordable. But this is good. If you want you shadows to last longer than this is it. If you want to prevent your cream or any shadow from creasing than this is it. I used this primer on this look. As I said I have nothing negative to say about it. I use it the most on photoshoots near hot lighting.

This is my go to foundation even on clients. This was the first foundation I used to build my kit. It's light but buildable. You get great coverage from this foundation and I would personally put this up against MAC because the quality is just that goof. My shade is cappuccino. The good thing about it is it's long lasting. The stay power with this foundation is remarkable you don't have to reapply. The consistency is great and and it starts off as dewy but then it mattes out. So for those looking for a matte finish this is it. Now they do have some that offer the softflex in it that has shimmer properties but it's a great buy.