Galaxy Stars -Pictorial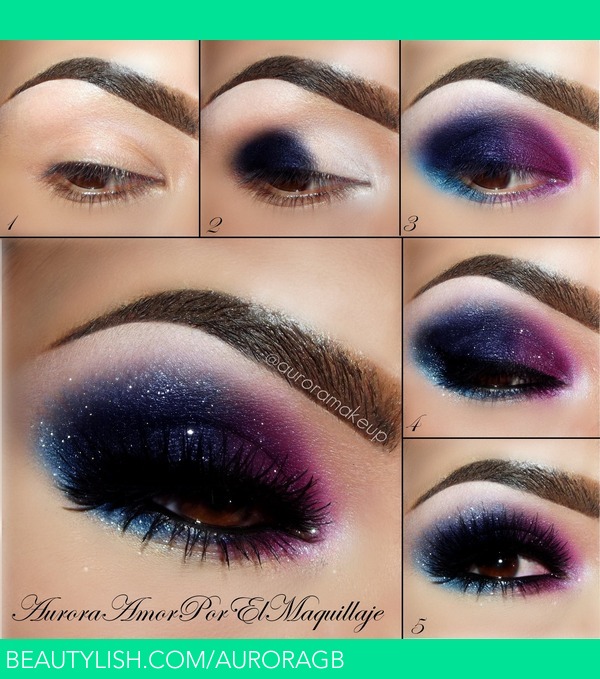 INSTAGRAM @AURORAMAKEUP (ENGLISH -ESPAÑOL)
1. Apply an Eye Shadow Base by #motivescosmetics on top and lower eyelids
2.Place a white base on the inner corner until center of the eyelid , brow bone and below lower lashes as Jumbo Pencil in MILK by #NYXcosmetics . Next place gel eyeliner on the outer side of the mobile eyelid . I used Ultra Smooth Gel Eyeliner in NAVY by # FemmeCouture
3. Apply a dark blue shadow on the gel liner as the darkest blue on ELF palette 144 (colorful one) by #ELFcosmetics . In the inner part of the mobile eyelid & below inner corner …apply bright pink shadow as PINK DIAMONDS ES-65 by #adaraparis and blend the edges between colors. For below lower lashes in the outer part I applied pigments SE16 and SE17 by #adaraparis
4. Spread a bright pigment in white like SE08 by #adaraparis. Line top lashes and waterline with Gel eyeliner in LITTLE BLACK DRESS by #motivescosmetics blending it out the edges to integrate the black with the colors.
5.Add an amazing lashes as PIXIE LUXE by @houseoflashes and apply black mascara by #ZANZUSI

1. Aplicar una prebase de sombras de #motivescosmetics an ambos parpados del ojo
2.Coloca una base blanca desde el lagrimal hasta el centro del parpado movil , también en el hueso de la ceja y por debajo de las pestañas inferiores como es el Jumbo Pencil en color MILK de #NYXcosmetics . Despues coloca gel delineador en la parte final del parpado movil. Yo use el Ultra Smooth Gel Eyeliner en color NAVY de # FemmeCouture
3. Aplica una sombra azul encima del gel delineador como lo es la sombra mas oscura de la paleta ELF 144 (colorida) de #ELFcosmetics . En la parte interna del parpado y debajo del lagrimal usa un rosa vibrante como lo es PINK DIAMONDS ES-65 de #adaraparis. Debajo de las pestañas inferiors en la parte externa aplica una mezcla de pigmentos SE16 y SE17 de #adaraparis
4. Esparce sobre todos los parpados un pigmento blanco brillante como SE08 de #adaraparis. Delinea las pestañas superiors y la linea del agua con un Gel delineador en color (negro) LITTLE BLACK DRESS de #motivescosmetics difumina los bordes.
5.Agrega unas hermosas y pronunciadas pestañas como las PIXIE LUXE de @houseoflashes y finaliza aplicando mascara negra de pestañas de #ZANZUSI

That's it gorgeous , have a great day!!! LOVE U!!!!

Comments
Photo By