From no brows to eyebrows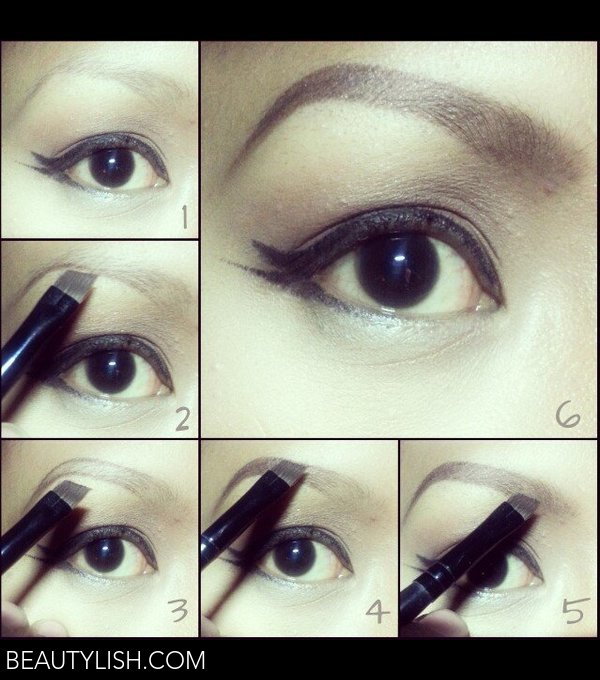 From No Brows to Eyebrows.

1. Start with clean eyebrows, free from excessive stray hair. If this is your first time and have never shaped your own eyebrows, I suggest to have it done first by a professional!

2. Following the eyebrows natural shape, line the bottom.

3. Now outline the top of you brow. If your having difficulty doing it in one stroke. Tiny strokes would be easier while you are still getting the hang of it.

4. Fill in the outer "tail" of your eyebrow starting from the middle working your way out. Leave the inner part for later.

5. Once the outer part of your brows are properly filled, feather the rest of your eyebrows with short backward strokes to achieve a light gradient toward the start of the brow.

6. Set your beautifully done eyebrow with eyebrow powder. Make sure not to make inner area to heavy or dark as this will give you very harsh unnatural eyebrows.

TIPS:
*For very lucky ladies who have lots of hair but tiny bald spots on certain areas, no need to fill entirely, instead, just spot fill areas lacking hair.

*For those that have very full eyebrows that go in every direction, sometimes all you need is clear mascara to set those babies down.

Here I used a Fanny Serrano angled travel brush with my ELF eyebrow kit in the darkest shade.

Hope this was of help! :)

Good luck!

Comments