Ryker King Of Spiders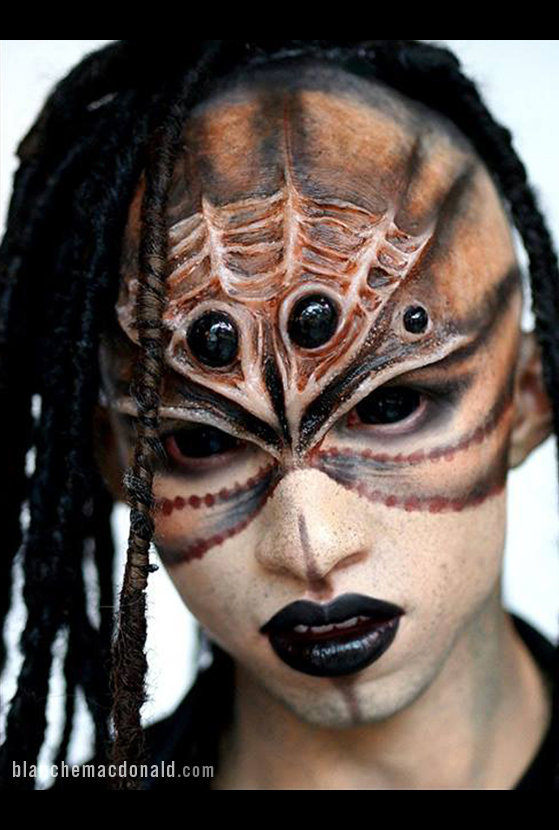 Global Makeup student Mimi Choi's parting gift to the Blanche Macdonald family? A seriously killer case of the creepy crawlies. It's been an incredible year packed with hard-hitting creatives for Mimi, who brought her outstanding artistry to this year's IMATS Vancouver Battle of the Brushes competition just last month. We can't believe it's graduation time already, but can't think of any better send off than this fantastic creature!

"I was largely inspired by the work of Virginie Ropars who is an incredible doll artist. When I saw her little spider doll, I immediately knew I wanted to create a real life version of it. I sculpted the forehead piece in my Prosthetic class and made a gelatin prosthetic. I then painted the piece at home with my Kryolan and Skin Illustrator alcohol palettes. To make the eyes look shiny and more realistic, I used black and clear nail polish. For hair, I got help from my awesome schoolmates Pauline, Vanessa and their friend Lain to get dreadlocks because they resemble spider legs. I hot glued the dreadlocks to a piece of lace then glued it onto a bald cap the night before my exam and I am really glad that it turned out the way I wanted it to! As my big pieces had already been prepared at home, all I had to do during my exam was apply the bald cap and prosthetic piece and then paint my model with rubber mask grease paints to make him look like a dark, evil spider."
Comments
Photo By