Fall is Here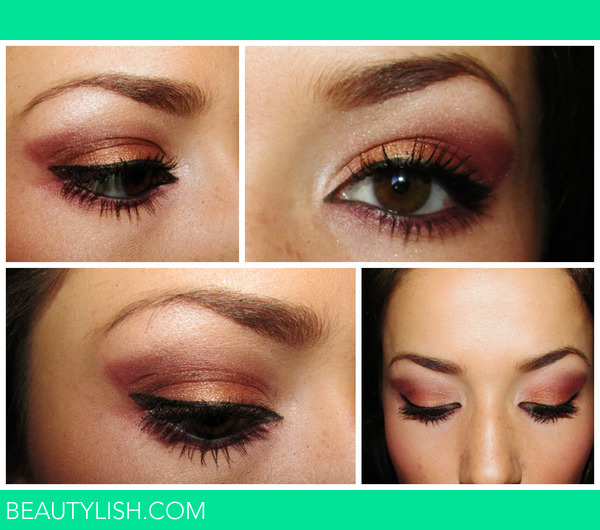 Tried out some new colors. :) Hope you like it! For all of this, I used Mary Kay brushes.

On my face I have Bare Minerals powder foundation, Bare Minerals eye Brightener, Estee Lauder bronzer and Clinique blush.

1) Brows! I used Browfix by Milani in the darker shade.
HINT: After your brows, put tape on the outer corner of your eyes. It should alone with the end of your eyebrow. This will define the shape, and allow for no messy lines! :) However, if you are going to use the tape, I recommend to do your face makeup afterwards.
2) I highlighted my brow bone and inner corner of the eye with Enlighten by Lorac.
3) I used a base shadow that I put all over my eyelid and blended that into the highlight. It is Positive (Matte) By Lancome.
4) I used a light brown (almost a cappuccino color, there was no specific name) From a 32 color palette from Elf and filled that in right above the crease.
5) From the same palette, I used a dark plum color, and made a triangle from the bottom of my eyelid to the top of the cappuccino color. Try to keep this only on the outside. It creates a much more blended look.
6) I then took Amber Glaze by Mary Kay and put that on the part of your eyelid that's just under the crease.
7) Using the Lorac highlighter mentioned before, i blended a little of that onto my eyelid. I stopped right as my eyelashes begin to thicken.
8) Taking that plum color, I used an angled brush and applied is to the bottom of my eye, right below the lash line.
9) Taking Maybellines Stilleto Liquid Eyeliner (This is a MUST have for me) I created a wing, and filled in the top of my eye. At the inner corner of my eye, I dragged it out to create a cat eye look. Not to mention it adds great symmetry to the wing!
10) On the waterline, I used Maybellines Eyestudio gel eyeliner. (can you tell I am a fan of Maybellines eyeliner?!)
11) Last but not lease, I used Mac's Extreme Dimension Lash Mascara. (For the top and bottom)
This is a great look to wear to a fall event because of the warm colors. Add a little darker browns, and you have yourself a great look for homecoming as well.
Comments