Beauty School 32-Piece Eyeshadow Palette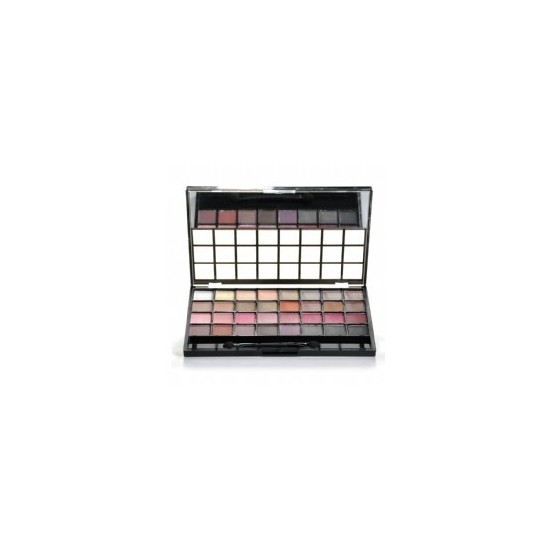 Rollover image to zoom
Reviews

JaniceCourtney P.
Jul 31, 2012
Totally worth MORE than the investment
I saw this at urban outfitters and was like, should i or shouldn't i? I mean it is only five bucks but will it be worth it? I ended up leaving with out it. A week later I saw it again at Big Lots!. It was a total sign. It was the eyeshadow fairy god mother telling me i should just get it. So i did. Same price as urban outfitters only they had 4 different color 32 palettes. Studio 32-Piece Eyeshadow Palette in the white packaging came in Warm or Cool. Warm was pinks Cool was blues. Studio Endless Eyes Pro Mini Eyeshadow Palette – Limited Edition in black packaging also 32 colors. Also in Warm and Cool. Warm comes in Neutrals. Cool comes in a variety of blues,greens,pinks. I got the Warm Neutrals. and i LOVE IT. I only have 4/5 stars because i feel like the color opacity could've been better but i gave it 4 starts because the colors are so good and it was only 5 bucks!!
Big Lots! also had really cool quads that came with liner and primer for 3$. In several different colors. I may be back for for a cool purple smokey eye quad. There were a ton of ELF palettes there. It took quite a while for me to pick. This is my first ELF palette and I wouldn't mind getting more!

Christina T.
Nov 25, 2013
Perfection 😍
I use this for EVERYTHING. Like literally. I use it for a natural look, dramatic, neutral, you name it. It's freakin incredible and the pigmentation is amazing! I love the matte and shimmery colors and they're all just so PERFECT.

One of my fave palettes- low, medium, or high end!
This is such a gem of a palette. I got this for five bucks, and its almost worth more than that. One of my elf palettes was total crap and I had to ditch it. Not this one! This one is PERFECT for smokey eyes, with its arrays of dark browns, burgundies, blacks, greys and shimmery, glittery colors. The lighter colors in the palette are actually not as pigmented as the darker ones, but still make for decent highlights in a pinch. I've used the lighter colors for facial and eye highlights, the darker colors for blending and patting over brown eye liner, brown powder/creme shadow, and my favorite, using over the Maybelline 24 Hr. Color Tatt in Tough as Taupe. I've even used some of the browns for my brows, and whilst not perfect, still do the trick. The array of mauves and purples would look great shimmering over a black eye base (like my Stila Smudge Pot in black) and there are so many combos I have yet to try. I've only used a little bit of the palette but I know it will last for eons, so I'm not in a huge hurry. If you're looking for a cheap holiday palette- look no further, this is for sure one of elf's better palettes! Plus the colors in here keep bringing to mind similar colors in other nude/natural palettes (obvi these are cheaper quality). But as with anything from elf, their packaging is beyond cheap. Even with careful storage in my pink Sephora train case, the palette's lid managed to break, so I took it off and have wrapped it in plastic wrap. It is actually much better this way because its so much less bulky and takes up less space. If you do decide to take the top off for good and wrap it in plastic wrap or in a plastic baggie, just make sure you don't dent the shadow in their pans. All in all, one of elf's best e.s. palettes and one of my favorite palettes ever!

You cannot beat $5!
I am so in love with this palette. I had seen EmilyNoel do a video on her favorite nude palettes and this was one of them. She swatched a few shades and I fell in love. I had to see it for myself! For the longest time I looked for this palette at my local Target and could never find it until about 1 week ago, I took my time going isle by isle and stumbled upon a small section of ELF Studio Line items. I was so happy! I have been using this palette every single day. Yes, there are a few shadows that are not but 95% of the palette is amazing! I use the Maybelline Color Tattoo Tough As Taupe with this a lot and it just looks gorgeous in combination with these shadows!

VERY NATURAL
If you are looking for an affordable, natural looking, great quality eyeshadow palette... this one is for you! It comes with the best colors to complete a natural/smokey eye look. It goes from bronze shadows to simple mauve purples. The quality is amazing. No need to spend $50 on a high end palette that is comparable to this one. I love it so much. I use it everyday.

This Palette is FABULOUS!
I have this palette, or one similar from ELF, which is their warm palette, featuring very neutral colours and I absolutely LOVE them. I have blue eyes and I found that EVERY colour really made my eyes pop. They blend SO easily and stay well too. I absolutely love this palette and am so excited to do a variety of looks with it.

Love it
I love this product with all my heart. The reason i dint give it 5 stars was because the packaging was eh...not so great and some of the eye shadow weren't tht pigmented but what id did was take tweezers and scrap off the top layer and now they work fantastic. Very good product

Wonderful Neutral Palette
I have this palette with the warm colors, and I LOVE the variety of shades you get! The color payoff is excellent, especially considering the 32 shades were only $5!!! The eyeslipsface.com website was sold out of it for quite a while, but it went back in stock recently. I can't find this at my local Target, only on the E.l.f. website. The palette comes with some beautiful golds, browns, burgundies/purples, and more. They last well, espcially with your favorite eyelid primer. Even though I've heard good things about the Urban Decay primer potion or the Too Faced shadow insurance, I like to use the E.l.f. essential primer because it's only $1 :)
Pros: Good variety of colors Good pigmentation Cheap Versatile for many different looks Small and compact for travel Suitable for all skin/eye types & colors
Cons: None :)
---