How I got bright red hair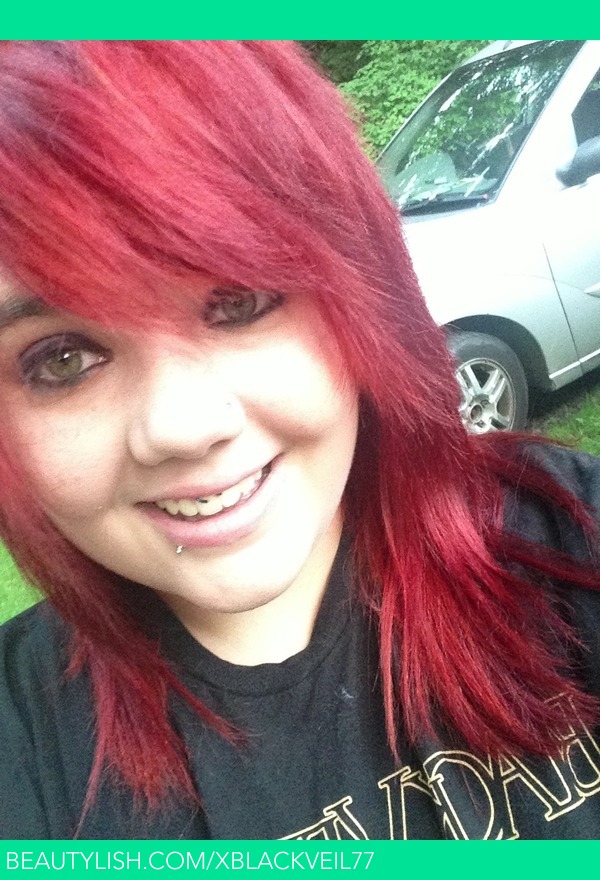 Ok so my hair was dyed blue black before I did this. What I did was buy a box of color oops, a box of Garnier Fructise hair color in Light Intense Auburn, hair bleach, and toner.

Steps:
1.) I washed my hair 4 or 5 times with really hot water. I used head and shoulders shampoo and conditioner. This made my hair fade super super fast.

2.) I blowed dried it. Once it was completely dry, I put in the color oops, all over my head. Follow the directions on the box and cover your hair with the plastic cap that they include with in the packaging.
WARNING: Do it in a well ventilated room because it SMELLS so bad. Wash that out using shampoo and conditioner. The more you do it over and over the more results you will see.
WARNING: don't freak out if your hair is brown and the color oops made it like gray color... That's totally normal and you want that. You're going blonde anyway and the red will cover up everything. So don't freak out. Blow dry your hair.

3.) Apply bleach and follow directions on package. You may have to do it like 2 or 3 times. It does make your scalp hurt and itch.
Once you get the desired color wash out the bleach and put toner in all over following the directions in the box. This made my scalp burn also, but it could be different for you. The whole point of the color oops is to make the going blonde process easier.

4.) Wash out toner. Blow dry. Now apply your red hair dye. I used Garnier Fructise Light Intense Auburn, but you can use whatever red hair dye you would like. Follow the direction on the box. Wash it out and then blow dry and style the way you please.

NOTE: Do this when you HAVE the time to do it. It's not a quick process and it takes a while I went from blue black hair to bright red in like 4ish hours. It does take a toll on your hair though so I suggest buying a deep conditioner and hair recronstructer.
Comments
Photo By