Sophia Loren Inspiration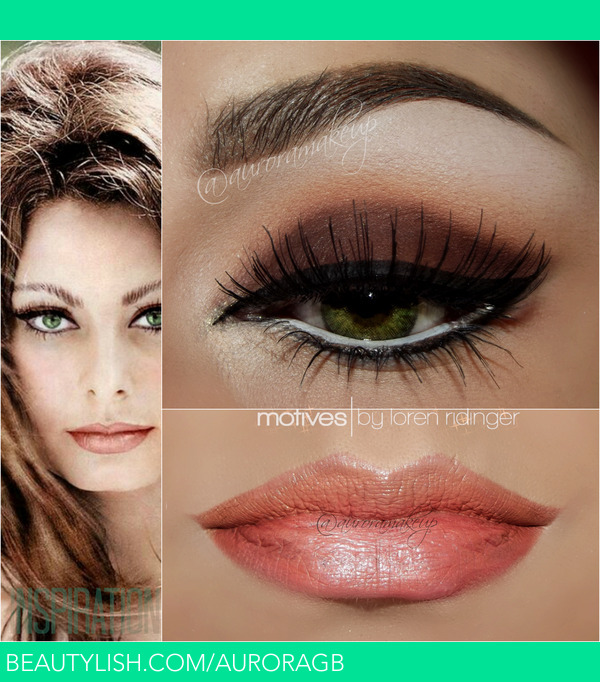 instagram @auroramakeup
FB: https://www.facebook.com/AuroraAmor...


BROWS:
Dip Brow Pomade in Ebony by @anastasiabeverlyhills

Products @motivescosmetics by @lorenridinger

EYES:
Eyes shadow base .
Gel eyeliner in LITLLE BLACK DRESS as dark base on mobile eyelid , also to line top & lower lashes .
Pressed eye shadow in CHOCOLIGHT & HOT CHOCOLATE setting gel eyeliner applied on mobile eyelid .
Pressed Bronzer in CALIFORNIA GIRL as transition color on the socket line.
Presses Eye Shadow in BLIZZARD to highlight brow bone & inner corner
Khol eyeliner in ANGEL to line waterliner and extend it below top eyeliner.
LaLa mineral volumizing & lengthening mascara in BLACK in top an lower lashes

LIPS:
Lip Crayon in NAKED as base, Mineral Lipstick in ANGELIKA in lower parts of the lips and Mineral Lipstick in ORANGE CORAL in highest parts .

Top lashes are #47 by #GeldenCosmeticos and Lower ones are individuals by #marifercosmeticos both mexican brands =)


OJOS:
Prebase de sombras.

Gel delineador negro llamado LITTLE BLACK DRESS como base oscura en el parpado movil , tambien para delinear las pestanas superiores e inferiores .

Sombra de ojos cafe oscuro rojizo CHOCOLIGHT y cafe oscuro mate HOT CHOCOLATE para sellar el gel delineador aplicado en el parpado movil .

Polvo bronceador en tono CALIFORNIA GIRL como color de transition en el pliegue del globo ocular .


Sombra blanca mate BLIZZARD para iluminar el hueso de la ceja y la esquina interna.

Lapiz delineador blanco ANGEL para delinear la linea del agua y extendiendo la fuera del ojo .


Mascara de pestanas mineral volumizante y alargadora en color negro BLACK en pestanas superiores e inferiores

LABIOS:
Lapiz delineador de labios en color NAKED como base , labial mineral en color ANGELIKA en las partes bajas de los labios y ORANGE CORAL en las partes altas .




Comments
Photo By