Beauty Product Reviews

Does what it claims!
These liquid eye liners are sweat-proof, water-proof, and don't smudge, budge, or migrate. I absolutely love how many color choices you get, and I also find that the handle/brush is relatively easy to work with. I have 8 of the 15 available shades: 1, 3, 4, 6, 7, 9, 11, and 12. All do exactly what they claim to do! The only thing I wasn't too fond of about these is that they tend to apply a little on the water-y/sheer side if not shaken first. Other than that, these are an absolute treasure, and are well worth the $22 (each) price tag. :)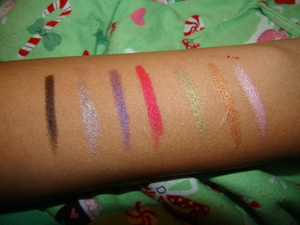 Love!
Jumbo pencils, when used as a cream base over an eye shadow base (ex. Urban Decay's Primer Potion), work WONDERS. Putting an eye shadow over a similar-colored jumbo pencil really enhances the texture and color-payoff of the eye shadow. If you don't feel like splurging on all the colors available, I'd suggest purchasing Milk and Black Bean. Milk will be good for all eye shadow colors, and Black Bean will make deep colors (ex. deep blue or emerald) really POP!