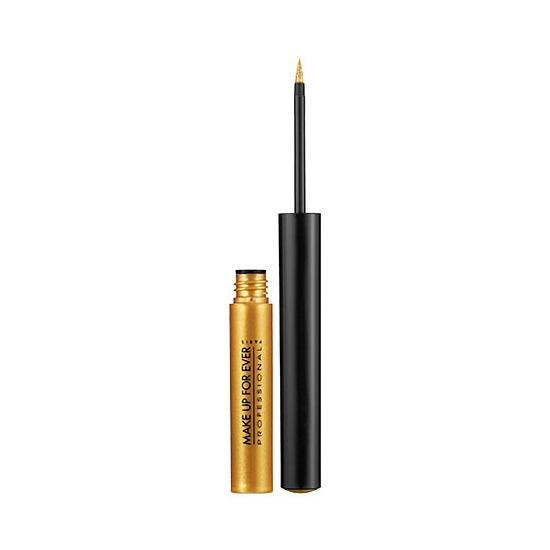 Rollover image to zoom
Reviews

The only liner that I want to collect them all!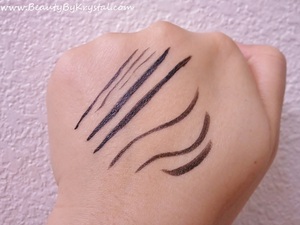 If you're a false lash junkie, like me, then you know you need to take the time to invest in a good eyeliner. Before this liner, I never really put much thought into liquid liner quality and how it can really finish and polish your look. I've only used two other liquid liners before this one, both lower in quality (L'Oreal Lineur Intense Felt Tip Liquid Liner & ELF Essential Liquid Eyeliner), but I just assumed you had to make a liquid liner work for you because it's liquid and hard to work with.
The Make Up For Ever Aqua Liner is extremely easy to use, easy to line with - either super thin or dramatically thick, wears ALL day without smudging or running, and it's very easy to remove. My favorite thing about this liner, and what really sold me on it, is the felt tip. It's stiff enough to hold the liquid without dispensing too much product on your eyes. The felt tip is also flexible and can be pressed down to expand and create a thick line. The swatch photos show thin lines created when I just run the liner along my skin, thicker liners to show you can apply a little more pressure to get a fuller liner, and some artistic swiping to show you can easily line and flick without working too hard.
The Make Up For Ever Aqua Liner comes in 15 other shades (which I want to collect sooo bad!); Diamond Gold, Iridescent Emerald Green, Diamond Lagoon Green, Diamond Turquoise Blue, Iridescent Navy Blue, Diamond Black Purple, Iridescent Electric Purple, Iridescent Fuchsia, Iridescent Red, Diamond Burgundy, Mat Mocha, Mat Black, Diamond Multicolor Black, Iridescent Anthracite, Diamond White.

Worth Every Penny!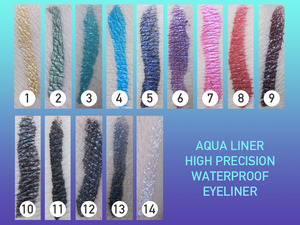 No joke, I swatched all of these colors on my hand to see how long they would truly stay even if I washed my hands a million times. I was so impressed...I was a walking Aqua Liner Art piece for two days until I finally had to remove them with makeup remover. Not one of these colors budged which is something wonderful to use on brides on on photo shoots where the weather conditions are less than ideal. I think everyone needs to check this product out!

A truly long-lasting liquid eyeliner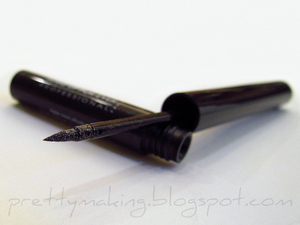 This eyeliner may be more expensive than what you may feel comfortable paying for a liquid eyeliner, but this product lives up to the hype.
It has a wide-array of colors to choose from, has sleek packaging, and truly does wear for an extremely long time. (For me, it will still look as fresh at night as it did when first applied in the morning.) Another great thing is even as the day wears on, it won't crack like some liquid eyeliners. It doesn't wear down, smudge, flake, or migrate like most liners will do.
The applicator has a firm tip which makes it a great liner for those who are just beginning to use liquid liners. If you can write with a pencil, you can use this liner. However, it does slightly limit you from getting a *super fine* line that other, thinner & more flexible eye liners may allow.
My only issue is that #14 (which is in the picture I uploaded & is the one I own and use) is a slightly watery formulation, meaning it requires about two applications or so for full opacity. But it's such a beautiful, glittery, oil-slick of a color that I am willing to overlook that!
I definitely would repurchase this liner.

Want every color!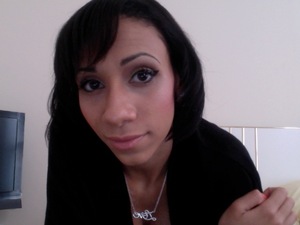 You literally have to scrub your face in order to take this eye liner off. The applicator is fool proof. Even if you're new to liquid liners - you couldn't even mess up. I bought the black (13), brown (12), & purple (8) eyeliners. I use these on clients and they are hooked as well.

This isn't going anywhere...
literally you need to scrub this stuff off. Although I don't recommend scrubbing it off. The colors are vibrant! You can use this for a pop of color when wearing neutral shadows, or amp up your already colorful look. Either way these are great.

My holy grail liner
I have been looking for an eyeliner that doesn't move and lasts all day for many, many, many years. And ladies, here it is! I can't say enough good things about these bad boys! I have the matte black (#13) and the bright blue (#5), they're both fantastic.
It's apocalyptic proof! It doesn't budge, ever. Even on my hooded lids. But it does try quickly, that's my only (very small) gripe.

Does not move!!! Love!!
I'm in love with this product for summer. It does not move and wears beautifully all day. They come in sixteen different shades ranging from a clear iridescent to hot pinks, purples, and teals! The shades come in either Diamond (sparkly), Iridescent (sheen), or Matte. I love all the shades, but my first purchase was Diamond Lagoon Green. I can't wait to get the hot pink and purple shades too!

Does what it claims!
These liquid eye liners are sweat-proof, water-proof, and don't smudge, budge, or migrate. I absolutely love how many color choices you get, and I also find that the handle/brush is relatively easy to work with. I have 8 of the 15 available shades: 1, 3, 4, 6, 7, 9, 11, and 12. All do exactly what they claim to do! The only thing I wasn't too fond of about these is that they tend to apply a little on the water-y/sheer side if not shaken first. Other than that, these are an absolute treasure, and are well worth the $22 (each) price tag. :)

Super waterproof, gorgeous colors
I normally have the problem with liquid liners where they fleck off in the inner corners. With this I don't have that problem at all and when I go swimming in the summer it stays on until I take it off with my heavy duty waterproof makeup remover. It is an absolute god send! It also has a really easy applicator so i could get thin or thick lines at my discression. People who have issues with liquid eyeliner should definitely try this out! You won't regret it!
---