Lady Gray: Grayscale Makeup You Can Master!
Feeling gloomy this season? Why not try a grayscale makeup look that will impress your pals, plus work along with items you already have in your closet. It may seem tricky but it's simple to master once you know the rules.
If the task seems daunting, try snapping a black and white photo of yourself to get an idea of the shades you'll need in your palette. Notice how only very dark colors appear black when viewed in a grayscale image– if you're wearing red lipstick, the shade will translate to a gray tone rather than a black shade. Similarly, skin tones will appear in a variety of silvery shades depending on the depth– this means if you have a dark skin tone, make sure to pick an appropriately deep shade of gray base makeup, and vice versa. Don't think of this look as black and white makeup– think of it as tonal replacement!
You Will Need:
Cream makeup in black and white
RCMA No Color Powder | shop it
Inglot Cosmetics AMC Eyeliner Gel in #76 | shop it
Inglot Cosmetics AMC Eyeliner Gel in #77 | shop it
Inglot Cosmetics AMC Eyeliner Gel in #78 | shop it
Inglot Cosmetics Rainbow Eye Shadow in 120R | shop it
Inglot Cosmetics Eyebrow Pencil in #502 | shop it
Sugarpill Pressed Eye Shadow in Diamond Eyes | shop it
Sugarpill Pressed Eye Shadow in Bulletproof | shop it
Sugarpill Lashes in Baby Dewdrop | shop it
OCC Cosmetic Colour Pencil in Tarred | shop it
OCC Lip Tar in Tarred | shop it
OCC Lip Tar Pencil in Feathered | shop it
Step 1
Start With A Base
First, prep the eye area with a primer so the heavy makeup doesn't crack or settle too quickly into fine lines. Apply grey cream makeup with a sponge all over the face as the base shade, leaving the eyelids bare. If the ears will be visible, take care to paint them as well, and don't forget your neck! Choosing a creamy base paint that doesn't dry will provide more even coverage and won't crack or flake throughout the day or night. Set the makeup with plenty of translucent powder.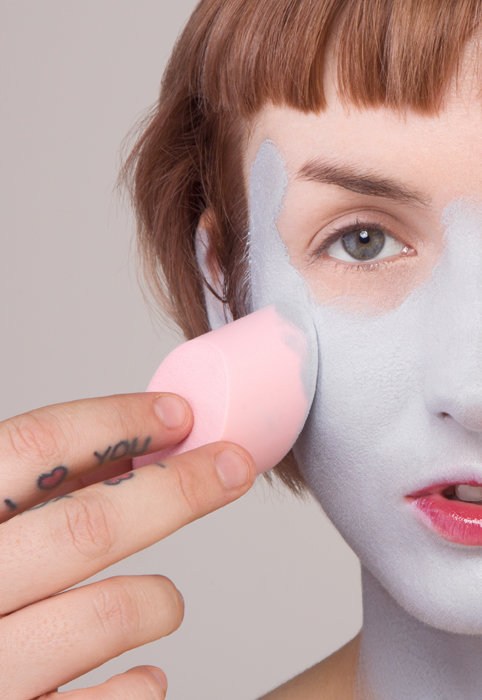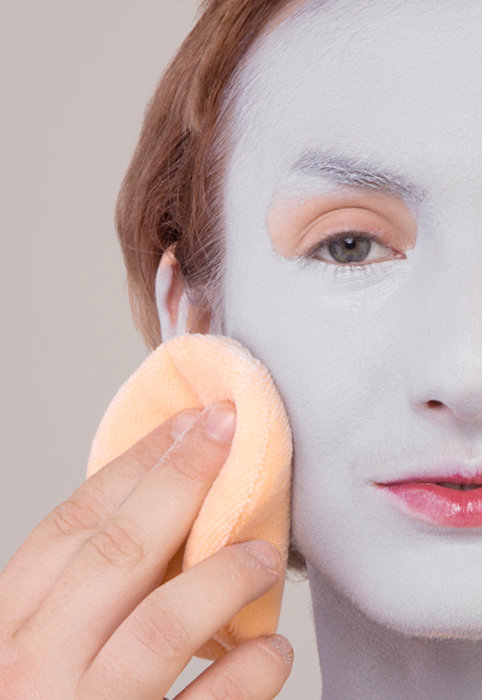 Step 2
Eye Prep

To prep the eyes, cover the lids in white Inglot AMC Eyeliner Gel in white #76, blending the edges into the grey. The gel liner prevents creasing while matching the finish of the gray cream base.

Step 3
Eye Contour


Step 5 & 6
Brows & Eye Liner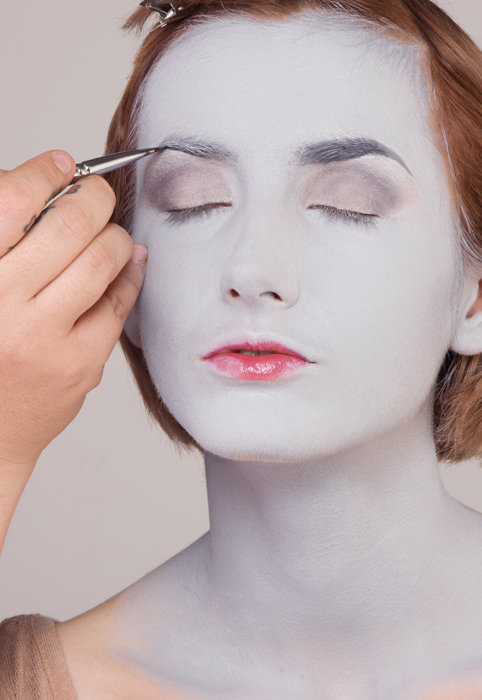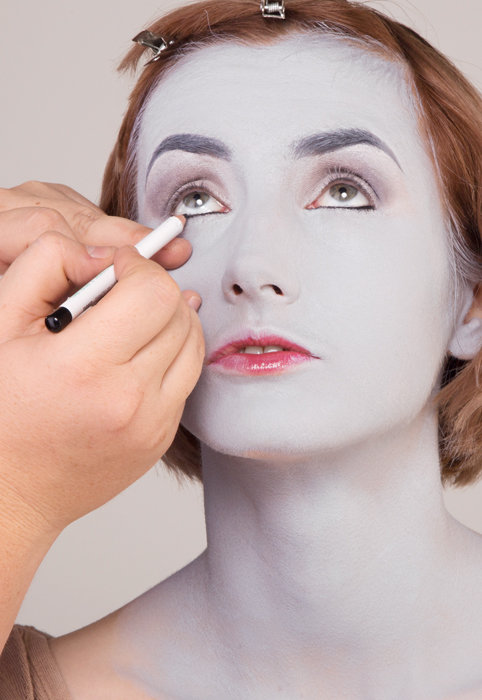 Step 7
Contour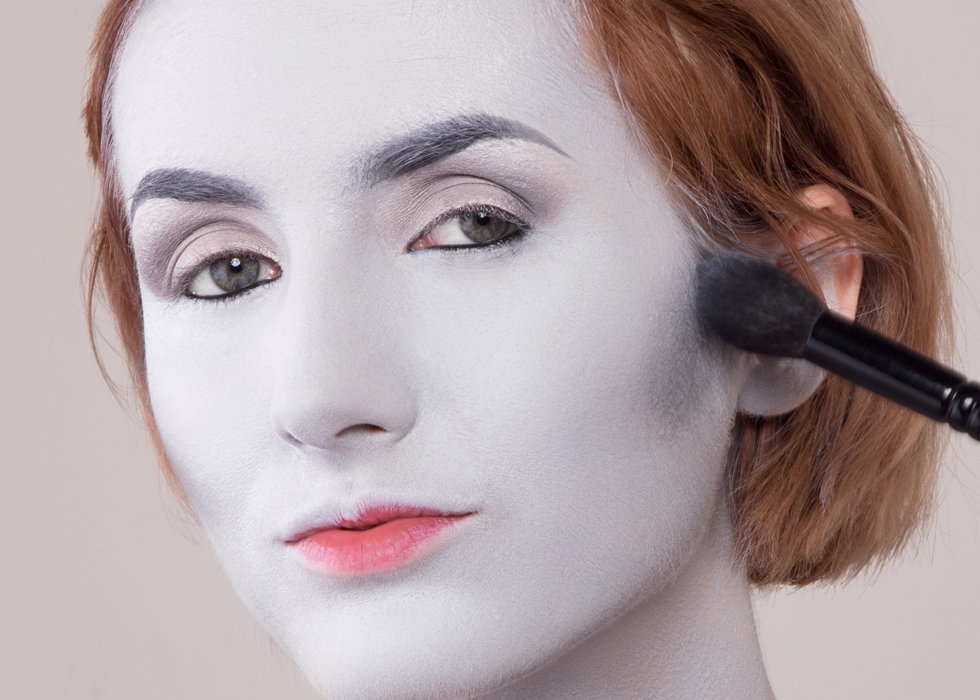 Step 8, 9 & 10
Finish the Eyes & Contour the Nose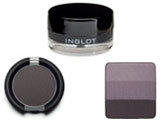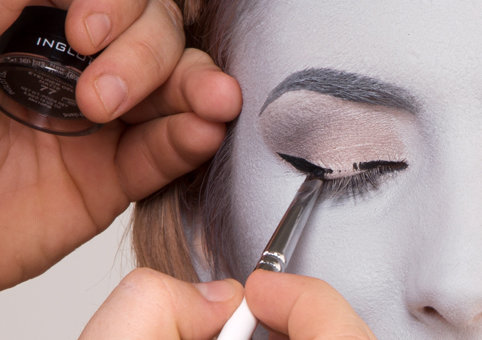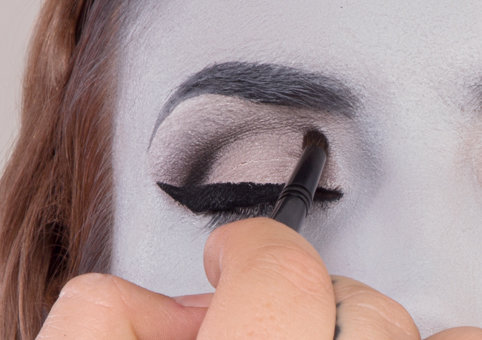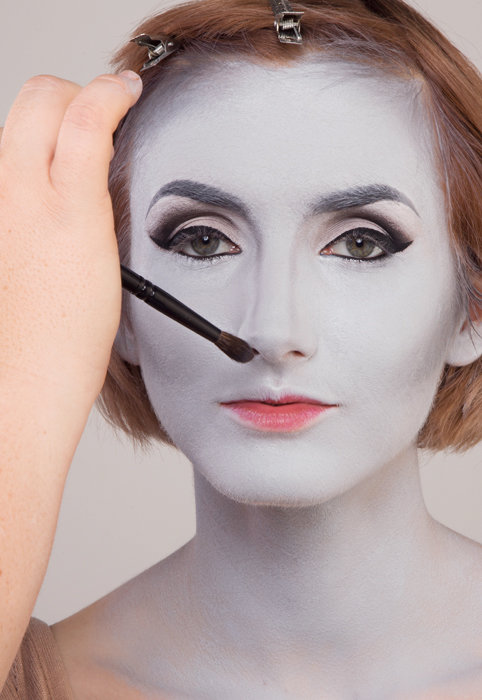 Step 11
Lashes
Curl the top lashes. Start at the base, squeezing gently, then pulse the curler out to the tip of the lashes.

Step 12
Mascara
After curling the top lashes, apply several coats of black mascara to the top and bottom.

Step 13
False Lashes


Step 14 & 15
Lips
For the lip color, blend together Obsessive Compulsive Cosmetics Lip Tar in Tarred (black) and Feathered (white) for a custom gray color. Before applying, line the lips using Inglot Eyebrow Pencil in #502, then fill them in with your hand-mixed shade.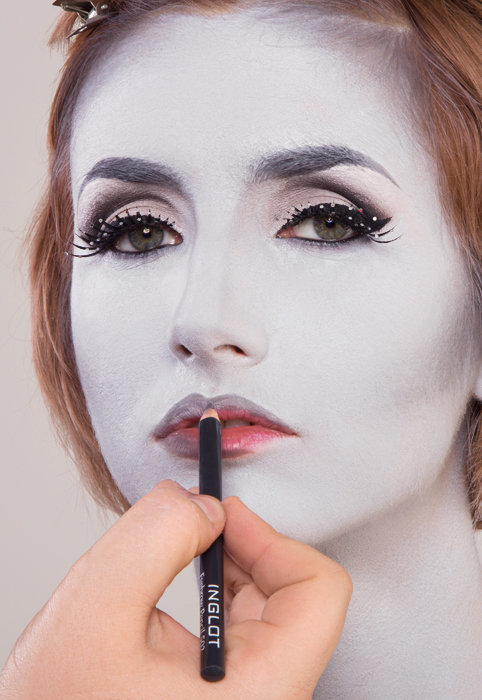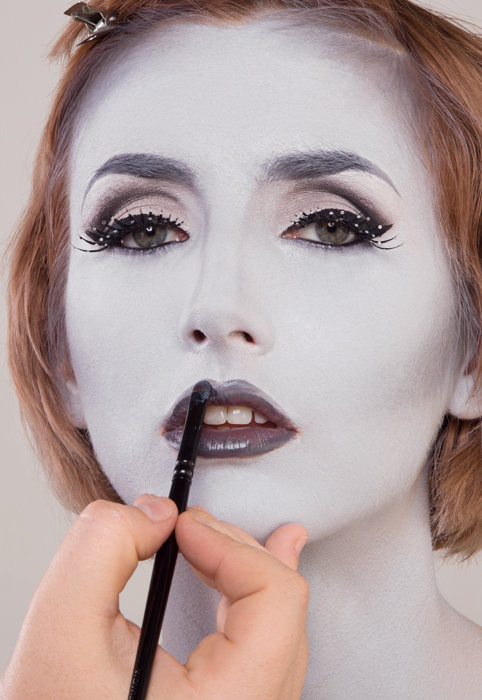 Step 16
Finish the Look
Pop on a wig (we picked a multi-tonal black bob) and a color-free outfit and you'll be optically illusive at all your Halloween events.