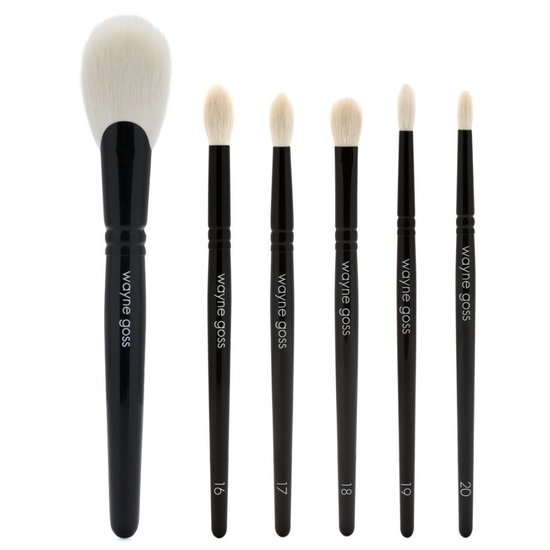 Rollover image to zoom
Reviews

I love these brushes!
I really wanted Wayne's new holiday brush. It sold out so fast, the only way I could get it was to also get his eye set. Since it was already on my wish list, I got them both! Here's my thought on this bundle.
The Holiday Brush 2018 I absolutely love this new brush from Wayne. It's so soft, it feels like silk on my face. I watched Wayne's video on the many ways I could use this, and I have tried them all. You can use it for bronzer, powder, contour, highlighter or blush.
I always try a new brush with multiple products before ultimately deciding on the best use of it. My absolute favorite use is applying blush. I like a soft diffused look for my blush. The flat sides that taper to a thin edge gives me that perfect diffused swoop of blush. It doesn't seem to matter if I'm using a highly pigmented or hard pan blush, it always grabs the perfect amount of color.
I haven't experienced any shedding and the brush has only gotten better with washing. I'm so glad that more are coming back in stock because I plan on getting another! The Eye Set If you want a set of brushes that allow for a natural soft eye look, then these are the brushes for you. I find they save me time because they blend as you go and pick up product beautifully.
I use #16 to apply a base over my lid after primer application.
#17 is great for my transition color in the crease while it diffuses the edges softly. If I'm adding a darker color to the crease, I use #19 for better precision.
#18 is what I use to lay down my lid shade and blend the edges.
#19 and #20 are the smallest brushes in this set. #19 is awesome for its ability to hug your socket, it's firm but so soft and it doesn't hurt or tug on my eyes.
#20 is shorter than 19 so it's great for adding intensity to the out v or any area I may be layering on color.
Overall, I love this set and use them daily. I did add his #5 pencil brush to my collection to aid with more precision needed for my lower lash line.
Great job Wayne!
---