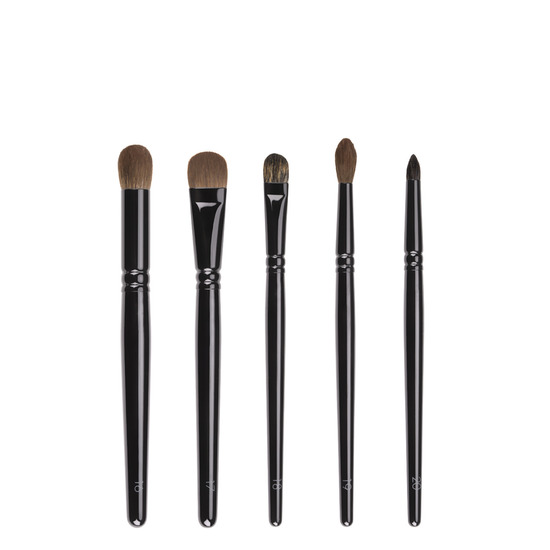 Rollover image to zoom
Learn More
The Eye Set
Like all of Wayne's brushes, The Eye Set is handcrafted from cruelty-free, ultra-soft natural bristles. Watch this introductory video to get the inside scoop on this set from Wayne himself.
Reviews

A MUST HAVE EYE SET THAT HAS GENUINE VELVETY SOFT HAIRS (CRUELTY FREE)
I first heard of Wayne Goss, Makeup Artist & Entrepreneur via his UTube channel which features makeup tutorials. ThIs is where I first seen his Makeup Brush Line, but I still wanted to research his brushes, so I read customer reviews, talked to retail makeup artists & viewed the tutorial Wayne Goss has on Beautylish. He explains the use of each brush in the Eye Set & how the brushes are made. So, I decided to start with one brush. The FAN BRUSH, appropriate since I am a W.G. Fan & personally obsessed with FAN makeup brushes. It's a soft, handmade brush with genuine, cruelty free hair (Blue Squirrel (?). The brush works great for applying highlighter or brushing away fallout without disturbing makeup. Great so far, SO I decided to purchase the Eye Set Next, which consists of #16-20 (5 brushes). They are AMAZING! I have used them everyday since purchasing. I additionally purchased eye brushes #5, 7, 8. They are designed to upgrade your eye makeup routine, making applying eyeshadows, concealers, liners, etc an effortless application with a soft touch of TLC to your skin. The brushes don't scrape, drag or pull at the skin. Great for aging or dry skin. Of course, Beautylish is THE Number 1 Customer Service Makeup Co that I trust, so I will monitor reviews for which face set I'm purchasing next!!!

**L**O**V**E *THESE BRUSHES!!
Wow ! These brushes Wayne has designed & made are absolutely AMAZING and so fun & easy to use! They feel so soft on my eyes that I dont thing I'll ever go back to using my old brushes again. The only other brushes I use are the CHIKUHODO brushes & they are crazy good too!

Stellar--pairs perfectly with The Collection
I have every Wayne Goss brush with the exception of the 00, 1 and 10. This eye set pairs perfectly with the eye brushes from The Collection. Here are my thoughts in order of favorite to least liked:
The 19 is the perfect crease brush. Enough firmness to blend well, but soft enough to not irritate my eyes at all. I typically use this as an all-over crease brush, then add dimension with the original Brush 5, and blend with Brush 3. 5 stars for this brush.
I adore brush 16 for all-over lid color. I have oily eyelids, so I need a primer, setting powder and then all-over skin colored shadow. This makes that process so fast. It is soft, and gives me the perfect well blended base with just one brush. 5 stars for this brush.
Brush 17 if perfect for putting down a shimmery shade in the center of the lid, but is just a little too big to be precise. But if you're in a hurry--this is a gem. 5 stars for this brush.
Brush 20 can be used the same way I use the original Brush 5, but more precise. Before I had gotten my hands on the original Brush 5, I used this for adding dimension to the outer corner, and since the original Brush 5 isn't available anymore--this is the best alternative I can recommend. 5 stars for this brush.
Lastly, Brush 18--this looks somewhat like a smaller version of brush 17, but no. This is the only brush in the Eye Set that I rarely reach for. The size is ideal, and should pair beautifully with brush 17 as its more detailed little brother. However, this brush feels awful on my lids. It is scratchy. Oddly, it is the only brush of any that I own that Wayne Goss makes that I find scratchy. All of the brown goat brushes Wayne makes are amazingly soft. This is not the same hair. It could be a mix, but whatever it is mixed with feels like steel wool. I have very sensitive skin that gets inflamed very easily, and unless I am careful and just pack this on the lid without moving it at all, it feels uncomfortable to use. I wish this brush had been made with the same material as brush 17. That would make this set absolutely perfect. 2 1/2 stars for this brush.
So if we're grading 90% is still an 'A -' grade.
If you don't have sensitive skin and eyelids, Brush 18 probably won't bother you. But for me, it is a loss. I don't know why Wayne decided to make the material different for Brush 18, if I had to guess I would assume he was trying to give it some extra structure--which definitely happened. But this brush set would be absolutely perfect if Brush 18 was soft like the others--which would make it a 5 star brush for me.

Thanks forever Wayne!
When I started upgrading my brush collection I wasn't sure what to buy. I started with the mac 217 and it fell scratchy, then I ordered some Hakuhodo and I love them but it annoys me that I have to pay 16$CAD for the shipping each time. Then I ended up buying this set. Best decision ever!! I got free shipping, amazing brushes to do everything I wanted, soft, great color payoff, great prize if you compare to other hand-made brushes made in kumano. Beautylish has amazing customer service, I went on getting more brushes. I love Wayne for giving us the gift of his brushes at the best price possible for this quality. I have learnt so much watching his videos for free on youtube, I know this was a personal dream of his, buying his brushes and recommending them is my way to say thanks. Thanks Wayne!

Worth Every Single Penny!
These brushes are magical. I can create any look I imagine with them with ease. They are of incredible quality and perform wonderfully. I am going to complete my Goss collection and purchase the rest of his brushes. I use these every single day, and I have never been happier with how my makeup looks.

Beautiful
I love the shorter handles on these- they easily fit into my makeup bag. I love the larger brushes for sweeping on base colors and highlighting around the cheekbones and brow ridge. I see almost no fallout on my cheeks. My only wish is, because you don't get any benefit from buying the set vs purchasing all of these individually, that you would at least receive a little brush case to keep them organized and together.
---