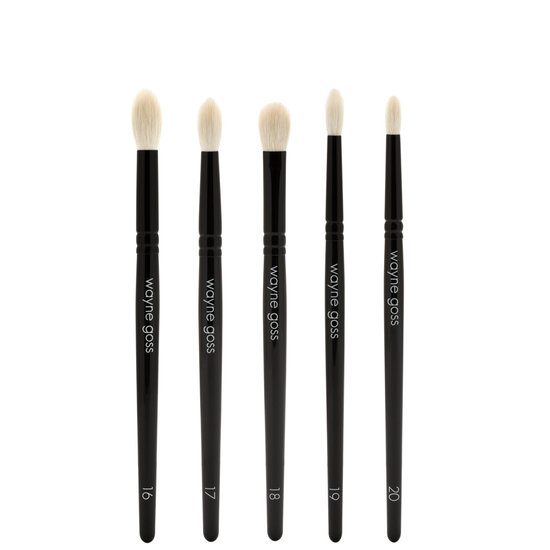 Rollover image to zoom
Reviews

ML
I wanted to purchase a nice eye brush set. I did lots of research and it was between Wayne Goss and Sonia G. I wish I went with Sonia. I really wanted to love these brushes, the hairs on these brushes stick out everywhere so much so it interferes with the application of my makeup and this is after returning the first set. Actually the second set was worse. I've since purchased several Sonia brushes I am really loving them.

You've not used eyeshadow brushes unless you have used these!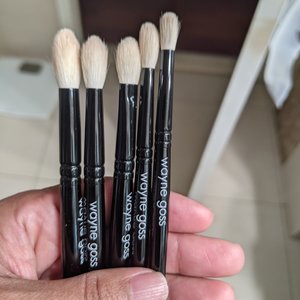 Omggggg these are the holy grail of brushes. When I get you my skin didn't move one bit, it's and understatement. It was magical. They are so soft and yet pick up all pigment and placed it on my lids so beautifully. I'm in love!

Stephanie L.
Mar 28, 2021
So many positives, but...
I have pretty much all the eye brushes Wayne Goss has released (except the synthetics) and as a general rule they're all wonderful. The shapes are so well thought out and the way some of the blenders have such a fine tip to them because of the way they're tapered makes them so unique and versatile for my hooded eyes. The goat hair range is wonderfully soft but they're also often much easier to use compared to their squirrel hair counterparts. The squirrel hair range are even softer, but this sometimes actually works against you as they don't really have the strength to pick up and blend some shadows (partly depending on the shadows themselves). The goat hair range, however, never misses a beat and can handle every shadow I've thrown at them and blends everything quickly and beautifully. However, after a long time using them, I'm a bit conflicted. What I've learned is that over time it seems like the goat hair don't hold up quite as well. It's possible I just got unlucky, and I'm by no means suggesting they fall apart quickly (these are years old in my collection at this point), but two that I have from the goat hair range have started to struggle. Given that I've had many of my other Japanese made eye brushes (both Wayne's squirrel variety as well as other goat hair versions from other brands) for longer, this really surprised me. The bristles have started to kink and lose their shape, becoming splayed in odd ways. It's not a big deal - one is more noticeable than the other and even then it's only two out of many and I've still had several years of good use out of them. They're still useable and I imagine they'll continue to be for some time yet, but it does make me reconsider buying more in the goat hair range, particularly now that there are competitive brands like Rephr around nowadays which have similar shapes and materials for similar (and sometimes cheaper) prices (though I haven't had the Rephr long enough to know if they'll have a similar outcome, but I also didn't pay as much). On the whole though, I do recommend these. They're wonderful and you'll get a tonne of use out of them. But if the possibility of eventually having to replace them some years from now bothers you, then maybe start with a selection and try a few brands before you fully commit to a set like this.

Best one ever for hooded lids
For hooded lids, this is the best one ever brush set, it's magical for my eyes. I first bought Sonia G Sky set, because this was sold out and works well, but WG absolutely nailed it when he designed this set. Don't hesitate to buy it if you have hooded lids/eyes.

Softest, best brush set for hooded/smaller eyelids
I held off on buying these for so long, but with the annual gift card event, I went for it. Wayne Goss brushes are very soft. This is the best eye set for smaller eyelid space and/or hooded eyes. They lay down shadows in a softer, classier way, not like the heavy, showy YTuber eye makeup. These are my everyday set, along with Rephr brushes. Highly recommend. I also have Sonia G brushes, but find they are better for showier eyeshadows like Natasha Denona, Huda, etc.

Scarey
Ive never bought high priced eye brushes before. They are simply gorgeous. I am afraid to use them. Lol
---