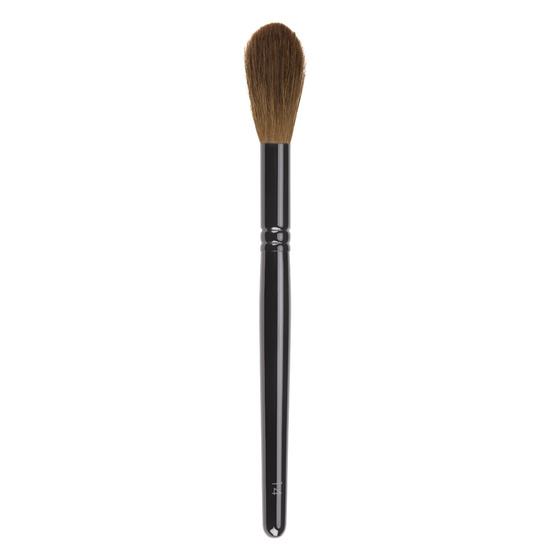 Rollover image to zoom
Learn More
The Face Set
Like all of Wayne's brushes, The Face Set is handcrafted from cruelty-free, ultra-soft natural bristles. Watch this introductory video to get the inside scoop on this set from Wayne himself.
Don't miss Brush 14 at 2:22.
Reviews

Perfect for Me!!
I have always had a fat face. When I learned about contouring it excited me to give my cheeks some shape. However, because of brushes used, and the tendency to have a heavy hand, I could never achieve the look I was going for. So I took a chance and ordered this brush. I was worried when I got it, though, because it's sparse. I ignored the worry and tried it both for contour and blush. I was immediately blown away! There, on my face, was the exact look I had been going for. Lightly contoured cheeks that looked natural on my face. I use this brush now for contouring, blush and highlighter. It is very soft and applies powder without moving any other product on my face. If you're looking for a brush to help your heavy hand, I highly recommend this!

Pale face
I am very fair and with a lot of products I need a light touch. I have quite a few Illamasqua blushes that I couldn't work into my looks. No matter how light of a hand I would use and stamp the overload on the back of my hand, I would still wind up with a circle of pigment on my cheeks. With this, I tap lightly into the blush and flick off the excess to allow me to get a wash of great color.
Also, this allows me to get a diffused look with bronzers and highlighters that, again, I couldn't get a light hand with. It creates a healthy, natural look for me. This is a must to the pale skinned to get a sheer color from intense color products.
It is incredibly soft. It keeps its shape after washing. I've only lost 2-3 hairs. I like the size of the brush, a lot of handles are too long that I knock on my standing mirror which always scares the crap out of me.
I can't wait to purchase others.

Functions well but not a good quality brush
This brush may be great or a complete fail for you depending on what you like in brushes. I found the shape/size/length rather unique, and the density seemed right to do light applications of powder products. And brush is great at doing that. This is great for doing light powdering all over and blush because it is not too dense and perfectly fluffy. The size is slightly smaller than the typical blush brushes, so minimal control due to bristle length is less of a problem. I have felt goat brushes that felt much softer, but this still fairly soft.
My issues with this brush is not with how it functions but the quality of the brush. First of all, I've never had a brush stink so badly. I washed it three times now and the smell hasn't gone away. I have to hold my breath when I am using around my nose. And also this brush sheds few hairs everytime I use it. Thankfully not on my face but few hairs are sticking out from the brush after usage. Also I see some strays from the brush shape itself. All these issues may not be issues for some people but it's certainly not what I expected from brushes made from Japan.
If you only care about how the brush functions, you will probably love this. It does what it says it will do well. However, if you are somewhat "spoiled" by nice quality brushes and brush quality itself is important to you, you may not be perfectly happy with this brush.

Pigmented blushes? No problem
This brush gives u this air brushed look to the face when u throw your blush on. I mainly use it for my super pigmented blushes. Works wonders. It's such a weird shape but I love it. Oh and hello it's super soft!!!!! I own 2 that's how much I love this brush!!! Get yourself one!!!

Another Winner!!!
Wayne...Is there a brush of yours I don't like? I'm pretty sure the answer is no! This brush is literally PERFECT for what I ordered it for, which is being able to apply extremely pigmented blush without having to really blend afterward. I am able to apply my Nars Desire and Final Touch, both very pigmented blushes, with one slight stroke of this brush. The bristles are super soft and pick up the perfect amount of product so you don't have to blend out streaks. Genius! Also, I have nothing that even comes close to doing what this brush does, and I have a ton of brushes. It is very unique!

A worthy replacement to a well-loved brush...sigh!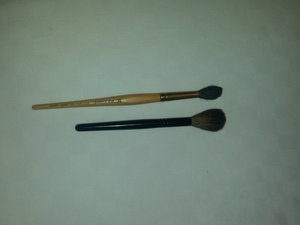 Did you ever steal a paintbrush for a face brush? I did, and though it worked better than what I found otherwise, I longed for something better. I found it! This brush picks up product well and lightly deposits it on the skin. If you have mature or sensitive skin, I can highly recommend this soft, yet versatile brush. Apply blusher, bronzer, highlighter and powder with ease. You can see in the photo that the two brushes are not greatly similar, but the Wayne Goss 19 due its' smaller diameter and proportionately longer hairs than what you usually find, does the job, and then some!

Amazing Multi-Tasker Brush!
Of all my brushes I love this one most! I use it every day for powder blush, but have used it for bronzer, highlighter, and selective powdering as well. What I love most about it for blush is that it's so versatile. Not all blush looks best applied the same way. I can use this brush to sweep blush across my cheek or use just the tip to pounce selective placement of blush. I have some dark spots in the middle of my cheek that I like to avoid with the blush and this is the first brush I had success with staying just above the spots consistently. I often use more than one blush and it's easy to do with this brush because it doesn't hold onto a lot of product which also makes it great for not over-applying a highly pigmented color. It rarely needs cleaning for purposes of product removal, however, it does wash up with a mild brush shampoo just fine. I would buy this brush again and again. It's soft, the size is perfect, and the quality is top notch. This is currently my only Wayne Goss brush. I look forward to owning more.
Oh SWEET GEEZUZ! Where have you been all this time?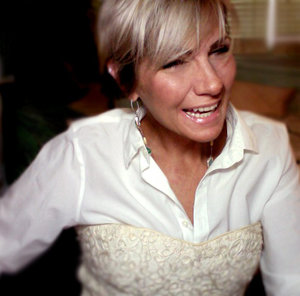 I am constantly asked to "do" people's make up and most of the time...I don't mind it. Now that I am armed with THE Mr. Wayne Goss' brushes? I am suddenly turning into Oprah! And YOU get a make over! AND YOU GET A MAKE OVER! AND YOU GET A MAKE OVER!!!! This brush is just one of the many brushes I bought from his collection. This brush here is the perfect size for a professional. The size of the brush doesn't take up too much product. Therefore I am able to place it precisely where I intend it to go. Every professional artist should have this brush in their collection. Is all.

Hmmm...I'm still figuring it out
I like that this brush allows blush to give a "wash" of color - glow like. But, I'm still getting used to the shape of this brush - the hair is longer and not domed shape - and I'm more familiar with domed shape. And, the fact that the hair is longer makes product placement more precise - a good thing that I'm getting used to!
---