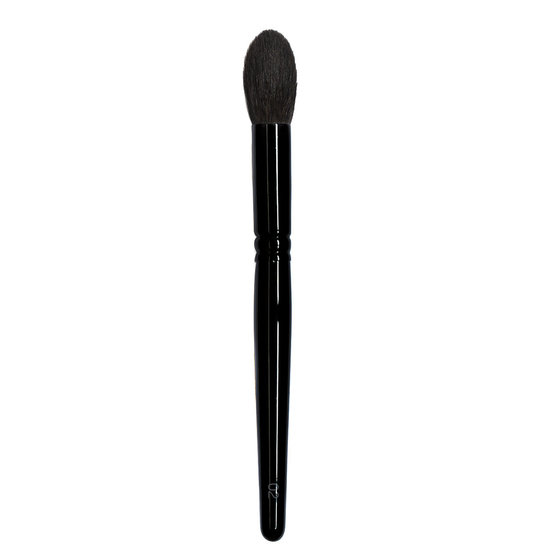 Rollover image to zoom
Learn More
Wayne Goss: The Best Selling Brushes
How to Use Brush 02
Learn Wayne's tips and techniques for getting the most out of Brush 02. Don't miss 1:17, where Wayne reveals a quick trick for an "instant eye lift."
Reviews

True quality!
I bought Wayne's Air-Brush when it released this year as my first brush, and now I'm hooked! I could probably have lived without this brush but I am SO glad I don't. When I discovered that it was blue squirrel I just about lost my mind, because the price point is FANTASTIC, especially considering the bristle type. This brush applies highlighter like an absolute dream -- you can pat it on, sweep it on, stab it on, whatever! What blows me away about this brush is that it appears to pick up LOTS of product (almost like a black goat hair brush) but deposits it in such an elegant and beautiful fashion that you wonder where it all went! My highlights have honestly never looked better than when using Wayne's blue squirrel brushes -- I am so glad I started investing in this brush line. I also plan on using this brush to blend out the outer contours of my face. Wayne suggests using this brush with blush, which is a stunning idea, especially because the shape of the brush rests nicely on my dimples! I picked this one over the 00 because I wanted more precision and I could not be happier! However, I do believe it should be noted that Blue Squirrel hair is very delicate, and has a tendency to soak up the oils in any cream or liquid products it comes into contact with. These oils, once absorbed by the delicate bristles, cause damage and can even lead to breakage and shedding. I do not use ANY blue squirrel brushes until my skin has been set with powder by a non-squirrel brush. I don't mean to tell people how to use their tools, but this brush is a true TREASURE and as such the appropriate amount of research and care should be invested. Enjoy and stay flawless!

Multitasker!
I wanted this brush because I loved the shape. I am in love with the softness and quality of it though. So worth the money! Though the brush head looks small, it brushes powder onto the skin so soft and smoothly. It deposits blush beautifully onto my skin. It can do whatever with powder! I can set my foundation, highlight, blush, contour with just one brush! (Or whatever order you apply products in. I don't find any transfer of colors between applications). SERIOUSLY, THESE BRUSHES ARE ADDICTING. I didn't buy the set, but bought one by one. And here I am buying one brush every few weeks.

Elizabeth R.
May 08, 2014
At first, I was skeptical since I found the brush small for applying bronzer. But I've watched Wayne Goss' video and I use to apply my bronzer incorrectly (and with a large brush). After trying his technique this brush 02 is perfect. My makeup has never looked better – and I even received compliments. The bristles are so soft and hold the makeup nicely as you apply it. I have sensitive skin so I have had a hard time finding bristles that didn't irritate my face. I truly an enjoying all of Wayne Goss's brushes. I just ordered my second brush 02 and waiting for the Holiday Brush

WOW!
I have many different brushes ranging from high end to low end. Chanel, Hakuhodo, MAC, MUFE, real techniques etc. this was my first Wayne Goss purchase and it is phenomenal for setting under eye concealer. I was having issues with a cakey appearance. Even after hydrating and using a hydrating concealer the setting powder just didn't look right under my eyes. However, after using this brush to apply the setting powder it was... Perfect! I also used the brush for contouring. Very precise application of product. I look forward to purchasing more brushes from this line. I highly recommend brush 02.

If you buy one brush from this set...
Buy this brush, I was hesitant but it applies all of my powder face products beautifully. It will not work well for high contrast contouring because it provides the most amazing diffuse wash of color and powder without disturbing your foundation.

ifmakeupcouldtalk m.
Jan 29, 2014
The Ultimate Multi-Purpose Brush for Powder Formulations!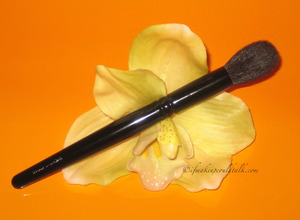 If you are on a budge and are seeking a brush to do "it"all, then look no further than this beauty. I use this to apply my powder blush, highlighter, contour color and setting powder. I adore this brush so much, I had to dedicate a full post on my blog. -Maria www.ifmakeupcouldtalk.com

My Favorite Brush!!!
A word on Wayne Goss brushes: You will be very hard pressed to find the same quality and ease of use anywhere else at this price. I am astounded. With that said, when the 02 brush arrived I took one look at it and felt a bit disappointed. It was so small. I couldn't understand how I would ever apply my blush with it. Fast forward to today and I own two of them. One for blush and contouring and the other for highlighting. It has become my favorite go to brush for cheeks and highlighting. It is super soft, more soft than brushes I paid three times as much for. I love the all black handle and ferrule. I've shampooed them numerous times and I swear they're getting silkier. I want more. More! LOL!

This brush is extremely soft and I love how it applies blush. I purchased it about 3 weeks ago based on the reviews and I was initially very happy with my purchase. Unfortunately this past week I noticed shedding. Brush is practically new and I don't use it everyday so it really shouldn't be shedding already. I was planning on purchasing more WG brushes but I cannot get past having to pick little black hairs off my face. I would have given it 5 stars were it not for the shedding.

You're going to want them all...
...because it's impossible to stop at just one. I started with the eye set and was so thrilled with those, I'm starting to add the others. I have 2 of the "Holiday" brushes (1 black, 1 white) and this is like the cute, baby version of those. I LOVE this brush for using light powder to set corrector and/or concealor in the eye area, and anywhere in the t-zone, because it's so gentle and won't disturb the work you've already put into concealing. The beauty of this brush is its versatility - small enough to have control in small areas and to do precision work, yet still adequately sized to use for things like a wash of blush. Which, unfortunately for my bank account, makes me want more of them! Super soft, beautify crafted, no shedding...could only be better if it came to your door with Wayne himself.

Love
So soft and handy. Doesnt shed at all, easy to use for contour, highlight, my setting powder brush. Love it, now I want the holiday version. His brushes are addicting I dont even use my Mac brushes as much since I bought Mr. Wayne Goss. No regrets so worth it.
---