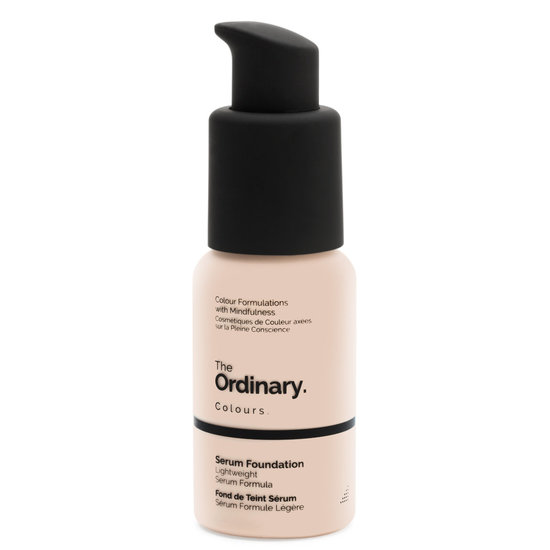 Rollover image to zoom
Reviews

Drying out. Geisha look only.
This shade takes all the life out of my face it is way too white. Felt like a clown or a geisha face after applying it. I noticed it dries out the skin completely. I could not see any silver shimmer - it is completely matte flat very fair color. I would like to have more natural look of the real skin, not the mask effect this foundation gives. I have applied it on moisturized face. I tried adding moisturizer to it - still same dry matte look of geisha.

Made my pore Huge!!!
I have never had a problem with my pores looking big in any other foundation so I was shocked after I put this on & leaned a little into the mirror... it was awful..My pores looked huge!! The makeup sank into every pore and emphasized it. A LOT!! The pores on my cheeks, the apple area, not the nose, stood out. I could not get it off fast enough, I looked terrible! I also noticed it made my eyes water a little even though I did not get close to them, strange?? I am so sad because the color is almost light enough for me and the texture is quite nice, amazing price too, who doesn't love a great deal!!! I really like everything else that I have tried of The Ordinary's except this. I hope this can work for someone else it's definitely not for me!!

So. Close. But not quite.
I am rather fair, about NC5 or lighter, with dry skin and this was SO CLOSE to being perfect.
It's dark and oxidizes ruddy. The color is about 3 shades too dark, and maybe 2 too red. And it's staying power is a bit iffy. I would 100% overlook that if it actually matched me, though!
PLEASE make a lighter, less ruddy shade than this.
It feels moisturizing on my skin. As a 30 year old, its dewy finish definitely helps hide fine lines. It was a dream to paint on with a flat paddle brush, and even in the dry, airplane-like office environment, it didn't feel itchy on my dry skin, which is kind of miraculous.
I wanted to love this. But the shade match is a deal breaker.
If you are about NC15 or so, I recommend this whole-heartedly. But if you're more fair (unless you like to be a mad scientist with white mixer) I can't recommend it.

Fluid and easy to apply
It reminds me of Giorgio Armani luminous silk foundation but is more fluid and easier to apply. Light to medium coverage and went on even for my dry patchy skin. Second layer gives you more coverage. One thing that I'm not too upset about is that I don't see any silver pearl or glitter or sheen at all in color 1.0ns. The description reads like it would have a pearly silver glow in my opinion but I didn't see any of that. I get quite oily in the T zone and cheeks. This stayed visible for about 4-5hours with a foundation base and a light setting powder. Can't say the stay power is remarkable but I was amazed how easy it was to put on with a sponge on patchy dry areas without creasing. That rarely happens. I will restock on this when I run out. I'd also purchase some other colors. 1.0ns is way paler than GA luminous silk #2 and is closer to mac nw10. Maybe even paler.
---