Granactive Retinoid 2% in Squalane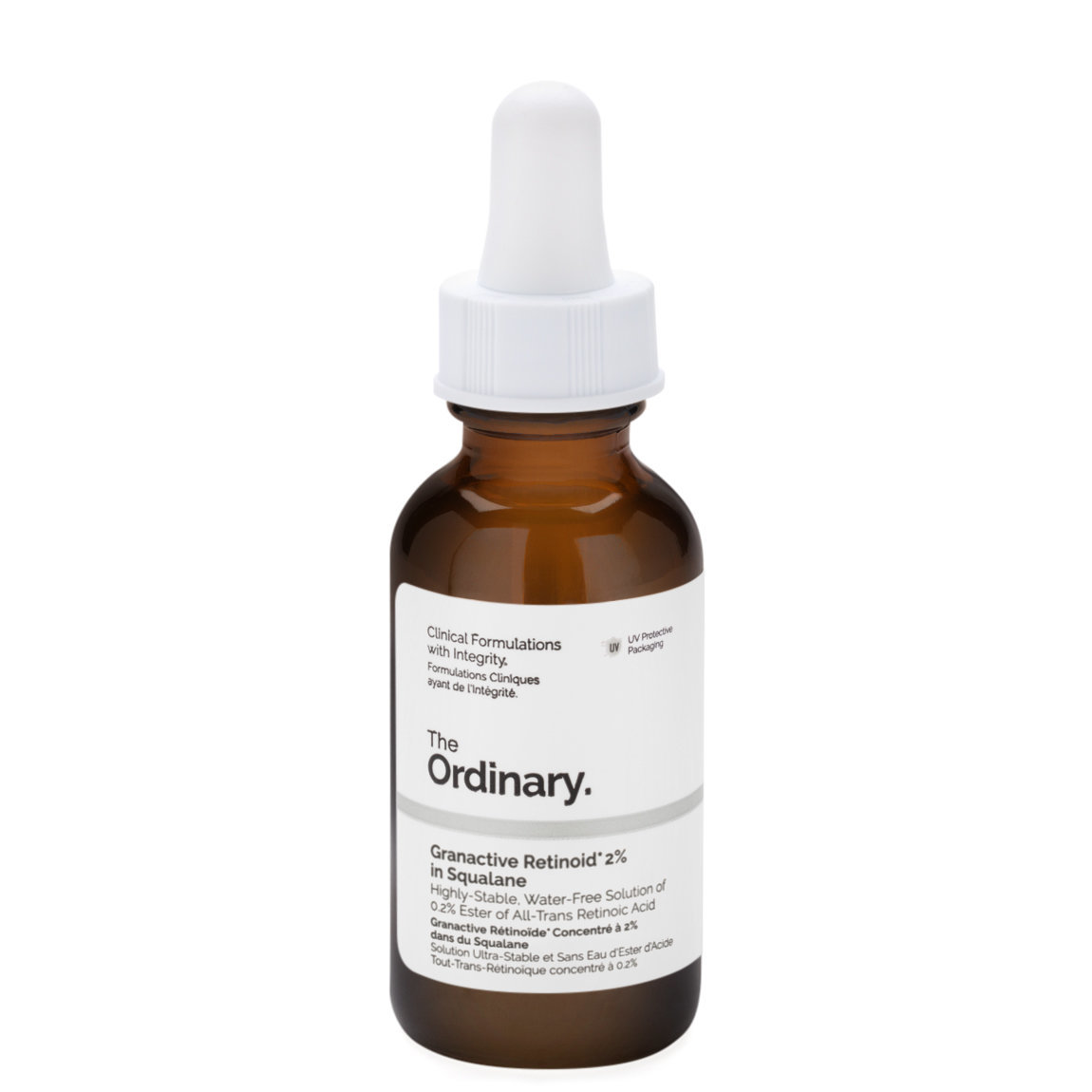 Product Description

About Granactive Retinoid 2% in Squalane

Granactive Retinoid 2% in Squalane is a lightweight serum with an advanced, non-irritating retinoid complex in a squalane base.

Why It's Special

This treatment visibly reduces the signs of aging without irritation. It diminishes the look of wrinkles and fine lines, brightens dark spots and hyperpigmentation, and smooths and refines the skin's texture.

Key Ingredients

Solubilized Hydroxypinacolone Retinoate: an advanced retinoid complex that delivers better anti-aging results with less irritation than other non-prescription retinoids
Squalane: a plant-derived emollient ingredient that offers lightweight hydration

How to Use

Apply a few drops to your skin at night before oils, moisturizers, and creams. Do not use this serum with other products containing retinoids, such as retinol and retinoic acid. Retinoids can make your skin more sensitive to UV radiation. We recommend wearing sunscreen during the day.

Other Details

Size: 30 ml
pH: 5-6
Cruelty-free
Vegan
Alcohol-free
Silicone-free
Water-free

Ingredients

Shipping & Returns

Free Shipping

Beautylish offers free shipping to the U.S. on all orders $35 and up. For all other orders, we offer $5 flat rate shipping.

Fast Delivery

We ship using FedEx Express (2 business days from order shipment date) and FedEx Ground (3-5 business days from order shipment date).

Satisfaction Guaranteed

If you are less than completely satisfied with your purchase, you may return your order within 60 days (from the delivery date) for a full refund. We'll cover the cost of return shipping within the U.S..

World-Class Customer Care

Beautylish's team of makeup artists and beauty experts are here to help. If you need assistance in anything from color matching to your perfect skin care regimen, we're here to help.

Phone: 1-877-992-5474

Email: service@beautylish.com

Reviews

Building up your regimen with Ordinary is challenging but it worth your effort, including this serum is a must have for skins with first signs of aging.

Here is the story of how I have found the most efficient products of this line to cover all the necessary consern of my skin and build up my daily skincare routine.

I beleive in Ordinary, my skin has not been so well since years! I am 38 with combination, aging skin sometimes I have breakouts, usually I have blackheads. My most important consern was to deal with hyperpigmentation since now I live in a tropical country and have fair skin cannot stand the sun anymore. Based on my experience you can just start to buy only what you miss in your routine as I did at the beginning, or if you want to switch to this line completely you can do it as well, as I did during the last 8 months. Yes it took time for me to find out which were the best products for each and every needs of my skin.

I have started with the basics to see how the line works, so I picked up a non-greasy moisturiser Natural Moisturising Factors + HA along with a night-time use oil the 100% Organic Cold-Pressed Rose Hip Seed Oil. With these two I dont need to use any other moisturiser. I also use them around the eye area since they don't carry any fragrance.The Rose Hip oil I use for face massages that leaves my skin as smooth as it was 20 years before! I also wanted to try the Glycolic Acid Toning Solution 7% but was never available, finally a month ago I took my hand on it and I love it also. I was really satisfied with how these products perfomed on my skin, how easily sinked the moisturiser in, how smooth was the oil.

So, I decided to look for something to fade my dark spots. First I have tried the Azaleic Acid Suspension 10%, I went through the whole tube but I could not see much difference on my hyperpigmented areas, however I really liked the consistence of this suspension and felt silky on my skin, altough I think it is rather for smoothing the texture and cleaning the pores.

My next purchase included Alpha Arbutin 2% + HA, thanks to the impressing photos of Nora H about the improvement this product made on her face. Now I can tell also IT WORKS! I whish I had taken some pictures before using this product to show you the difference in 3 months I have achieved with it! It is so awesome that I have swiched my full coverage foundation routine to a lightweight BB cream, what I thought would never happen. Along with this product also purchased the Argireline Solution 10% what I mainly use around my eyes and the mouth twice a day. At firts I did not like its watery consistency, but the fines lines has smoothened out and I see now it is a good product. The third one of this box was Niacinamide 10% + Zinc 1 % I keep using every morning and I can tell beside the refreshing gel consistency I see my pores soothened and the redness on my cheek and chin has been reduced. I don't know if these results occured because of this particular product but my skin feels and looks a lot better since these three are working on it.

My last purchase I have only made a month ago, but one of the products deserves a review already. That one is the Granactive Retinoid 2% in Squalene, wow!! it is a real-time treatment, using it only two times you feel the improvement of your skin texture. I was really blown away how smooth and silky felt my skin after only two-night-use. Since then I cannot resist to use it every night, I only skip it when I put the peeling mask on. I have read reviews on retinoids but I have never used one before, I was prepared for some tingling or drying sensation, but it went on like a milky lotion, it is true however that it takes a couple of minutes to absorb and it leaves a bit of a tackiness but I always put my Rose Hip oil on the top so this feeling goes away instantly.

My skincare routine is complete now and I only wish Ordinary carried a cleansing balm/lotion and some sunscreen with high protection I still need to purchase from other brands.

So here is the break down of my complex skincare routine I have builded up by now: Morning steps: Cleanse with non-alcoholic lotion 1) Glycolic Acid Toning Solution 7% 2) Argireline Solution 10% (around the eyes and mouth) 3) Coffeine Solution 5% + EGCG (around the eyes) 4) Niacinamide 10% + Zinc 1 % 5) Natural Moisturising Factors + HA 6) Sunscreen 7) BB cream  LOL Evening steps Ceansing balm or oil to remove make-up 1) Glycolic Acid Toning Solution 7% 2) Argireline Solution 10% (around the eyes and mouth) 3) Alpha Arbutin 2% + HA 4) Granactive Retinoid 2% in Squalene 5) 100% Organic Cold-Pressed Rose Hip Seed Oil

In addition I use the AHA 30% + BHA 2% Peeling Solution twice a week, started a month ago still early to give my opinion.

Exactly what I needed!

I've used it a few times every night and have already noticed a difference in the really fine lines under my eyes. I have very oily skin and thought I'd be able to omit moisturizer from my nightly regimen (since there is oil in the product). However, I noticed tiny dry patches appearing when I put my foundation on. This is nothing bad against the product, but I'm going to use a moisturizer again at night and would recommend that for everyone regardless of their skin type.

Effective but uncomfortable

I have been using their 2% retinoids previously. It's an effective product so I thought I should give this new product in squalance a try. It's equally effective but when I just applied it, it feels very uncomfortably oily. As I have oily skin and having such greasy feeling on the face is extremely depressing. After waiting for the product to be absorbed, the grease is visible there.

The miracle part is when u wake up, the face is tighter and firmer. So forget about the grease and go to sleep! Wake up to a younger and happier skin!

Great retinoid

I was using Peter Thomas Roth and it made my skin feel like dry cracked leather. Along with that I saw no improvement in fine lines. I started using this two days ago and not only did it not dry my skin out but I see my fine lines have smoothed out and my pores are so much smaller. I think I am onto something amazing with these products.

Game Changer!

I started using this product about 6 weeks ago almost nightly, and every two weeks in conjunction with a microneedle roller - and OMG. 17 years ago I was in a car accident and have had small fragments of metal in my face visable through the skin and scars that look like pimples since, as I get older they are more noticable. Since starting this routine most of the metal has surfaced out of my face and the scars, although discolored, are now flat. The texture of my skin hasn't been this good in almost two decades. And what a price for such an exceptional product.

Absolute Must Have!

I've used it for a couple of nights and I could already notice a difference in my skin. Smoother skin and pores definitely refined. I have sensitive oily combo acne prone skin and this product has worked so well (no irritation or clogged pores). Try it. You won't be disappointed, and by the way the price point on an amazing product , what else could you ask for.

Amazing

I love the products that are made by the Ordinary. This retinol product helped me condition my skin for 3 months prior to using Retin-A. I have had no irritation from Retin-A or this product. I still use this product on the nights that I do not use Retin-A. This retinol is not irritating and the squalane. is an extra bonus. I highly recommend this product to anyone who wants their skin to look years younger. I ask love it because it is a 2% solution.

Wow!!!

This is a great product for a great price, I just started using it so I don't feel I can give a complete review However This serum is extremely hydrating and for that alone it deserves 5 stars. The cost and the shipping make the experience even better. Will be purchasing again

Not the best, but I'll use it up somehow...

One of the very few TO products that I have had a sub-par experience with. I've used the 2% advanced retinoid before with no issues, and to be fair, I don't think it was the "active" component of this that was the issue. I have insanely dry skin so I thought the squalane version would be ideal for me, but the oil just never seemed to sink into my skin. I woke up this morning, and my face was still an oil slick even though I only used 2 drops. I'm going to try reducing it to 1 drop tonight and see how that goes. If not, worst case, I may test it out on legs to see if it helps w/ my keratosis pilaris (since my derm recommends trying out tretinoin based products for it) so all isn't lost I guess. Finally, it was a flawless shopping experience as always though - fast shipping/packaged nicely/etc.