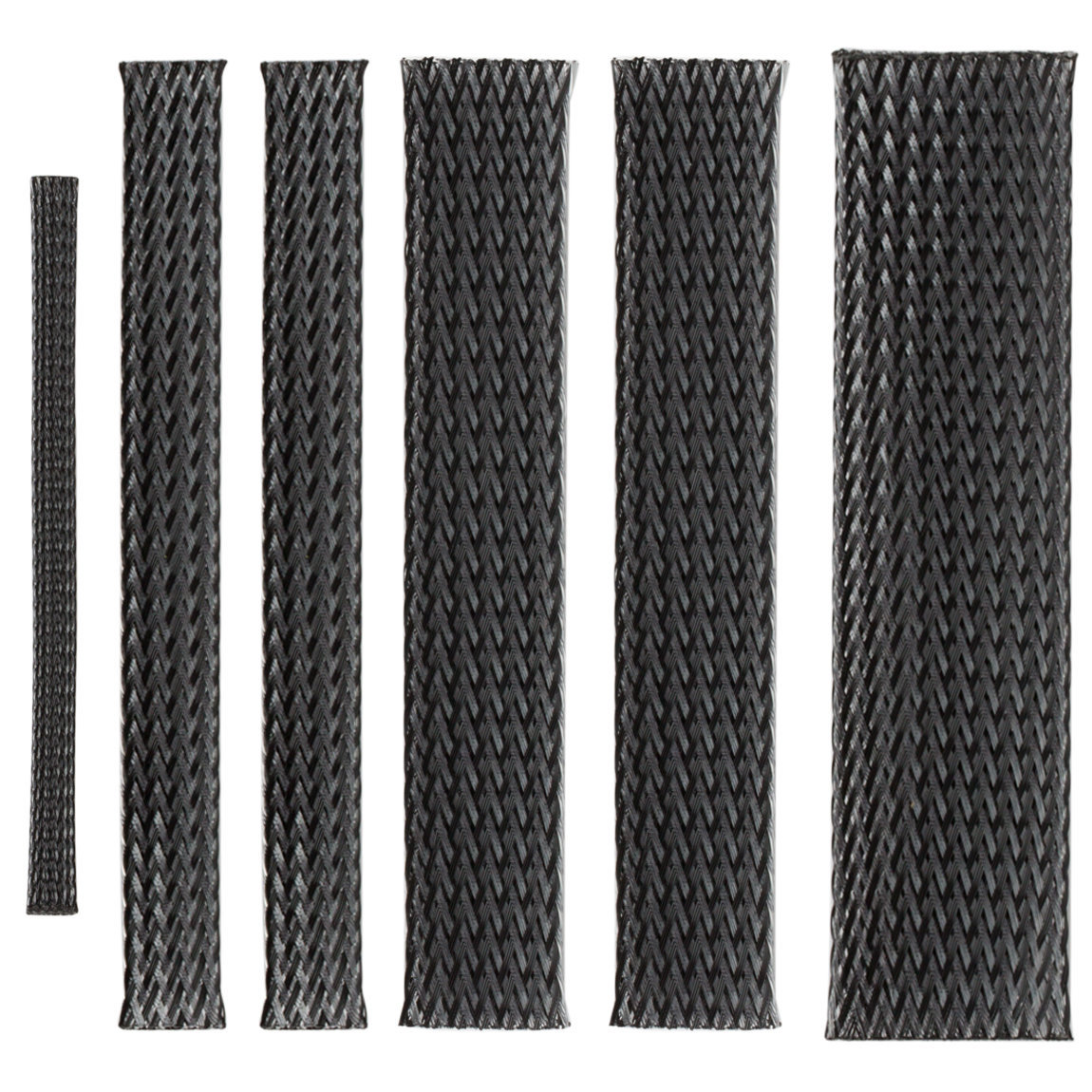 Get the Set

Product Description

The Brush Guard slips onto brushes, providing protection for your makeup brushes that was never possible before!

The Variety Pack includes:

1 - Extra Small

2 - Small

2 - Medium

1 - Large

Only The Brush Guard allows brushes to dry bristle-down so water won't ruin your brush and bristles stay tight and dry in perfect shape!

With The Brush Guard, your make-up brushes can be stored or packed without a worry in a purse, kit or roll. Now brushes can go anywhere without risk of damage.

Ingredients

Shipping & Returns

Free Shipping

Beautylish offers free shipping to the U.S. on all orders $35 and up. For all other orders, we offer $5 flat rate shipping.

Fast Delivery

We ship using FedEx Express (2 business days from order shipment date) and FedEx Ground (3-5 business days from order shipment date).

Satisfaction Guaranteed

If you are less than completely satisfied with your purchase, you may return your order within 60 days (from the delivery date) for a full refund. We'll cover the cost of return shipping within the U.S..

World-Class Customer Care

Beautylish's team of makeup artists and beauty experts are here to help. If you need assistance in anything from color matching to your perfect skin care regimen, we're here to help.

Phone: 1-877-992-5474

Email: service@beautylish.com

Reviews

Great shaping tool

A necessity for reshaping your brushes after you've washed them. Especially the natural hair ones. I wouldn't recommend storing your brushes in them whilst travelling though because the same holes which allow the bristles to dry so effectively will rough up - so to speak - the bristles if they're moving around. The variety pack is best if you have a lot of brushes...get a couple.

Hands Down Must Have

These are brilliant, and one of those concepts that make you think "um, why didn't I think of this." In my opinion, natural hair brushes loose their shape easily. I have a few that I dreaded deep cleaning because they just weren't the same after, no matter how delicate I was and how well I reshaped while they were still wet. Not anymore!! I washed my two most dreaded (yet favorite) brushes the moment I got the brush guards and I must say, I don't know how I lived without it. My brushes are seriously like new, their shape is back to perfection. I also dreaded deep cleaning all of my brushes because I hated finding ways to dry them without damaging them. I always had brushes hanging all around my house and it was annoying to say the least. The Brush Guard makes the drying process so easy I seriously wouldn't mind deep cleaning my brushes every night! (probably wont do that, just saying it is now possible! Something for MUAs to keep in mind though.) Bottom line, if you have invested money in quality tools, BUY THESE. They are a MUST. I'm sure they will extend the life of your brushes by years and they are much easier and more compact than other products such as trees. You can just keep them right in your brush cup, no need to set aside precious space to dry your brushes. I literally just bought a very expensive set of brushes and I'm waiting on them in the mail. I was worried about protecting my investment and considering different options. I bought a single variety pack of The Brush Guard at a local retailer to give them a whirl before I committed. Now that I know first hand how awesome they are, I'm going to buy 3 more variety packs here off Beautylish!

I am a Makeup Artist, and I clean my makeup brushes often. These brush guards come in different sizes. It is very important to keep my brush bristles in shape to perform proper makeup application .These brush guards are awesome. They stretch and hold the bristles in shape. I purchased all different sizes of these brush guards. I will highly recommend this to any one.

Team

Rosalind D S.

Sep 28, 2015

YOU NEED THEM

I've had the brush guard for ages, they don't break. Have to say this is one of the best brush related inventions. Instead of bring a brush case with me when I'm traveling, I prefer to guard my brushes with these guys. It saves so much space. I also use them to reshape my brushes after washing them, perf!

These are a necessity

These brush guards are necessary for anyone who wants their brushes to remain in great condition. I wash my brushes and immediately put the brush guards on. Not only do they help you keep the shape of your brushes, the brushes also seem to dry very quickly. The brush guards stretch so sizes that may seem too small, go on easily. I will not way my brushes without having my brush guards nearby. This is literally one of the best inventions out there! A must have product!

Stephanie F.

Nov 21, 2018

Great for travel!

These little tools are excellent for travel because they keep my brushes from fraying. They are also wonderful to use when I dry my brushes, as they help maintain the brush shape. I would repurchase these in a heartbeat because they dramatically increase the longevity of my makeup brushes.

More durable than they look

These look like they might strech out or crack but they stay tight and flexible but too tight that they can't slide or put too much pressure on the bristles. They do stretch a bit so one size guard can fit a wide range of widths. I definetly wsnt to get more. This beats me previous tissue paper and scotch tape fail.

Great for brush shaping!

I purchased these because I spin-dry my brushes (trust me, I already know it's not good for them LOL) and they poof out hardcore with all the spinning. This does a great job of making them look as though they just came out of the packaging. I was worried for a second that the guards were scraping the paint off my brushes so I did something kind of risky. I grabbed my Hakuhodo J5521, and put it inside the Medium guard. I put the guard around the handle and tried to 'scrub' the paint off with the guard. It was an anxiety-producing experience, but I am happy to say that the guard did NOT remove any paint from my brush. (However, I am not so sure if the silver lettering on my Hakuhodo brushes will hold up so well -- they wash off over the course of a few months, so I wouldnt be surprised if these guards knocked off any other little decals of that nature) This wasn't a fully 5-star product for me, though. Unfortunately, the way the guards are separated (which appears to be like, a hot knife or something of that nature) causes the ends of the guards to appear melted, and they break/fray into the woven strands when you put the first brush in. (Am I doing this wrong? Are you supposed to 'break them in', so to speak?) Those strands then push into the bristles of the brush (to help shape the bristles) and I noticed that one of my Hakuhodo brushes had a hair pulled out of it, which made my heart stop for a second. I am trying to move past that and just keep giving them more use -- I used it with my Sakura 2016 powder brush and I didn't notice any pulling/shedding/chipping of paint, but I'm going to be VERY gentle with these moving forward. I will also probably avoid using these with any brushes that have any intricate detailing or expensive bristles (BeautylishXChikuhodo Sakura collections, any brushes with Saikoho Goat or squirrel hair, etc.) Overall I love the concept and for my less delicate/valuable brushes these are a great option!