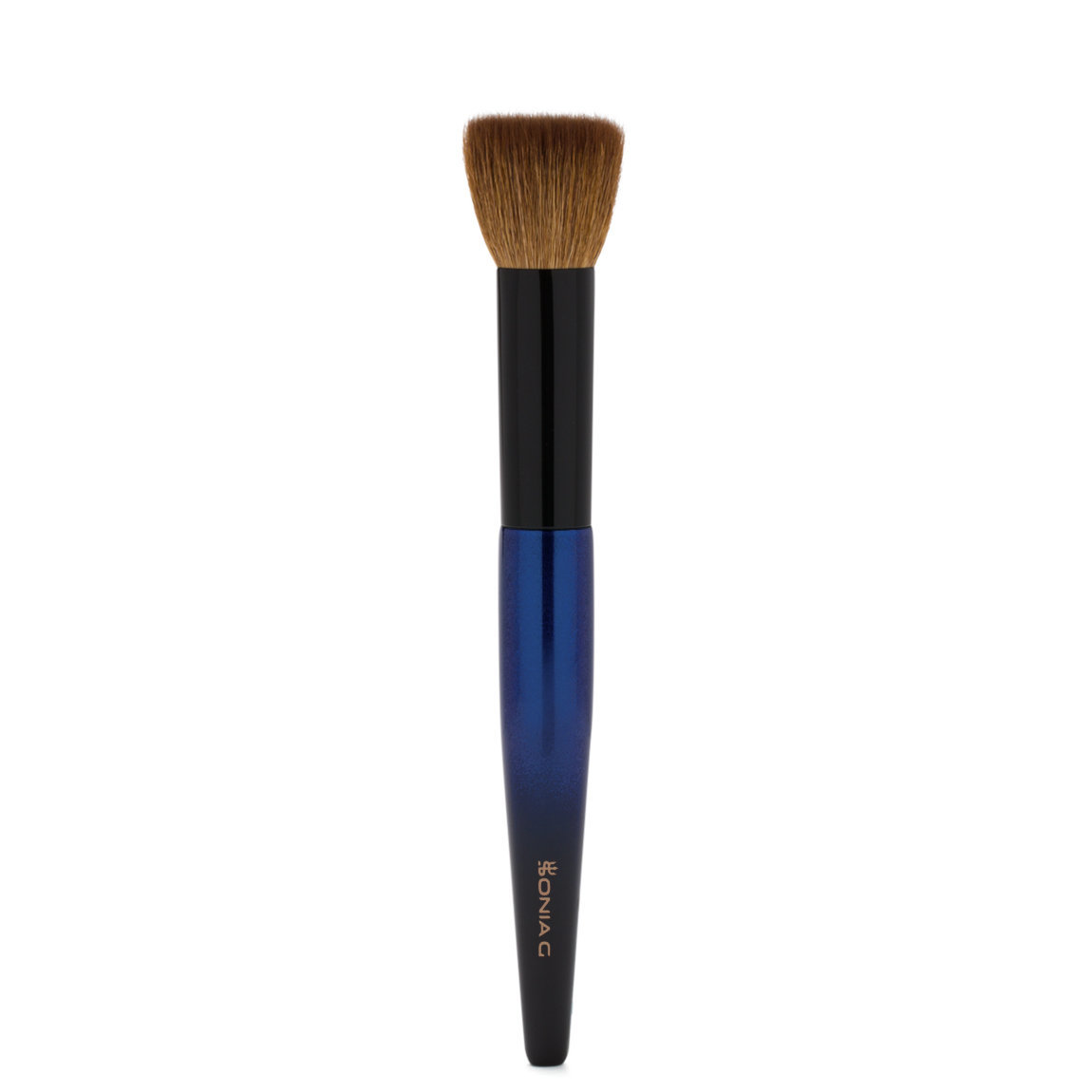 Product Description

About Sonia G. Smooth Buffer

Buff your powders to a smooth, seamless finish with this fluffy powder brush from Sonia G. Similar to Face One but in a smaller size for easy handling, Smooth Buffer features the perfect shape, grip, and density for blending pressed and loose powders without disturbing makeup underneath.

"The Smooth Buffer is the Face One brush with a smaller ferrule and surface diameter. It offers the same functionality as Face One, with the same softness and movement in the bristles. The density and flexibility are what make this little buffer so versatile for daily use." — Sonia G.

Why It's Special

Buff mineral powders, loose setting and finishing powders, and even sheer bronzers into the skin with a natural finish—Smooth Buffer makes fast, flawless powder application easier than ever
Each brush is handbound by master artisans in Japan using traditional brushmaking techniques for unparalleled performance and craftsmanship
The handle is made from dense, sustainably harvested maple wood and coated with four layers of pigment and lacquer for a rich, dimensional finish

How to Use

Swirl the tip of the brush into powder and tap off any excess. Apply and blend using circular motions.

Other Details

Total length: 166 mm
Hair length: 26 mm
Ferrule width: 17.4 mm
Hair Type: Dyed saikoho goat hair

Ingredients

Shipping & Returns

Free Shipping

Beautylish offers free shipping to the U.S. on all orders $35 and up. For all other orders, we offer $5 flat rate shipping.

Fast Delivery

We ship using FedEx Express (2 business days from order shipment date) and FedEx Ground (3-5 business days from order shipment date).

Satisfaction Guaranteed

If you are less than completely satisfied with your purchase, you may return your order within 60 days (from the delivery date) for a full refund. We'll cover the cost of return shipping within the U.S..

World-Class Customer Care

Beautylish's team of makeup artists and beauty experts are here to help. If you need assistance in anything from color matching to your perfect skin care regimen, we're here to help.

Phone: 1-877-992-5474

Email: service@beautylish.com

Reviews

Not too small

I was scared this was going to be too small but I actually really like the size. I don't have the face one but it's still on my list. Here it is next to master face for size reference. You can see from the top that the smooth buffer is a tad bit smaller in diameter. It hasn't been washed yet though so I think it will bloom more. It's super soft and even pressing it perpendicular into the face there are no pokey bristles. I used it today for finishing and also for bronzer. If you have a sheer bronzer (I used Charlotte tilbury new bronzer) you can buff it into the skin beautifully with this brush. It's the perfect density and doesn't move the makeup underneath. Sonia really is a genius when it comes to brushes and I can't wait to see what else she comes out with, her releases are like Christmas for me 😂 for the pics I made sure the brushes were level with each other as to not distort the sizes with perception.

Love this size!!

I love my Face One but I think this Smooth Buffer is more my size. Don't get me wrong. I will definitely keep my Face One as I use it for lots of different applications. But the Smooth Buffer I can use for setting my contour around my forehead and other places on my face. I actually used it today for blush as well. I most definitely will use it to lightly set powder with stippling motions and not just sweeping it. Love the brown color of hairs as well. It's not as soft as the Face One but each one has it's unique feel, texture and density to provide you with the look you are aiming for. I am VERY pleased. The Smooth Buffer is the brush on the left compared to the size of the Face One.

10/10

When I got this I was worried it would be exactly like the face one. When sonia came out with this I was actually looking for a dense small brush for my under eye for setting powder. This does the Job perfectly, It is extremely soft. It's about 1/2 the diameter of the face one and 3/4 the density of face one and 50% softer than face one. I really enjoy this purchase. $70 is alot but for good quality brushes, I normally save up for the ones I want. I first went into natural haired brushes cause they are soft and synthetic brushes cause my skin to have rashes. I am really please. Now for the question: If you have face one do you need smooth buffer?

I would say they are completely different brushes and I am glad I have both in my stash.

Beautiful but.....

First off, this is a beautiful and well made brush. The color blue is stunning and the brush head is soft, yet firm. It is smaller than the Face One, obviously, but I think that this one should be a bit less expensive than it is. If you want to buff powder over your entire face, I think you should get the Face One. If you just want to buff specific areas, then this may work better. I think that this is overpriced for the size and should be priced comparable to the Soft Cheek or the Designer Pro brush. It does buff in powder nicely, but I have an e.l.f. brush that works just as well. Again, beautiful brush, two stars off for excessive price.

Amanda Joan J.

Sep 20, 2020

Amazing.

This glorious woman has done it again.

I'm a notorious stippler. I have never been able to buff my powder foundations because I have combo textured skin and it would always accentuate flakes. For the first time I experienced being able to apply my powder foundation with a good buff!

This brush is nothing short of amazing. It's a bit smaller in diameter and shorter in bristle length than the Face One, offering a more controlled application and buff. The fact that its denser makes it much more suited for mineral powder foundation in my opinion. I used this brush today for exactly that - plus blush, targeted bronzer and buffing out my contour and highlighter. Even my boyfriend noticed how immaculate my complexion was looking! And y'all know its not everyday that people actually notice these type of details.

This brush will be an everyday staple for sure. I'm in buffing heaven. Sonia G, I thank thee!

Quintessential

It's simply a must have to finish off your makeup. Up until recently, I wasn't someone who buffed out my makeup but now that I'm in my mid 30s I've noticed buffing my makeup creates a more refined look. Ordinarily, I used some mid-range brushes from Sigma, MAC, Juvia's Place, & Prados but it wasn't until I read & watched reviews on this Sonia G. brush that I decided to *invest* in a high end buffer.

Needless to say, I'm beyond thrilled with my purchase & it's definitely a full level above the rest. This buffer is softer than anticipated, very wispy with just the right amount of density to truly buff in finishing powders & smooth out my face products.

If you're on the fence, remember it's an investment but the older we get the more gentle quality brushes we need.

Tigerflower B.

Oct 09, 2020

Smooth Buffer by Sonia G.

I'm a huge fan of Sonia G's Blue Line of makeup brushes! They fill a niche in the beauty market for people with smaller features. Every Blue brush that I have works beautifully on my eyes & face. The handles are ergonomically tapered with a slimmer, lighter handle. Her newest brush is The Smooth Buffer. Most buffing brushes are huge! However, this scaled down buffing brush is the perfect size to work on specific areas, givng you more control without disturbing your makeup foundation. The natural brown hairs are arranged into a soft, flat top that has a moderately soft density. The brush lightly bends, but isn't floppy or overly stiff. Dab this into your bronzer or blush & lightly buff it into your forehead or cheeks. It won't move or disturb your foundation! That's how great this brush is! The Buffer Brush is different from her Face 1 & 2 brushes in that the Buffer's flat surface is specifically designed for specific buffing...If you love Sonia G's brush don't pass this one up, It's a great addition to your collection.

Perfect buffing brush

I have been wanting to buy the Face One for a while but it's been out of stock. Then when I saw this new brush, I thought, well it looks very similar, so I picked it up. I am very happy with my purchase. I have a smaller face and I think this brush is perfect for the size of my face. It is also very soft, it's a perfect buffing brush. I tried it with my new Hourglass unlocked palette, and my god, it buffs the bronze, blush and highlighter so well that it looks so seamless on my skin. Purchase well worth it!

I caved in, but this is worth it!

Perfect size brush head, perfect density, perfect handle size and weight....I just love everything about this new Sonia G brush! I like to stipple blush on and this gives a nice bounce without being harsh at all. The bristles are soft but not flimsy or floppy. Beautiful finished look!

New Revised Review

I wrote a review when I first got this brush but now have used it for a while and can honestly say this is a disappointing brush for me. I do not understand all the praise that this brush receives. It is not worth 70 at all and the price makes me angry that I actually fell for it and purchased it. It is beautiful to look at. The blue handle and the brush head are lovely, but not any better than other brushes I have. The Face Two brush is a much better buffing brush for me and costs much less than this one. I am sorry I was swept up in the hype of this brush. Next time I will do much more research and not from the people who received the items for free.