Double Tenseur Instant & Long-Term Lifting Primer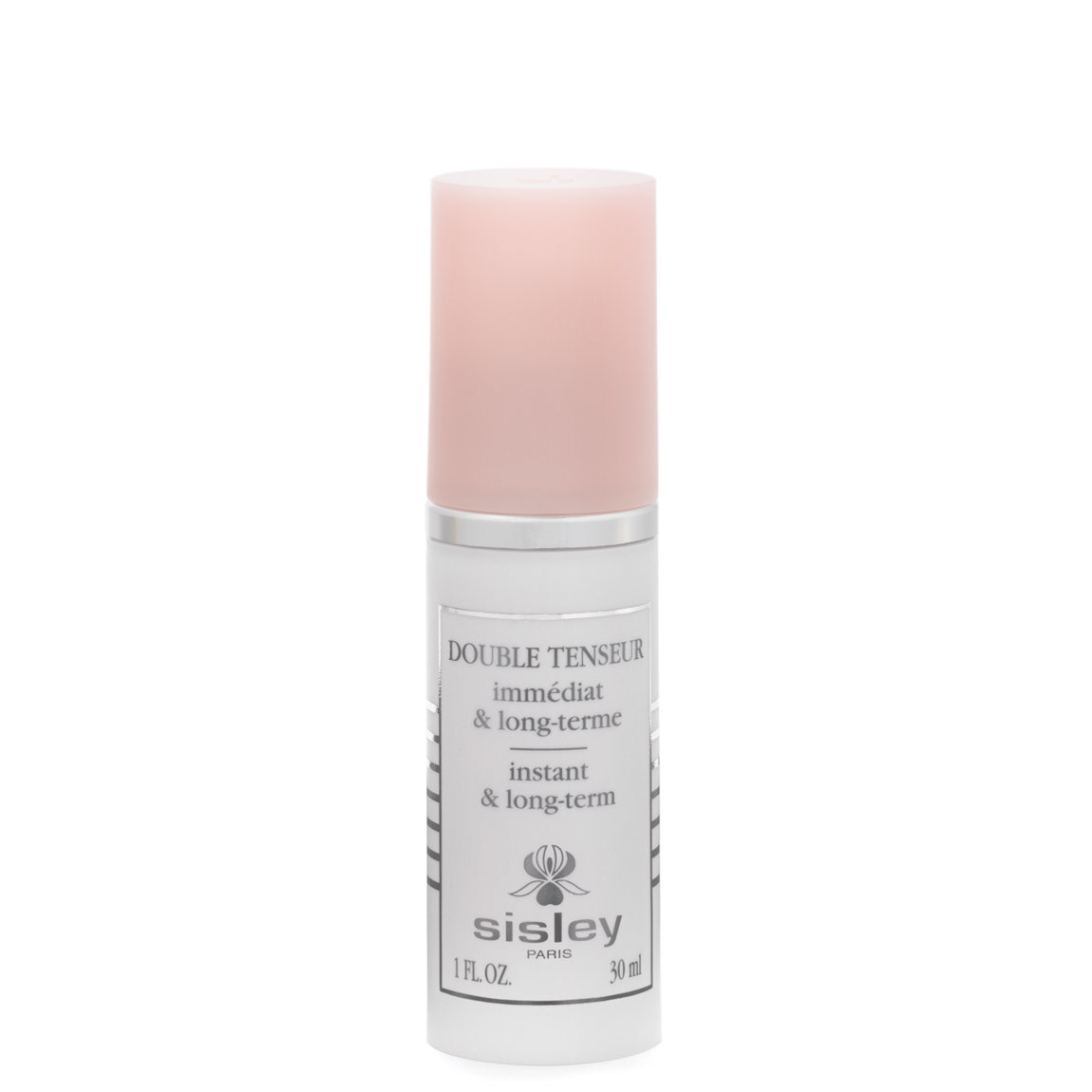 Sisley-Paris
Double Tenseur Instant & Long-Term Lifting Primer
$200
Product Description

About Sisley-Paris Double Tenseur Instant & Long-Term Lifting Primer

Beloved by makeup artists like Jaclyn Hill and Tati Westbrook, Sisley-Paris Double Tenseur is a lightweight primer that lifts and tones skin instantly and over time. The hydrating gel formula has an immediate smoothing effect, creating a breathable film over the skin's surface that adheres to makeup and protects from pollutants. As you wear it, the powerful botanicals in Double Tenseur help to firm, energize, and redensify skin, leaving it feeling noticeably plump to the touch.

Why It's Special

Enhances the wear and finish of your makeup with oat seed extract, which creates a breathable, mesh-like film over the surface of the skin
Rhatany and lemon extracts tone and smooth skin texture while tiger nut and cottonseed extracts strengthen the dermal structure
Creates an instant lifting and smoothing effect that lasts all day; after four weeks, skin feels noticeably more firm, dense, and toned

How to Use

Smooth a small amount over your skin before applying makeup. You can also apply over your makeup during the day to give your skin an instant boost.

Other Details

Ingredients

Shipping & Returns

Free Shipping

Beautylish offers free shipping to the U.S. on all orders $35 and up. For all other orders, we offer $5 flat rate shipping.

Fast Delivery

We ship using FedEx Express (2 business days from order shipment date) and FedEx Ground (3-5 business days from order shipment date).

Satisfaction Guaranteed

If you are less than completely satisfied with your purchase, you may return your order within 60 days (from the delivery date) for a full refund. We'll cover the cost of return shipping within the U.S..

World-Class Customer Care

Beautylish's team of makeup artists and beauty experts are here to help. If you need assistance in anything from color matching to your perfect skin care regimen, we're here to help.

Phone: 1-877-992-5474

Email: service@beautylish.com

Reviews

This product is AMAZING 😍

I decided try this product due to Jeffree Star swearing by it. I have oily combination skin in a few wrinkles underneath my eyes. This product seriously is the best primer ever! It makes my skin look perfect. No more visible pores. No more separating foundation. Further I can visibly see the difference it is making in my skin it looks tighter and feels tighter. I know many people gripe about the price point of this product, but it's worth every penny!!! I love that Beautylish has Flexi pay for this product because I can't live without it anymore. Al I also would like to say it is a lot cheaper than Botox or any other cosmetic procedure to address multiple issues at once. My oily combination skin loves this. No filters needed with this baby! Must have holy grail! Now I've got to try their other products.

Not for dry skin

My skin is normal for the most part, but I am aging and do get occasional dryness around my eyes and nose. I didn't think I had any flaky spots, well not until I used this primer. The texture feels nice going on, it's a very light gel...but once it was on my face, I immediately felt my skin tighten up (not in a good way) and my face suddenly felt very parched. I attempted to apply Sisley Sisleÿa Le Teint foundation, and started noticing flakes around my nose. Also, the foundation was sitting in every pore, which I thought was odd. I removed the primer, applied the foundation again, this time over my normal skincare and a no-frills moisturizer, and had a beautiful result, so I'm now certain the primer was the culprit. I imagine people with oily skin will benefit most from this product as long as they don't have issues with dehydration. I don't recommend it to anyone with even slightly dry skin. It made every line and wrinkle more noticeable also...so I am forced to give it a thumbs down, especially with it's expensive price tag.

#1 PRIMER

I go through serious research before purchasing my products. This product is absolutely amazing! How I use this product goes as follows: Exfoliate Wash Face Apply a small amount of product to the tips of my fingers. Pat into my pores. By applying to troubled areas, (large pores & redness) leaves a beautiful light product film. Which ensures your next layer - foundation to adhere beautifully unto your face. It soaks into the skin quickly and leaves a beautiful tacky finish. Also Sisley products have skincare ingredients. I'm so happy to have this item in my makeup kit. Ladies and gents, give yourself or each other THE BEST PRIMER. Be sure to spread the word!

Danielle, Manhattan

I bought this product after Jaclyn Hill couldn't stop talking about it. I have normal to dry skin, more dry around my nose. I have tried so many different primers you name it i've tried. This is truly is the best out there!! I went to Rock on the Range in Ohio my makeup stayed amazing every singe day. No joke. It rained somedays and was hot-ish others but this primer didn't make my foundation separat after all that. Price is high but it's totally worth it.

Miracle primer

This primer/skin care is awesome. It makes your face so smooth! Great as a primer, also I like to pat it on top of my makeup to smooth it out even more and it also gives a glow to the skin. It is amazing for a firming and lifting product as well. My skin has never felt so firm and lifted! The price is hefty, but it was worth it. I heard about this from Jeffree Star, and you can always bet that if Jeffree Star raves about it, then it will be worth your while. I'm glad I took the plunge and purchased it. I also put a bit on at night after my usual skin care, to give it that extra kick. After just one week, I'm amazed. Thank you beautylish for having flexi pay! ❤

I didn't want to but I LOVE IT!!!

I didn't want to love this primer because of its price but in the summer heat of VA it actually made my makeup last and blocked 98% of the sweat and oil. My makeup stayed perfect for 12 hours and at the end of the night I only looked a little bit dewy but in a Good Way. I also tried it with both high end and drugstore foundation and it worked with both of them!!! THIS PRIMER IS WORTH THE HYPE!!!

Simply amazing!

This is my 3rd bottle and I am obsessed. Yes it is pricey, but in my opinion it is well worth it! It really has firmed my skin so much! I do like it as a primer, but more so I use it after my serums and moisturizers to lock them in. I apply it in the morning and at night. I also feel like the "mesh" layer it forms not only helps lock in my other skin care, but it also helps keep pollutants and things from getting into my pores. This product is amazing! and also, when used as a primer for my makeup, it really does help it last much longer!

Lives Up to the Hype!

I'm not going to lie, I didn't want to like this primer... but I LOVE it! I have super oily skin and none of the mattifying primers ever work for me. The Sisley-Paris Primer does wonders for my foundation! It's still very hydrating, but helps control oil throughout the day so my makeup looks just as fresh 8 hours later as it did when I first applied it. I know the price point is steep, but it's so worth it. Take advantage of the Flexible Payment plan that Beautylish has to offer and get this primer!