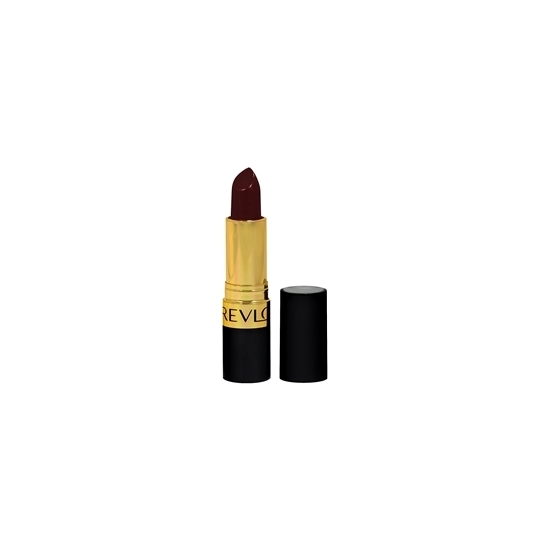 Rollover image to zoom
Reviews

My go to for dramatic, statement lips!
I love this shade and Revlon's Super Lustrous Lipsticks, in general. Black Cherry is the perfect shade for those edgy, gothy and dramatic lips. In the bullet, Black Cherry is a deep, almost maroon black. When swatched and when worn, it is a deep, wine red, on the cooler side. This is the perfect lipstick to go over black lipliner for a really deep color, or to top a lipliner in a similar hue. Add a touch of shadow or gloss over the lipstick for added shimmer and shine, or blot it for a more matte look. Press it into the lips in small coats, building up the color for a more lip stain look. I love this color when doing dramatic, theatrical, goth inspired looks- or vintage, 30's, Parisian looks. Its hipster fabulous and just all around vampy. For one color, it has so many makeup look uses! I don't recall any significant dried out lips and the formula is silky, spreadable and creamy. Pair it with a balm, over and under the lipstick for added moisture and a subtle sheen. You don't need to look to higher end brands for a deep, rich, black cherry shade- this one's a gem hidden right in your local drugstore! This is a must have lipstick shade! I'm planning to use this as a cheek color.

Great Color!
I was looking for a nice inexpensive dark lipstick and I found two! I bought Black Cherry and Va-Va-Violet and love both (Black Cherry being my favorite). They're really complimentary to my skin tone, go on really nicely, hold well, and are really lovely shades that can be worn with one coat or layered for a darker look. I've been looking for good drugstore buys lately because even though I love "higher end" makeup, I have a tendency to lose things- and who doesn't love saving some money? These were really great buys and I plan on wearing them for a long time to come.

Great
I usually don't wear dark lip color, but I love this. Personally, I prefer a deep berry shade to a red. Once, I used this for a halloween costume where I was Morticia Adams, and it really added to the look. It can be swiped over chapstick for more of a lip stain and it still looks good. It can look harsh if applied heavily, but as long as you blot and wear lipliner, it's a really bold, deep, beautiful shade.

I like this shade, but Va Va Violet was a disappointment
Black Cherry is great! It goes on well, feels good, and is a nice color. However, the other color I picked up, Va Va Violet, was pretty but I could not get it to go on unevenly! Sad. I'm returning Va Va Violet, but keeping Black Cherry!
---