Professional Makeup Brush Cleaner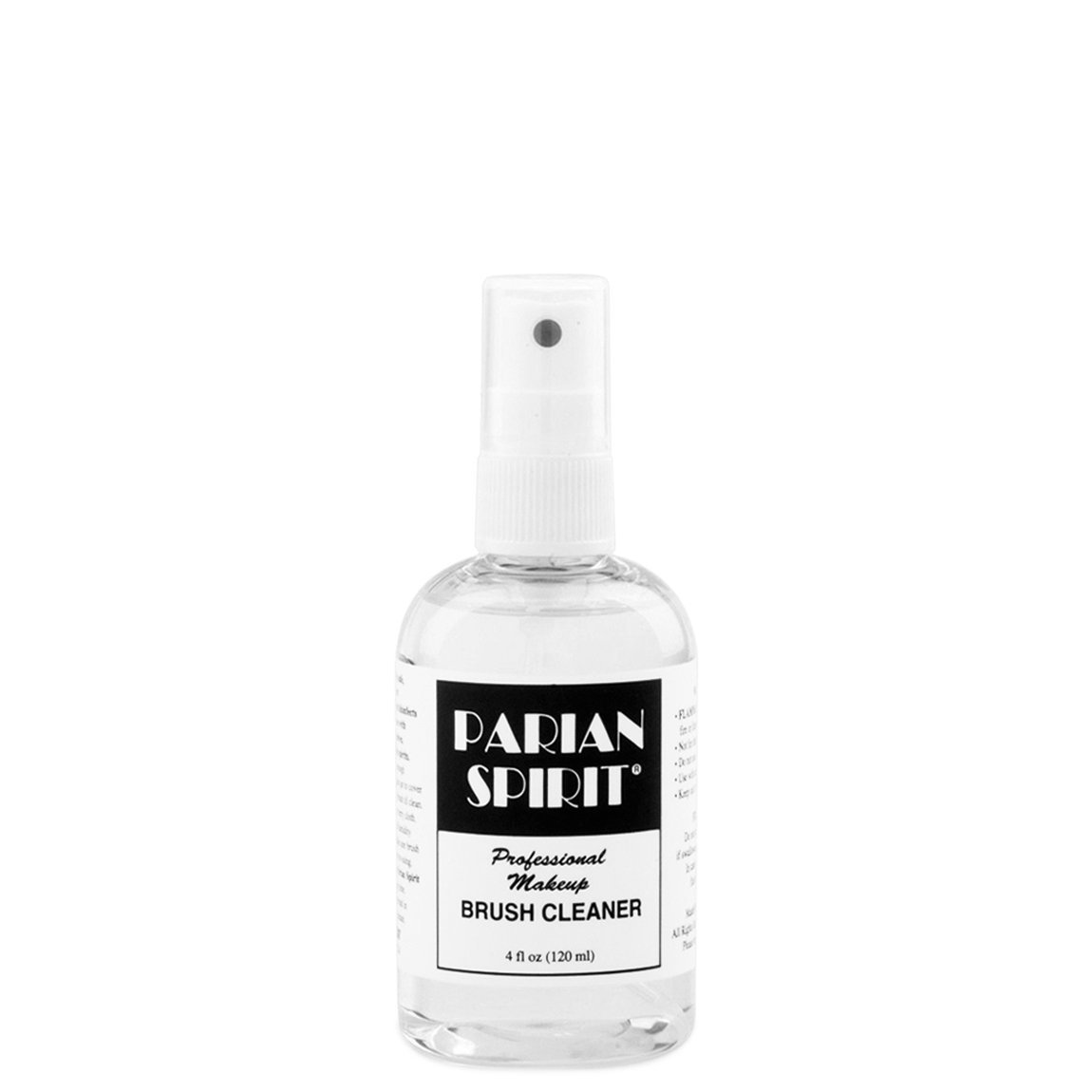 Product Description

About Parian Spirit Professional Makeup Brush Cleaner

Clean, condition, and disinfect your makeup brushes easily with Parian Spirit Professional Makeup Brush Cleaner. Made with non-toxic, food-grade ingredients, this quick-drying brush cleaner instantly removes makeup, dirt, oil, and bacteria from brushes without damaging their delicate fibers. Parian Spirit is a must-have for professional makeup artists backstage and on set, thanks to the fast-acting formula that lets you clean and sanitize makeup brushes quickly between uses.

Why It's Special

A powerful blend of non-toxic citrus spirits and food-grade solvents cuts through makeup, oil, and grime instantly
Dip, spray, or wipe your brushes with Parian Spirit and watch stubborn makeup disappear—no washing or rinsing needed
Reconditions natural and synthetic brush hairs and restores their original softness and luster
Kills bacteria in under one minute and leaves behind a natural citrus aroma

How to Use

Mist your brush with Parian Spirit. Run the bristles over a paper towel or washcloth to release pigment and residue. Reshape the bristles and lay your brush flat to dry. Be especially careful when using Parian Spirit with handmade brushes, as the formula can weaken the glue that binds the ferrule.

Other Details

Ingredients

Shipping & Returns

Free Shipping

Beautylish offers free shipping to the U.S. on all orders $35 and up. For all other orders, we offer $5 flat rate shipping.

This product ships via ground shipping. Orders containing this product will take longer to arrive. At this time, we are unable to ship this item to Alaska and Hawaii, or to P.O. boxes or APO/FPO addresses.

Satisfaction Guaranteed

If you are less than completely satisfied with your purchase, you may return your order within 60 days (from the delivery date) for a full refund. We'll cover the cost of return shipping within the U.S..

World-Class Customer Care

Beautylish's team of makeup artists and beauty experts are here to help. If you need assistance in anything from color matching to your perfect skin care regimen, we're here to help.

Phone: 1-877-992-5474

Email: service@beautylish.com

Reviews

If I could give this 6 stars, I would!

A couple weeks ago I received the Parian Spirit Professional Makeup Brush Cleaner Wipe and Spray from Stylez4Women.com So, the other day I finally got around to cleaning my makeup brushes, and decided to try out these two products and film a first impressions video while I was at it! (who doesn't love some cosmetic/blogger multi-tasking!) In summary - I'm IN LOVE with this brush cleaner! So much that I wish I knew about this brand before I bought the MAC brush cleaner, because you use less product, it's a dry cleaning and it conditions your brushes to the point they feel brand new!!! No joke people, I was sitting there petting my brushes for minutes! :) Oh, and the smell is not overpowering with alcohol, like some other brush cleaners tend to be, it's a pleasant citrus scent that smells clean and fresh. Even my boyfriend came in the room and said it smelled good! It lightly lingers on the brushes, but I quite like that. The dry time is phenomenal, I was able to use my brushes later on that day to do my makeup for my night out. You can purchase Parian Spirit from select locations per their website, or you can purchase the bottle and immersion tub on Amazon.

The brush cleaning spray feels like a very light oil (reminded me of a wood polisher at first) and has a pleasantly light citrus scent. I was able to clean my liquid foundation paddle brush, which I usually leave last to clean because it takes to long to remove all the makeup - this brush cleaning spray cleaned it in less than 3 minutes! I then cleaned my powder foundation brush, which is dark haired and you wouldn't be able to see the difference - but it came out so clean that the conditioning factor of the spray even made the hairs shine! Next I cleaned my liquid foundation stipple duo-fibre brush. This brush was probably my favorite to clean with the Parian Spirit spray because after 2 minutes of swirling it was completely white and so soft that I was literally speechless!

I hope this was informative and helpful if you're looking to cut down the cleaning process and save money on a high quality brush cleaner! I also do a few demonstrations in the video on using the brush cleaning wipe with eye makeup brushes and using the brush cleaning spray bottle with face makeup brushes.

*Product(s) were received, but not for trial/review; these are my honest opinions

You need it.

This stuff is amazing! I've been searching for something natural that would really get my brushes clean, and this stuff does it! I have an optical blurring brush from Urban Decay that I could never get the foundation completely out, it just never seemed clean. This removed all of the gunk and grime, it did take two good washes though. It also is amazing at removing Obsessive Compulsive Cosmetic's Lip Tars from the brushes, something I'd basically written off as impossible. I purchased the large size (most economical) with the jar, which is a great combo. The plastic grid in the jar really helps get the solution deep in the bristles and helps loosen the pigments. This is really one of the best investments I've made in my beauty routine, especially once you start purchasing higher end brushes. Most of my brushes are synthetic, and I find that they are very clean and very soft.

Great but..

After two weeks of hoarding this I finally used it today for the first time. Like most reviews say this really does cut your cleansing time in half! I put it up to the test with brushes that have been stained and have been used for foundations and concealed and I was floored at how quick my brushes returned to their original colors! This is an amazing product that gets everything out fast and efficientlyz. There are two down sides to this though. If you only purchase the 8 or 16 oz. you don't get a little spray nozzle and makes it easy to over use the product. At first I poured it on my hand then directly on the brush after I dug up an old brush cleaner, cleaned the spray nozzle and luckily it fit on the bottle and it made it easier to not waste product! The second con is the smell. As great as the citrus smell is initially when your doing a mass cleaning it gets to you! Even my boyfriend who like me also initially liked the smell started to complain that it was getting to be too much. Besides the too small down sides this is a miracle of a product and once I finish this bottle I plan on returning for the kit with the three different sizes!

Works like a dream!

I just received this in the mail and I NEVER clean my brushes (which I know is really bad, but that is why I bought this!) and I just followed the directions and within a minute my brushes looked like brand new! I'm still in shock and I want to recommend this product to everyone!! Plus the solution smells like citrus which is just an added bonus.

Jacqueline H.

Dec 31, 2012

Parian Spirit has been around for as long as I can remember,and there's a reason why: It works. This cleaner dissolves all types of makeup (powder, liquid, wax based and adhesive) and conditions the brush hair. Parian Spirit won't damage the paint or wooden handle of a brush either. It's a great spot cleanser, and it dries quickly.

You can purchase it in a traditional squeeze bottle, a travel spray or in a cleaner jar. I prefer the travel spray. I spray a small amount on my brush and gently swirl my brush on a paper towel until it is free of residue. If you ant a really deep cleansing, you have to submerge your brush into the solution for a minute or so and gently dab any excess solution off with a towel.

When speaking of alcohol based/food based solvent brush cleansers, the chemical formulations are pretty universal. I prefer Parian Spirit because of the clean and crisp citrus smell. I find most every other chemical grade brush cleansers smell annoyingly strong and/or cloyingly musky. This is a great brush cleanser; I highly recommend it.

Bought this at The Makeup Show

I bought the package the y had which was this the 2oz. sprayer, the jar, and a pair of wipes for $25. Definitely the best brush cleaner I have used. The smell is so citrus-y and very clean. I love using this on my blending brush. Once I'm done using it i just grab my little handy-dandy sprayer and spray the brush hairs twice while rotating it. I then grab my makeup towel and start "brushing" it for like 30 seconds, after I'm done with that I just wait another 30 seconds to let it dry and it's perfectly clean. This product leaves my brushes very soft which, I love.

Simply the best

As a professional MUA I've come to rely on Parian Spirit. It's so quick and easy to use, and not only cleans all my makeup brushes thoroughly and gently, but disinfects them, too. And, best of all, even my densest brushes, like my Artis foundation brushes, are dry and ready to use again in 5 - 10 minutes at the most! It works on both synthetic and natural bristle brushes. I have a LOT of expensive natural bristle brushes and Parian Spirit cleans and conditions the hairs gently and thoroughly. It leave behind a faint and pleasant citrus scent, too!

Stephanie H.

May 31, 2018

This is amazing and different from anything else you will ever use

I have a routine of cleaning my make up brushes every week on Sunday. Before I found this stuff I would bust out my brush shampoo and about 3 hand towels and clean and wash my brushes for hours. With this stuff, it takes me about 10 minutes to clean them all and it's almost like the makeup just melts off. I have found the best way to clean most of the brushes is to get a small glass of warm water and mix the cleaner in with it and swirl your brushes around in the mixture and then wipe the brushes off.

AMAZING!

This product is amazing, as the title of this review might indicate. A couple of quick spritzes and a swirl on a paper towel leaves my brushes clean, soft, immediately dry to the touch, and scented like fresh orange juice. I cleaned my brushes with another product only a day prior to receiving and using Parian Spirit, didn't use them in between cleanings, and I was amazed at all the residue left on the paper towel. I thought they were clean! Nope, but they sure are now. I'm throwing out my other brush cleaner immediately, and I'll stick to this one in the future.

Amazing!

It is magical. It got the waxy feeling out of my lip brush that hasn't come out since I first used it, no matter what I tried. It smells amazing too. It conditions your brushes noticeably. You hardly need any compared to other cleaners and it does a better job with less and it should last you a long time (unless you are an idiot like my sister and needlessly soak your face brushes in it).