 Rollover image to zoom
Reviews

Sticky shiny perfection
I love Beige. It's really a sheer pink color and looks good with any cool toned makeup theme. It is super pigmented but is a gloss, after all, and you'll be reapplying it if you eat or drink anything. If you can't find Mega Shine in Beige, NYX Butter Gloss in Vanilla Cream Pie is a good, slightly pinker dupe.

Beige is one of my favorite everyday glosses. Although I will never understand why it is called beige. It is in fact a soft pink that looks good alone and paired with other lip products. I like to wear it with NYX round lipstick in Thalia. Only downside is the medicinal cherry smell.

I picked up NYX's Mega Shine Lip Gloss in the color Beige, while I was shopping today. I have been looking for the perfect pink gloss that wasn't too over the top. The color is lovely, a 'your lips but better' color. The gloss is very smooth and not sticky! My only complaint is the scent. I personally think it smells like cough syrup, but I am going to definitely keep it because I love the color.

Julia marie C.
Jul 19, 2012
Amazing!
Great pigmentation; you get what you see in the bottle:) Love the creamy, non-sticky formula, and the application is great. Definitely one of those must-have lip glosses. They kinda taste bitter-sweet but I work around it because this is my absolute FAVORITE lipgloss. Definitely going to get more colors in the future.

Stephanie H.
Oct 19, 2011
Super shine, Super pigmentation!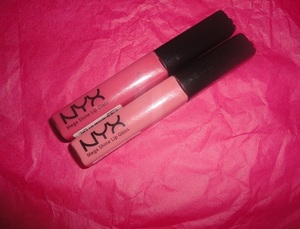 These are the hands down best drug store lip glosses ever! The shine is perfect, the pigmentation is amazing, the smell....they smell like cherry=D The packaging is so adorable! Best part, they are not sticky AT ALL! Run out and try them ASAP!

favorite everyday lip gloss
great price & great quality lipgloss! I prefer these babies over my Nars lipglosses or MAC. Not sticky & the colors are actually pigmented & look like what they do in the bottle which is hard to find in a lip gloss.

GO TO LIP GLOSS! HG ITEM!
love this lip gloss!! i bought a back up it smells so good its sooo glossy LOVE the color and whenever i wear it i get compliments on it! its so cute! I often layer it on top of ELF's lip stain in Birthday Suit and its great!!
the only thing i dont really like about it is..is that its like milky and to keep it from making a line on the edges or bleeding u have to reapply...and its kinda sticky...but milky lip glosses (like Revlon's Coral Reef and Pink Pop) are hard to work with but SOOOO worth it...i wouldnt have bought a 2nd one if had thought different
I LOVE THESE lip glosses! I also have one in Copper Penny and plan to get more! LOVE LOVE LOVE!!!!
---