 Rollover image to zoom
Reviews

Julia marie C.
Jul 19, 2012
Amazing!
Great pigmentation; you get what you see in the bottle:) Love the creamy, non-sticky formula, and the application is great. Definitely one of those must-have lip glosses. They kinda taste bitter-sweet but I work around it because this is my absolute FAVORITE lipgloss. Definitely going to get more colors in the future.

Stephanie H.
Oct 19, 2011
Super shine, Super pigmentation!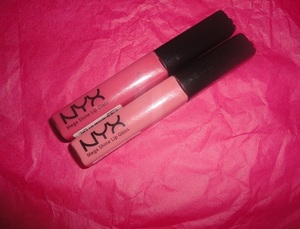 These are the hands down best drug store lip glosses ever! The shine is perfect, the pigmentation is amazing, the smell....they smell like cherry=D The packaging is so adorable! Best part, they are not sticky AT ALL! Run out and try them ASAP!

Beige is one of my favorite everyday glosses. Although I will never understand why it is called beige. It is in fact a soft pink that looks good alone and paired with other lip products. I like to wear it with NYX round lipstick in Thalia. Only downside is the medicinal cherry smell.

favorite everyday lip gloss
great price & great quality lipgloss! I prefer these babies over my Nars lipglosses or MAC. Not sticky & the colors are actually pigmented & look like what they do in the bottle which is hard to find in a lip gloss.

Jamie Lynn P.
Feb 11, 2011
Beige - which isn't beige at all.
After years of buying the sticky, tacky, glitter chunk glosses from my local MAC counter, I ran across these during a CherryCulture.com 50% off sale. I figured that for the price, I didn't have anything to lose. I order five of them and Beige is my, hands down, favorite.
The problem - the name. How can Beige not be beige at all? It's a gorgeous soft, "looks good on everyone" pink. A total sleeper in the bunch.
These glosses are shiny and beautiful, without a single hint of tacky. Wear time isn't great, maybe 3 hrs tops, but price point makes it worth it.
My second favorite is Juicy Red. It's barely there, transparent, color gives me the perfect piece to my "no makeup" look

Sarah Louise H.
Nov 10, 2010
I love these glosses. They are really pretty and for real can be used alone or with a lipstick and they are my favourite glosses. I purchased Beige from MakeupGeek and i cannot believe how much i am in love with it! And some girls i heard have complained about the cherry smell, but i actually like it

Sticky shiny perfection
I love Beige. It's really a sheer pink color and looks good with any cool toned makeup theme. It is super pigmented but is a gloss, after all, and you'll be reapplying it if you eat or drink anything. If you can't find Mega Shine in Beige, NYX Butter Gloss in Vanilla Cream Pie is a good, slightly pinker dupe.
---