 Rollover image to zoom
Reviews

Lives up to the hype!
Along with all other eyeshadow pencils from NYX, this has many uses. However, I think this has the most versatility out of all of the eyeshadows. 1. You can use this as a base for any eyeshadow color and it will really make it pop. 2. You can apply this to the inner corner or under the brow bone for a highlight. 3. You can apply this to the waterline using an angled eyeliner brush. Some people don't like using white eyeliner on the waterline because they think it is too harsh. So, apply a bit of a peach or skin color eyeshadow over top of the white on your waterline with any brush, and you have a nude eyeliner!

Great for an eyeshadow base!
If you know me, you know I can't live without this lol :) I use this color as a base for inner-corner highlight colors. It gives them a nice pop and brightens up the tearduct area so nicely! Also great as a subtle brow highlight on its own :)

I would marry this product
Ok! We're to start with this it's a jumbo pencil my color of choice is milk I use this as an eye liner if I want my eyes to appear bigger and with one swiping motion it's perfect it glides on smooth and is nicely pigmented! A lot of white liners dot show up in your water line and I mean come on who's going to use primer literly on there waterline? No one. So if u want one that works this is it and I have super watery eyes and it stays also you can use it as a base alone or after primer to make your shadows seriusly POP. I will never ever not have one of these in my collection again. I honestly don't think this could fail anyone. But that's just me
I use it as both an inner tear duct highlighter and also as a shadow base. Very versatile product, only down side is the the amount of product you can waste when trying to sharpen the pencil. Will definitely attempt to depot it thought because I love it.

I love the NYX Jumbo Eyeshadow Pencils you can use them as a base or wear them eyeshodow. I use them as a base it gaves you eyeshadow a more vibrant color. If you use them as a eyeshadow I would put a eyeshodow a base because the NYX jumbo eyeshadow pencils do crase.

AMAZING.
I originally bought a bunch of nyx makeup on a whim, and I have these pencils in four or five different colors, but Milk is so amazing, I use it for EVERYTHING. They work great as a primer, shadow, or liner, and I love how easy they are to blend! I need to buy more of these very soon ♥

Violet likes DM S.
Mar 17, 2012
Wonderful Product
My local mall has a little NYX cart and they are always out of the Milk pencil. Well last weekend I traveled to a town that had an Ulta and found one. I was so happy and even happier the next day when I got to try it. I love it so much and works beautifully.

Fantastic range of colours from Nyx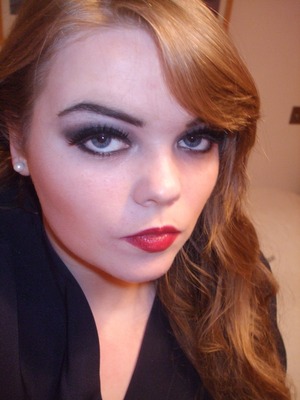 I love using these pencils. Milk is one of the greatest colour bases out there. the pigmentation is so strong that a little goes a very long way. I find the white brings out any other colour and makes it pop! I also enjoy using copper almost everyday as it lets the shadow on top stick and give a great powerful kick. Black bean is also amazing as a base,I used it recently for a 1950's eye and the results were fantastic! I also use milk in the waterline to make my eyes appear bigger. A great affordable product.
---