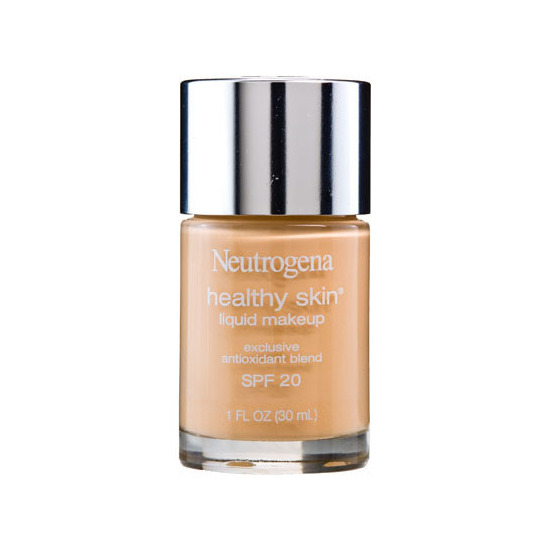 Rollover image to zoom
Reviews

LOVE
I LOVE this! I use this on close to an every-day basis. I use this when my skin isn't too red and I don't have a ton of breakouts. This is a very good everyday foundation. It makes my skin look healthy and does not cling to dry spots, the lasting power is very good with a powder and setting spray. I switch between this and my Revlon Colorstay, like I said, I use this when my skin is having a good day, and I want my skin to look dewy and natural. If you need a good powder to go with this, I recommend Maybelline Fit Me. Buy this product.
xo, XCgal98 youtube beauty vlogger

WONDERFUL! Definitely lives up to its name.
I have fair skin that can get really dry, especially in the winter. This foundation is great because it doesn't have that thick, heavy texture that other products I've tried. It feels light and fresh, like I'm not wearing makeup at all but the coverage is still very good. When I wear it just after applying moisturizer, my skin is baby smooth! An added bonus is that it smells vaguely like berries (or maybe I'm just crazy).
The only downside to this foundation is that it's not very sweat-proof or oil proof. I find that when I go to the gym and sweat a lot, there's barely any left on my face when I'm done. Maybe it's because I've never used any sort of setting powder on my skin after applying it, who knows.
So if you have dry/normal skin like me and don't want to sacrifice healthy skin for looking good, this is the right foundation for you!

Amazing for dry skin!
I LOVE this foundation. It's dewey and light, but perfects my skin without effort. I love the finish more than anything- it's healthy looking, just like the name says. Beyond that, it has good SPF coverage and wears well throughout the day. I don't feel like I'm wearing a ton of makeup when I put this on because it's so light and moisturizing. Perfect if you have dry skin, because it doesn't settle into dry skin like some foundations do.

Christina L.
Apr 10, 2012
Two thumbs up!
I heard plenty of good things about this foundation and it doesn't disappoint at all! I love using this by itself or mixing it with my Stila Illuminating tinted moisturizer. I use my duo fiber stippling brush to apply it and it blends very well. I definitely plan on repurchasing this when I run out.

Great for mixing with matte foundations
If you have oily skin, this foundation is definitely going to need powdered and blotted throughout the day. For the winter I think this is a good option if you like a dewy look. For the summer I'm personally going to steer clear of this one in favor of something more matte. However, I have combo/oily skin. If you have dry skin you might be able to get away with this year round. I'd say the coverage is medium. I still need concealer for any acne, though. The lightest shade isn't quite light enough for me but as long as I make sure to blend it down my neck I can get away with it. In the summer when I get a bit more tan it will be alright. I like to keep this in my foundation arsenal to mix with foundations that are a little too matte. Depending on your skin's needs this could be a nice foundation to have around.

Fave!
I wrote about my favorite high end. But when I saw this I had to do a review on this! I usually aim for my makeup forever HD which I absolutly love! But, this is definently by far the best drugstore foundation! This leaves my skin appearing dewey which I absolutly love for the spring time. This is definently a dupe for the NARS sheer glow foundation. I have tried it and tested both and this is definently the same thing but cheaper!

Dupe for Nars Sheer Glow at a fraction of the price.
I am in love with this foundation. In my opinion, it is a very close dupe for the Nars Sheer Glow foundation, but much more affordable. It has good coverage and it goes on super smooth. It has a beautiful dewey finish that lasts all day.

What everyone says it does!
This is my 2nd full size foundation I have ever purchased & I must say I really like it. I have always been on a bb cream phase and so I never thought about trying foundation but this foundation has totally changed my mind & it makes me want to try more! This foundation is said to be a dupe to Nar's sheer glow. I haven't tried the Nars one before but everyone says its comparable!! Unlike most foundations this Neutrogena one is really sheer & even after you apply it you can still see your natural skin peaking through. It gives you an amazing healthy complexion and it doesn't cake up! The foundation is also buildable so if you think its too sheer you can always layer it on. The healthy skin gives my skin such a dewy finish without making it look oily!! I love this foundation sooo much & can't believe I decided to try it now!!

Love or hate product
I first heard about this foundation on Youtube. I recently ran out of my Cover Girl True Blend foundation which I really like, and decided to try this one out. Cuz I feel like were all in the search for the perfect foundation for our skin. I have combination skin and hardly ever breakout. I've been using this for about a week now and I love it. For me it gives full coverage unlike my Cover Girl one. It also feels like I'm wearing nothing which is what I look for in a foundation. I feel as though this is a love it or hate it foundation though. The main problem with this foundation, and the #1 complaint is that it can cause you to break out. So this is a foundation you have to buy and try to see how your particular skin type will react to its formulation.

Broke Me Out
As much as I wanted to like this foundation - things did not go so well for me. I wore it two or three days in a row, and then I woke up with 7 or 8 zits all over my face. I NEVER get acne on my face. EVER. The only thing that changed was the foundation I used, so I can be certain this foundation was the culprit.
---