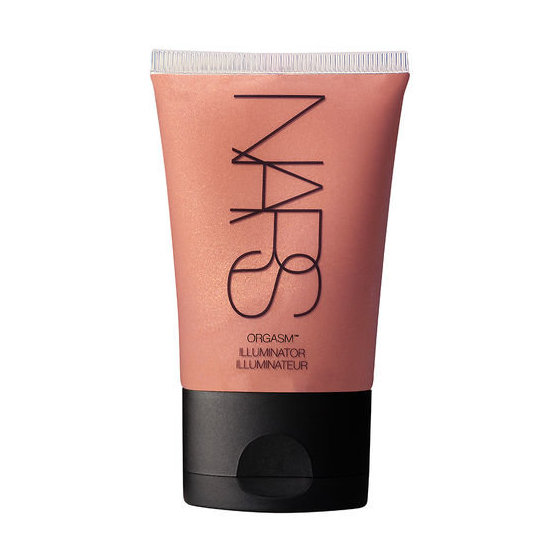 Rollover image to zoom
Reviews

Super glowy after sex look!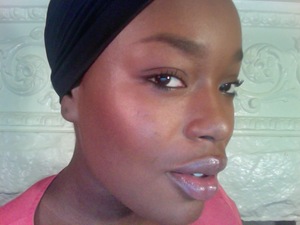 This is a GREAT illuminator. It has a lil pink a lil coral and some gold. The blush may not work for you but the illuminator will for sure. Face body and even in your hair this illuminator is a winner!!
Check out my video on it here! http://www.youtube.com/watch?v=kj1kGQnrylo

Iconic
I'm obsessed with trying new beauty products whenever I get the chance, and I usually discover a new 'favorite' every single month. So when I find a product I love so much I can't fathom replacing it, I know it's a good one. NARS Orgasm Illuminator is hands-down the best luminizing gel I've ever found. The universally-flattering shade instantly brightens your complexion while smoothing the look of imperfections. It glides on easily (no streaking) and wears true for hours, and best of all, looks entirely believable. Many brands try to recreate the iconic Orgasm formula, but in my mind, none have come close to rivaling NARS' amazing creation. A must-wear product.

Great Illuminator!
I love this product as a all-over face illuminator, but not so much as a highlighter. It gives me a bronzy glow that I can't get from my powder bronzers. You won't regret making this purchase! It stays on great with or without a primer under it!

Sweet Glow
I love Orgasm over Laguna. Laguna paired with my favorite blush was awesome but when I did the same with Orgasm....oh buddy! It looked ten times better and it gave me a much more natural flush to my skintone. I can totally wear this with no eye make-up and still looked put together. I see myself using this over Laguna.

Mix a drop with your foundation or tinted moisturizer...
...and receive a beautiful glow in return! That's what I do, and I love it. It's subtley shimmery without being over-the-top like other illuminators can be and the color is perfect. Works for every skin tone!

Awesome! I love this illuminator! It last so long because you only need the smallest amount of product to get a prefect healthy glow! I have dry skin so I put it on the tops on my cheek bones and a little down my Cupid's bow and it gives me a nice dewy finish! If you have very oily skin it may not be a great product because it will only add on to any shine, although if you have a matte-ifying powder to put on before I think that this product would work wonders! Nars always has a wide range of shades to fit everyone so you can certainly find one that will fit your skin tone! It's my favorite highlighter, I like it much better than high beam or sun beam by benefit because it also gives you a nice tint of color ! If your on the hunt for a GREAT highlighter and are willing to spend a little extra money in a high end one I would HIGHLY recommend this!

Sexy glowing beauty!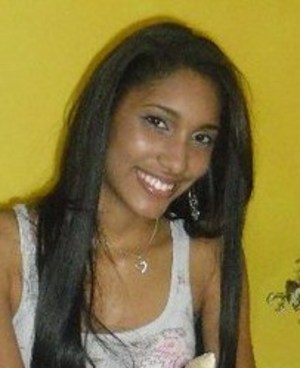 I was introduce to this product by my February Birchbox and this was the 1st product ever I had tried from NARS. Its almost June and I still have my sample size with a little less than half and I use it very often and sometimes push out more than what I really need which is my only complain about it, the way to push it out can be a mess. But I love everything else about it! It illuminates my face leaving it radiant and ready to go. It is the perfect finishing touch! I apply it in the middle of my nose, upper cheeks, temples , middle of forehead and chin. I love that it looks great on any skin complexion. I tried on my cousin and she looked beautiful as well. I will soon be buying the full size product. :)

AH-MAZING! i love it!!
i love this product. im tan but when i want a little more this makes my whole face light up! i use this on mornings where i dont have time to do my makeup so i put this on and head out to school or where ever i go. but this is good for everyone and most skin tones. i havent heard of anyone that this doesnt work for. its definitely something i dont regret buying. its a little on the expensive side but totally worth it!

Nancy-Lee C.
Jan 01, 2011
Best illuminator that I have used!
I am super pale, I do not wear foundation (!) and I want to be sun-kissed like everyone else but not look like I am wearing a cosmetic version of Orange-glo. I bought this in a kit with greek holiday gloss and mascara...
oh my! I mix a SMALL amount with my Clinique DDMG and apply all over. I look glowy not glittery. I also use it on my shins as a highlighter, my collar bone, shoulders... a little goes a long way. you do not need to use a lot of this product.
I am a little 'over' all of the Orgasm products but I have to say this is top notch and worth a try. It works well on all skin tones. It has never caused breakouts and blends very well. It is weightless, so I never feel like I have additional product on my skin.
I will buy this as long as NARS makes it. The squeeze tube makes sure you are able to use every last drop as well, so no product waste.
(If i want super duper shimmer, I top it off with Stila's 24k loose powder.)

Great Product, But Don't Use It Very Often
Ok so I love how this product highlights. My only issue is that I don't use it very often. I find that I prefer my MAC Mineralize Skinfinish more, possibly bc I prefer highlighters in the powder form. They are much easier to layer with foundation, etc. However, if I'm wearing tinted moisturizer, I love using this liquid highlighter! Then, I set with my Bare Escentuals mineral veil.
---