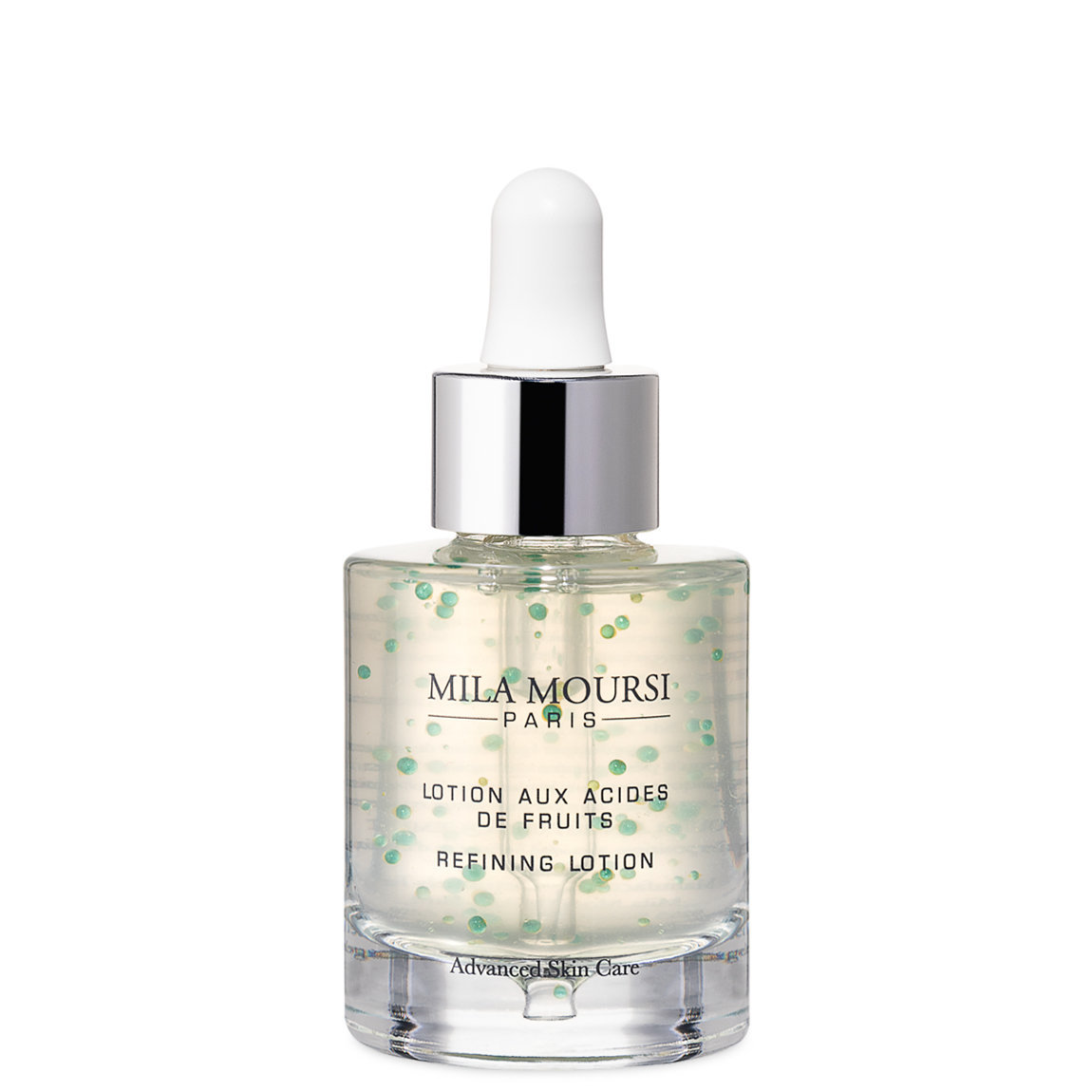 Product Description

About Refining Body Lotion

A powerful blend of natural fruit acids, soothing botanical ingredients, vitamins and anti-oxidants promote gentle exfoliation of dead skin cells and speeds the skin's natural renewal process. Diminishes the appearance of wrinkles, lines and pigmentation spots. This clarifying formula leaves skin with a healthy, translucent and youthful skin tone.

How to Apply

After cleansing and toning the skin, apply 4 drops into palm of hand and smooth evenly over face, avoiding eye area. Apply 4 drops to neck and décolleté. Wait 5 minutes before applying appropriate treatment cream. For night use only.

For dry skin, use every other night until desired result is obtained.

For sensitive skin, use 2-3 times a week depending on skin sensitivity until desired result is obtained.

For combination to oily skin, use every night until desired result is obtained. WARNING: Avoid sun exposure. If irritation occurs, discontinue use.

Other Details

Sizes Available: 10 ml and 30 ml

Texturizers

Find out how Mila uses her Refining Lotion to remove dead skin and debris lodged in pores for a smooth, youthful appearance. This evening-only texturizer must be left on overnight for optimal results.

Ingredients

Shipping & Returns

Free Shipping

Beautylish offers free shipping to the U.S. on all orders $35 and up. For all other orders, we offer $5 flat rate shipping.

Fast Delivery

We ship using FedEx Express (2 business days from order shipment date) and FedEx Ground (3-5 business days from order shipment date).

Satisfaction Guaranteed

If you are less than completely satisfied with your purchase, you may return your order within 60 days (from the delivery date) for a full refund. We'll cover the cost of return shipping within the U.S..

World-Class Customer Care

Beautylish's team of makeup artists and beauty experts are here to help. If you need assistance in anything from color matching to your perfect skin care regimen, we're here to help.

Phone: 1-877-992-5474

Email: service@beautylish.com

Reviews

Oh Yeah... You Would Want To Do This

I was invited to participate in the Mila Moursi bootcamp a little more than two months ago. I wanted to use all of the products for several weeks before writing a review.

The Beautylish team was really generous in helping me get started. Alicia helped me identify the products that would work best for my skin type. I must say, I had a mini stroke when she told me how much the products cost! But, confident that I would like the products, they sent me the cleanser and toner for FREE. Who does that? That was a $150 savings! (Love you Nils). I purchased the refining lotion, the dual action serum and the anti-wrinkle creme and did the 3 month payment option.

I was hesitant to use the refining lotion because of the amount of glycolic acid in it. I do use chemical peels, but typically once a month. I must admit, I have 'good' skin and I didn't think I would notice any major change in my skin after using this product.

It did take a few days for my skin to 'adjust' to the products. I used the refining lotion every other night, to reduce skin sensitivity. But what I realized was that the refining lotion was slowly but surely improving the texture of my skin. The dark spots I had on my cheek from acne scarring were dramatically reduced after one week! I was sold on this product.

After using the refining lotion in combination with the anti wrinkle creme at night, I noticed that the tone and clarity of my skin significantly improved as well. I use the dual action serum and the oxy cellular renewal cream in the am.

My skin looks so fantastic I often don't wear any make up at all on the weekend. This is huge for me! I never did this before Mila. At work a colleague that I've known for at least 7 years told me my skin looks like, 'peaches and creme'. She insisted that I tell her what I was using on my skin. I literally had to show her the Beautylish site and walk her through what I use. You can't get a better compliment. I regularly receive compliments on my skin. People are always shocked to learn that I'm 49.

My make up application is also enhanced since using the Mila skincare regimen. I actually use far less product to achieve flawless results.

Just an aside: I should also share that I drink about 2 liters of water daily and I must have my green smoothies a few times a week. I don't do sugar. This too helps with having great skin.

I never thought I would replace my NIA24 products, but I have. Yes, it is expensive but, after two months the only product I have had to replenish thus far was the dual action serum. A little truly goes a long way. I decided to try the Rejuvenating Serum next based on Alicia's recommendation. Lawd have mercy!

I am truly pleased with this product. I'm worth it...and so are you!

Transformative

I've always described my skin as being a bit dry and pretty sensitive but in overall pretty good shape due to diligent care. Historically, I've always been a huge fan of AHAs and BHAs so reading the ingredients I was both excited to try The Refining Lotion and also a little skeptical since the % of the active ingredients were on the higher end. I've been an avid user of Dr Dennis Gross' Alpha Beta Daily Peels for years though, so it seemed like the most logical next step up.

Since I did have the pleasure of training with Mila, she had advised based on my level of skin sensitivity to use The Refining Lotion every other night for 1 week; alternating with an oil on the "off" nights. By week 2, I was using only the Refining Lotion nightly and my skin was truly transforming. My pores were more refined, skin brighter but most of all, it looked HEALTHY. Like, just came out of a spa healthy. I don't think my skin had ever looked this good, even when I was in my early 20s. In 2 weeks my skin went from being in "pretty good shape" to amazing. I actually get compliments on my skin from complete strangers.

That being said, as I've mentioned in my review of Mila's toner, I am personally using her entire ritual. However, if there are two products from her regimen that are going to either be a gateway to a Mila Morusi skincare addiction (hey, there are worse addictions to have) or will totally amp up what you are currently using, it would be her toner and Refining Lotion.

Jacqueline H.

Nov 13, 2015

Youth In A Bottle

$160, Yes...$160 for this product. I have been using NIA24 products(thank you Nadia), and I have been quite pleased with the results, so why spend another small fortune on this product? I trust Alicia's opinion, so I laid down my credit card. Is it worth $160? Yes, and here's why:

I usually give my skin a few days to adjust to any new product, so I wasn't expecting too much after one night's use of the Refining Lotion. Boy, was I wrong. When I looked at my skin in the mirror this morning, I thought I was either being punk'd or I was still half asleep. Fine lines? gone, yes... gone. I had a real hard time even seeing them after the use of this product. My skin looked and felt renewed. In one night, this product took 5 years off my face; I have never experienced anything like it.

I intend to use up the rest of my NIA24 products and then become a full Mila Moursi convert. From what I have tried so far, her products are worth the investment, and if this product cost $360, I would still purchase it. Yes...it's that good. Do yourself and your skin a favor and buy this product: Her products deliver results and are most certainly worth the hype and the price.

Team

Seriously amazing. Radiant and even skin!

ARE YOU SERIOUS!?!? It's ridiculous how much I love this product (Although the price, maybe not as much but I realized that the older I get, the better invested I should be in my skincare). I've used some alpha hydroxy acids in the past, like Dr Dennis Gross but never really stuck to it. Lately I noticed that my skin was just not looking as great (getting older) and realizing that I should really be adding more active ingredients and using actual products that are going to not only maintain my skin, but help make it look even better. I was a little scared that the high percentage of glycolic acid might irritate my skin even though my skin can pretty much take anything I throw at it. Luckily, my face adjusted well without any burning or irritation. The first time I applied this (at night only, please) when I checked myself out in the morning, I saw a difference right away. And it converted me to a Mila believer. Seriously. It's not often that I say that or see that much of difference with just ONE use. Thank you Mila. It's seriously a pleasure go through my skincare regimen each time and to know that my skin is feeling and looking the difference that it makes!

Rejuvenate and Transform!: An Essential in the Mila Moursi Regime!

I purchased the Dual Action Discovery Ritual Set after trying and falling in love with the PH Balancing Toner but am going through and reviewing each of the products because my skin is looking better and more beautiful than ever!-and this is really a product that will not only address your skincare concerns but just give you radiant, fresh, youthful skin! I am a Mila Moursi convert-I will absolutely echo the other reviews and say that it is absolutely worth the investment. I have combination skin and besides anti-aging of course, the main concerns I've been looking to address are, tone and texture(evenness, pores, a tendency to get milia) and I have had INCREDIBLE results with this product. I use it in the evening almost everyday after cleansing (with Mila's Cleansing Mousse) and toning with the PH Balancing Toner(a FABULOUS product-see review) and I use about a dime size amount and apply a thin layer all over the face. I do have youthful skin but the fine lines that I do have are gone, tone and texture dramatically improved-the bit of hyper-pigmentation that I do have on my left cheek/jaw from a tiny bit of post breakout redness has subsided dramatically, my pores minimized -all without irritation. Using this regime alone with the Dual Action Serum in the AM(sometimes I will do the serum AM and PM) has made my skin look fresher, smoother, more supple more youthful. To say it has transformed my skin would be an understatement. Definitely a product worth investing in! It will rejuvenate and transform! You will adore it. I will continue to expand and try even more products in the Mila Moursi line(the Beautylish Team is exceptional and they can help to recommend which products might benefit you but trying one of the Ritual Kits(also great for travel is a wonderful place to start!)

Team

This Works

I bought this last year during the gift card sale (in November) because if I'm going to *invest* in a product, I want to try getting the most bang for my buck. I used this for a couple weeks and then gifted it to my mother, since I wasn't sure if my skin (which is in OK shape, and is fairly young skin) was really reaping the benefits of this hard core blend of glycolic acid/ fruit acids/ vitamins/ etc.

After she got her hands on it, she couldn't stop raving about how amazing it was and when I visited my mother for a few weeks in the summer, I started using it again... My freckly dull skin made me want to try something with more oomph than my usual products.

After using this product once, I UNDERSTOOD. This stuff works!!!!!

I was so impressed that I bought it again (no, not waiting for the gift card sale) and plan to stock up!! I fear this is a pricy skin care routine to pick up, but at least I know that it works and that a little product goes a long way. It's not that expensive when you price it out, right?? That's what I'm telling myself anyways.

Long story short? Buy this if you're looking for fresher, clearer, brighter looking skin.