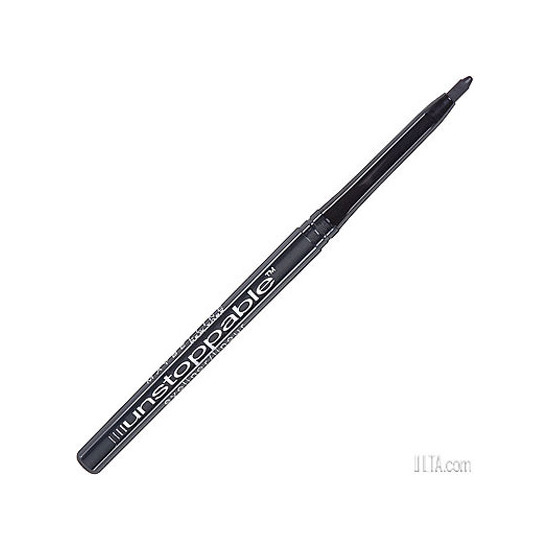 Rollover image to zoom
Reviews

OUCH!
Rating it for all the qualities I dislike about it! I wore it on my face/lips/arms as stitches to go with my Halloween costume, and it would NOT budge. Not soap & water, not baby wipes, not makeup remover, not makeup wipes; it would not come off. Get it if you don't want to invest in tattooed eyeliner!

Mary Anne M.
Sep 01, 2012
Wore This Running Through a Rain Storm—Still There at the End of the Day
I have purchased this eyeliner twice because not only was it affordable, easy to apply and manipulate, and convenient on the-go, but it was also effective at holding up against a variety of wet conditions including surf and salt water, monsoon-like rain storms, tropical humidity, and—dare I say—long, adventurous nights in the bedroom. I have worn this on my oily lids without primer and have never experienced fading or smudging.
I purchased this liner in Onyx, but it also comes in a few other dark colors that, as of this review being written, I have yet to try. This is nice for those who don't like stark black liners but prefer dark liners with a hint of warming or cooling color. Otherwise you don't have a whole lot of color options for these babies.
The ergonomics of the product are standard as well; you twist to expose the eyeliner. I have actually never experienced any breakage, as I twist up only a little and apply conservatively. The packaging of this eyeliner does not include a self-sharpener so crisp lines can be difficult to achieve upon application, but this formula applies creamy and is pretty forgiving, as it does not set to dry right away. You have about a minute to smudge, sharpen, and manipulate the shapes you draw before the eyeliner sets and becomes waterproof.
To make application easier, it is good to have waterproof makeup remover and cotton swaps handy for shaping, or to have a smudging eyeliner sponge or brush, such as e.l.f.'s Smudge Eye Sponge.
But if those are not handy, once again, this eyeliner gives you enough time to shape it even with just your finger tips before setting, which is nice when you're on the go and don't have a full dresser at your disposal. I find this to still be an easy formula to work with and can still achieve the cat eye look, with or without any other tools.

Hands down the only black eyeliner I go out to buy! It stays long, applies dark :) And, it's drugstore brand. Super cool. I just wish it lasted longer because I use mine up (the length of the pencil) so fast!
It doesn't easily smudge or fade or smear. That's what I think most people are looking for in a black eyeliner!

My Go-To Eyeliner
I tried this eyeliner on a whim at age 15, without much thought involved as to whether or not this was a quality eyeliner (I was just getting into makeup at that point). Now, I am 20 years old and this is the only eyeliner I prefer to use. It does not shift or smudge unless I want it to and it maintains pigmentation all day long. I know for sure that, with Maybelline Unstoppable, I will never be breaking my bank on eyeliner!

Works like a pencil eyeliner without having to sharpen
This works really nicely. It's like only having the eyeliner color from a pencil eyeliner without any of the hassle with sharpening. It goes on semi-easily for me. I feel like I need to press down firmer than say my felt type eyeliners or liquid liners. Smudges a fair amount as expected from nonwaterproof and storebrand eyeliners. It goes on like a pencil liner as I said before so if you want a smoother even line I suggest looking for a liquid or pen tip eyeliner instead. Overall this is a fairly average eyeliner.
---