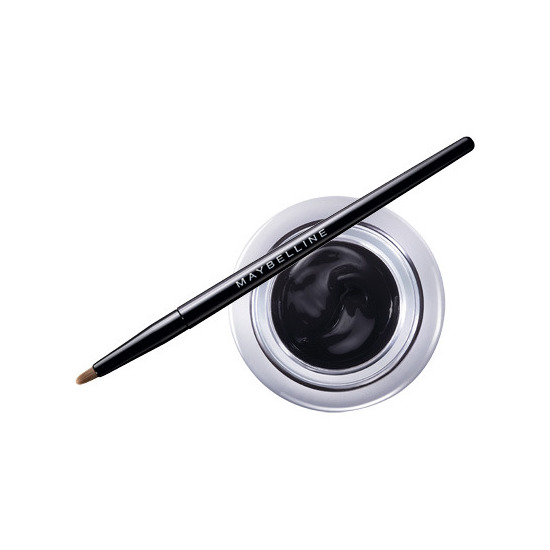 Rollover image to zoom
Reviews

ADORE THIS PRODUCT!
i bought this last year, however i re-purchased this only last week and i recently tweeted how much i love this eyeliner (@gazzyxo). I bought it in black, because i wanted to wear this everyday including school, and i prefer black eyeliner on a daily basis. Before buying this product i always used pencil or liquid eyeliner, and they both didn't work for me! I have the most oily eyelids possible! I then read about gel eyeliner online, a couple weeks later i saw an advert on tv and i decided to buy it. The formula is very thick, but not in a hard to control way, it is nothing like liquid eyeliner so it wont smudge as easily whilst you're applying it. What i also love about the formula, because its thick it looks as though you have alot of product on which helps the eyeliner to last longer. It comes along with a cute brush, the quality of this brush is very good! It might take you a couple tries at first to apply the eyeliner but that is only if you have never applied eyeliner using a brush. You can also use this eyeliner on your waterline, and it stays on! Unless you cry or your eyes water, then you need to reapply it. I usually apply this eyeliner at 6/7 in the morning and remove it at 10pm, and i can confidently say that it looks as though i just applied it and i tend to touch my eyes alot because i wear glasses. You can use this for an everyday look, a dramatic look, or even a smokey eye by smudging the eyeliner as soon as you apply it! For £8 i would defiantly recommend this eyeliner to everyone! I would even buy this for £10 because i think its such a fantastic product!

A great Drugstore Gel Liner
So The Maybelline Eye Studio Lasting Drama is a gel liner and it is about the same consistency as the MAC fluidline. So big bonus there, it is smooth and easy to apply. It transfers incredibly easily and take a big effort to smudge off or remove by rubbing. The staying power is not as good as MAC's fluidlines which are amazing, the fluidlines you can rub your eyes for 12 hours and they won't come off, The Maybelline Eye Studio stays on pretty well for about 8 hours but if you are an excessive eye rubber then it's not a good, but still lasts longer then the Smashbox Waterproof Shadow liner which rubs off in about an hour.
As far as amount of product the Maybelline Eye Studio Lasting Drama is the exact same amount as the Fluidline but for half the price, and to me the Maybelline Eye Studio liner is a fantastic dupe for MAC Fluidline.
In all the Maybelline Eye Studio Liner is cheaper then the fluidline and applied as well as the fluidline and is very close to the same quality as the fluidline, and you also get the same amount of product for less.
http://www.makeupwithlisa.com/2011/06/maybelline-eye-studio-lasting-drama.html#more

Holy grail liner!
I refuse to wear any other eyeliner. This is one of my holy grail beauty products. It's extremely pigmented, creamy long wearing and doesn't dry out. I've been wearing it everyday for 2 years and it's lasted through stage plays, photo shoots, naps, movie theater sobs, everything! It's affordable and worth every penny. Helpful hint: for the best use, buy your own eyeliner brush 😉

Jacqueline M.
Nov 04, 2013
Best Drugstore Liner
No gel liner works better, lasts longer, and is easier to work with than this one (ESPECIALLY from the drugstore). It had a matte finish and works fantastically over my oily eyelids, but is still easy to take off at the end of the day. This should be a definite try.

i was very very veeeeeeeeeery impressed with the quality I've used mac blacktrack fluid line and Bobbie brown's gel liner i can assure you this one is way cheaper and serve the same quality <3 am in love with it and so impressed

This is a great gel eyeliner! It's very pigmented and very easy to apply! Also it's pretty cheap! It's a great dupe for the smashbox cream eyeliner! (: I highly request it! Just don't forget to close the lid tightly or it will dry out! If that does happen though you can just wipe you brush in makeup remover and your set! It's because it will make the liner creamier!

Pretty awesome!
As the others have been saying, this gel liner really does glide on well and is a true black. It's easy to work with and very easy to build. The brush that comes with it isn't all that bad, but you have to wash it somewhat often or else the product builds up on it. The only problem I had with it is that mine's been getting a tad dry, but if you warm it up on your skin beforehand, it's creamy consistency is restored easily.
---