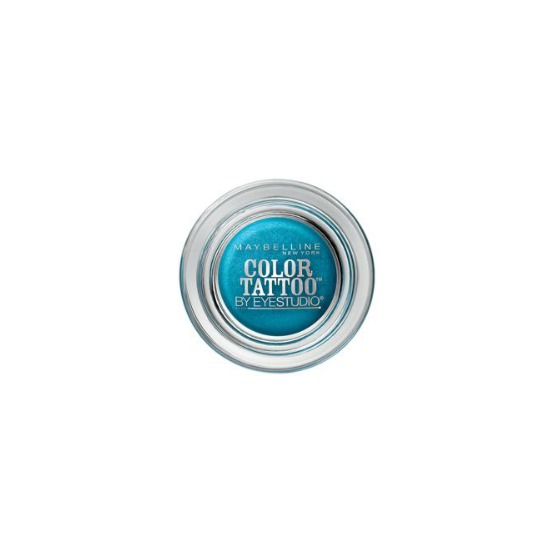 Rollover image to zoom
Reviews

Mary Anne M.
May 11, 2013
No Other Teal Needed
Hands-down the most pigmented teal eyeshadow I've ever used—and that includes drugstore and high-end eyeshadows. Stays put and never fades until I need to take it off, and it's one of the Color Tattoos that I'd proudly wear without any other eyeshadows.

love it
I am In love with this. I finally purchased one and I will continue to purchase these they're so creamy and easy to work with and the colors are so pigment and vibrant. not to mention they're great for travel and come any cute package. it issafe for water lines also used as bases or liners it's perfect for everything

LOVEV THESE
Ive just done a look with this product and I am In love! The product is easy to use, colour stays true and the colours/shades are gorgeous! Using it as a base for the powdered version of that colour is a really cool option, especially if you want to add just some sparkle to your look.There is a lot of product in the jars, so as far as value for money...amazing. And It does last all day! You only need a little bit to go a long way! I bought all colours and I am very happy!

Love love love it.i am actually going to purchase the other colors. I love this product because again of my oily eyelids this one seems to stay on forever I haven't tried it with a primer yet but just by how it stay on for a long time without it tells me I don't need but I'll still try it out.irs also creamie and nice the color is really nice and bold.it could be used as a base or alone either way it works perfect for me am looking forward to trying out the other colors because I heard different colors have diffrent textures still don't know if true but will try it and review about it.other than that great buy for me.

I was very wary of this at first, thinking that it was too good to be true. After trying the Tenacious Teal first, I immediately went out and bought all of the other colors; I loved it SO much. You can usually find me wearing bright colors; and going for the bold looks many people won't wear in public, so finding something like this was amazing. I recommend this to anyone who wants bold and long lasting color!!

Violet likes DM S.
Feb 18, 2012
The look for less
These have been compared to MAC which I do not own so I will just take their word for it (they as in Beauty Gurus on Youtube) What I do know is that the color payoff is amazing. Like this teal, a little goes a long way. I also own the white and it is a great base, makes colors pop. Can't wait to try more of them, sad to hear the purple isn' t as great as the rest of the bunch.

Lovely color payoff and brilliant shades
I own almost every color, but Tenacious Teal and Too Cool are my favorites. They are just fantastic. I used them mainly as a base, for extra staying power I will use a primer. The only downside to this product is how quickly is dries. I find if I use it as a base and I don't work quickly enough, my shadows won't blend efficiently enough.
Either way, I'd recommend this product to ANYONE!

Amazing:)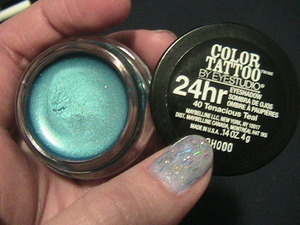 Bought this Tenacious Teal 24 hour shadow on a whim because they were on half price the other day and its gorgeous. Love the bright colour and the staying power is amazing. Did a swatch on my hand for my blog..later did the dishes and then took a long lush bath and woke up the next day to see it the swatch was still visible..but it did come off my eye lids with my sephora waterproof eye make-up remover.
---