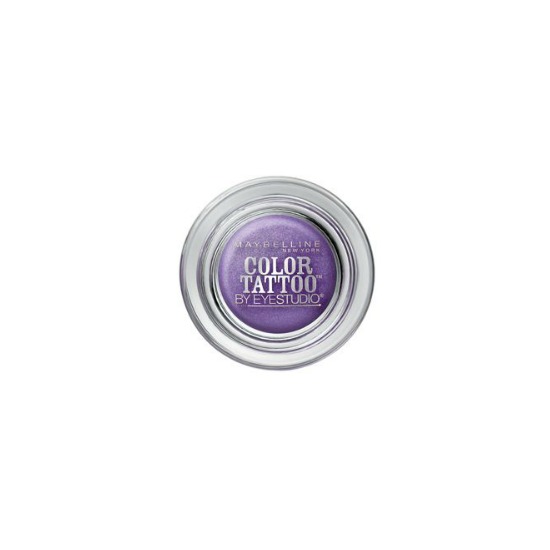 Rollover image to zoom
Reviews

smooth, highly pigmented, apply with fingers
one of the best long wear eye shadows around! I wish it came in smaller pots (and with that, a price reduction) as i can never finish using it. Fantastically vibrant and strong pigments but it's hard to blend with a brush. I suggest using fingers and the heat on your fingers will help blending. However! fingers are clumpsy, so don't expect professional shading/contour. Because it's so long lasting, it hardly wears off. However, removing is a headache

Mary Anne M.
May 11, 2013
Too Much Work for Little Color Pay-Off
It's a shame that this Color Tattoo is so sheer compared to the rest of the shades in the product family, and even more of a shame that I usually like purple eyeshadows and that this one was a disappointment. This is a more matte, basic purple that looks pigmented in the pot but blends out so sheer, and unevenly! The more I blend out uneven, clumpy areas, the sheerer it becomes, until I've practically rubbed it all off. I have more luck packing on more color and building up the intensity... but then at the end of the day it just feels really heavy. Not to mention, this creases if I don't wear a powder eyeshadow over it.
I love all of the Color Tattoos but this is the only shade that's been a let-down. I've been hunting for the limited edition shade Fuschia Fever in hopes that it's much better than Painted Purple.

Unbelievable!
I was on the fence to try these because I was afraid of hyped up products. I ended up buying the purple one because of my bright green eyes and boy, do I love them! I want to go back and get the orange and gold one but these were amazing! I did use a primer but these layered with eye shadow will last all day! I got many compliments and they were so pigmented and easy to apply. Not to mention that they were cheap!!

I have 4 of these color tattoo pots, I gotta say as for using for eye shawdow it'self it doesnt go well, but it makes a fantastic base for my normal eye shawdow that I love using. It makes the colors pop and last so much longer putting it on top of my primer. Even though as a shawdow itself it doesnt work, I love it as a base and I plan on but the rest of the 6 to complete the set :)
I have all the colors from this line . They are just like the Mac paint pots maybr even better . What I dont understand is you would think that they would all be the same qualty .But they really missed it with this color . You really need alot of product in order for this color to show up on your lid . Oh why , why did you fail at this color . Other then that that I love it hope tis product is here to stay ... Maybe down the line they will come out with even more colors. Mac better what out ....They are given the a run for there money

Love <3
These are really great. They really do stay on forever and do not crease. I am an eyeshadow junkie and these are my favorite ones for now. To start off I bought "Too cool" and "Painted Purple". So far when I have worn these I have gotten a lot of compliments. I am really impressed with this product and plan on going back to CVS this week and buying the rest of the colors.
---