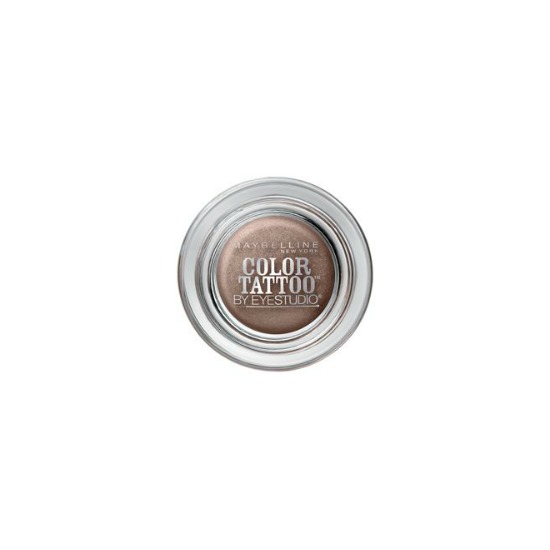 Rollover image to zoom
Reviews

USe as a base
I use this as a coloured base to hold on my eyeshadow and omg its the best!!!! st. patty's day i go out clubbing and its hot and full of poeple my eye makeup didnt move and i was dancing from 9pm to 3 am !!! im scared to know what im putting on my eye make it stick so well

xo Ella Mae A.
Jul 05, 2012
Maybelline Eye Studio 24 Hour Colour Tattoo Eyeshadow = my new best friend!
I <3 this product. I am from the UK so the shades have different names over here it is called on and on bronze so not too different but I thought I'd just let you guys know. Anyways lets get on to the review I really did love this product and they only recently came out in the UK so with all the hype online in the US I was really excited on trying these products because I had heard great things about them, they retail for £4.99 in boots and superdrug here in the UK so quite cheap for and eyeshadow. I really like the shade I picked as it just a natural colour to wear on your eyes for the summer, you can wear it alone or as a base and the colour is very buildable, it doesn't crease at all! My personal favourite way to apply it is by taking an ecotools eyeshadow brush and loading it up onto the brush and then patting it onto my eye, but as I have been using this method I have found that I have been using a little too much on the brush so with this product you only need a little because it goes a LONG way. I also think this eyeshadow would be great as an eyeliner with maybe one of the other colours underneath, I do also have tenacious teal which in the UK is called turquoise forever, and I think that would make a great liner more then anything else but I do think it would maybe do okay for a light wash of colour on the lids if you blend it out a little. But overall I'd say these were a great product and they don't crease, a dream to apply and they also remove really easily with a plain ordinary makeup wipe I love these and I definately think that they were worth the hype

Whoa Mama!!!!
I love this shadow! I have Bad to the Bronze (which I wear almost everyday!), Bold Gold, Tough as Taupe and I finally found Pomegrante Punk this morning. These cream shadows can be worn alone or as a base for other shadows. I use a primer before applying, but these babies last beautifully without a primer if you forget to put it on.
I haven't been able to get my hands on the other colors yet, but I'm stalking my local drugstores and expect to see them soon. These are a wonderful, affordable alternative to MAC's Paint Pots. They all have a hint of shimmer except for the Taupe. The Taupe is totally matte and has a slightly greyish/purpleish tone to it.
These are worth a try....Rite Aid, CVS, Walgreen or Ulta are constantly holding BOGO's so you can score a great deal, especially if you combine with coupons.

Christina Marie M.
Jan 17, 2012
Love it, love it, love it!
I cannot believe how much I love these shadows. I happened upon them in Target, but didn't purchase them because I wanted to read the reviews on them first. Once I read all of the hype, I knew I had to go and get them. I ended up buying all ten shades, but my favorites are Bad to the Bronze, Tough as Taupe, and Bold Gold. My least favorite is Fierce & Tangy. These shadows are extremely pigmented a so creamy. I don't even use a brush. I sometimes use the bronze as a base for my UD Naked palettes (1&2) for a more vibrancy in the color. Excellent find! Great product!

I love how I can wear this shadow alone for a quick splash of color on my lids, or as a base with powder shadows for a bolder look. I have never been a fan of cream shadows for the fact that they crease so much. However, these did not crease in slightest. They last all day and the colors are beautiful! So easy to use!

Love these
I was hearing for a longtime the hype on these. I was in a bind for a base so I broke down and got one. I think I like them better than paint pots and urban decay 24/7 shadow pencils. These lasted on me a long time and my glitter and eyeshadow didn't crease. I think it helped my UD primer potion work even better. Highly recommended and will buy more!

Amazing product
These are super awesome! I love the smooth texture of these and they seriously do last 24 hours! They are very pigmented. The only thing I don't like us the shades. There are only two neutrals and all are shimmery. I would be so happy if they made one like painterly from Mac.

classic
old school chic. it stays long, it is easy to apply, easy to take off.. it is even an amazing eye shadow base! the color is suitable for all skin types and all eye colors, ot never looks inappropriate or exaggerate. It looks good in the summer with a tan or in the winter with a pale face. total must-have!
---