Rollover image to zoom
Reviews

LOVE
I don't usually wear blushes because my skin flushes a lot naturally (a.k.a is ALWAYS red) but I decided to try this one. I was AMAZED. The creamy, memory foam texture is great, and the blush is slightly sheer, so it doesn't go on super thick. It also is very build able and blend able. I have found the best way to apply this brush is with your fingers. Brushes and sponges ruin the texture of the blush. Use two fingers to apply. Definitely one of my all-time beauty faves!

Fab color!!!
I LOVE this blush. Easy to use, and it's not overpowering. It can be a little sheer though, so if you're looking for a darker color you tend to use the blush faster. Shop around for cheaper prices! I bought it at one drugstore, only to discover it was several dollars cheaper at another. Still love it and plan on purchasing more :)

It's a decent blush and a fun product--it really is 'bouncy' and fluffy feeling and really entertaining. leaves a nice, sweet glowing color on the cheeks. I apply with fingers, smoothing it out with circular motions--it takes more work to apply than a cream or powder but I didn't find it particularly difficult. after you get over the novelty of the texture, though, there isn't much else to recommend over other blushes. it's very fun, but I probably wouldn't repurchase.

Great blush for fair skin
If you have fair skin, use should use these blushes. They are so natural and glide on your skin like butter! I use the shade "Rose Petal" for my everyday natural makeup look. It is a really pretty pink with a coral tint to it. I don't like streaky/super pigmented blushes so this product is perfect.

Not very pigmented, but it still works for me
Okay, this might not be very good for people who put on a whole lot of blush since it's not very pigmented. But I usually like to keep things extremely simple so this works for me just fine. I'd recommend it for people who are into simple makeup.

A Disappointment
I purchased this blush when I couldn't find my old standby, Maybelline's Drream Mousse blush. I figured they replaced it with this supposedly innovative concoction, seeing as how they both use the word "Dream." I can't figure out why they made the change, however, because this product is, in my opinion, a step down from my discontinued fave. It doesn't blend nearly as well, nor does it last as long. The color I chose was Rose Petal (the store I was at didn't have the plum shades I usually go for), and it doesn't do anything for me. It's just...blah. I'm on a tight budget, so I'm determined to make this stuff work and not switch brands until it all runs out, but man is there a lot of product in that little case! I will give it that! Finally, as far as the whole "bouncy texture" thing goes, if you don't know what that means now, trying this product won't give you the answer. I've been begrudgingly using this for awhile now, and I neither feel, nor see any "bounce."

Worst product I've ever used.
This blush is absolutely atrocious. Do not waste your money on it. It's horribly unpigmented and you need a lot of product to even show up, but then it looks bad because you have so much product on. It isn't long lasting at all, maybe stays on for an hour or so, even with setting powder and setting spray. The one thing I will say is I love touching this blush. It's really smooth feeling, and it's almost like memory foam that doesn't bounce back. even trying to use a powder blush over the top of this ended in failure.

Would recommend...but some problems
I have 2 of these: one in rose petal and one in pink plum. They are both light, fresh pinks that are good colors for everyday. I found that they both melted, and I don't store my makeup in the bathroom or in the sun. They kind of turned into a super mushy cream. The initial texture of the product doesn't stay for long, even though it is the bouncy texture promised on the packaging . I would recommend these blushes, even though they are hard to blend. Just apply with a small touch on your fingers and build up little by little to get the right look.

Fun to play with, pain to work with.
I picked up Rose Petal when these just came out so I didn't have the luxury of reading reviews or watching demos of this product and I honestly wish that I had held off until then. Due to the odd texture of this product it was very hard for me to find a way of applying this because I could not for the life of me get any color to show up. I tried a blush brush, a stippling brush, and my fingers ended up being the best tool for it... but even after I found the best method of application, this still gave me issues in the pigmentation department. No matter how much I applied or how much color I tried to build, I couldn't get this shade to show up any farther than the very faintest hint of a color. The new bizarre formula is really cool to poke and prod (it reminds me of foam clay)... but as far as a blush goes I am WAY better off elsewhere. In short: This product is a huge gimmick.

Takes some getting used to.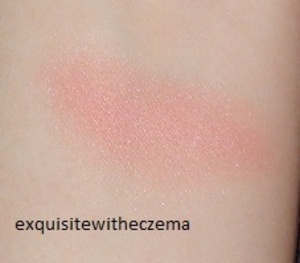 But I ended up liking it a good deal. I went with the color Rose Petal, which gives just enough of a peachy pink tint. The one thing I do not like is that it takes more work to apply than your typical blush. I also noticed that it does not stay on quite as long as powder blushes. I also do not see this product lasting a very long time since you have to use a bit to really see it(depending on personal preference.) Overall, this is a pretty good and inexpensive blush.
---