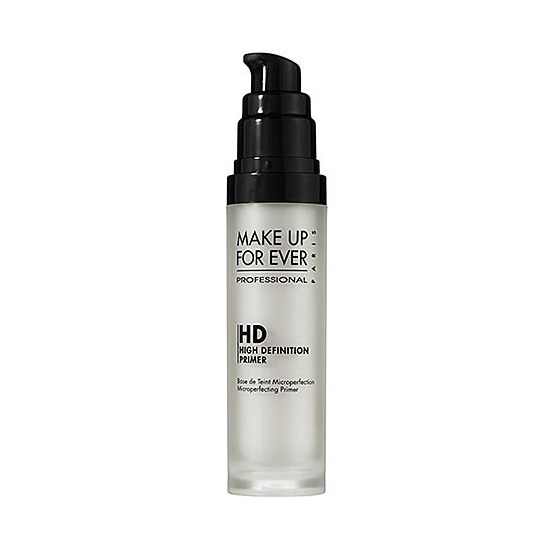 Rollover image to zoom
Reviews
Adore it
I can tell that it's the best primer on the market! It works perfectly with my extremely oily skin. It keeps my skin all day matte, everything glides on easily, and the pigments are so powerful if you apply this primer under your foundation. It changed my life. I would recommend it to girls with oily skin.

Does What it Claims.
This primer is pretty good id say. It goes on smooth, it smooths on your skin great, it makes your foundation look flawless and it makes it last. It is a bit on the pricy side so I do not buy this for myself, but instead put it in my makeup kit for clients. I love the fact that it is HD, so it looks good in photos with no glare, shine or flash back. This primer has what I'd call a velvet texture and so one downfall is I feel like I have to use a lot of product to cover the face. Overall if your willing to pay the price it is a good HD face primer.
Works Great but $$
I would have given this 5 stars if it weren't for the fact that I use this stuff much more quickly than other primers, such as Smashbox's Photo Finish. As much as I love the design of the pump bottle, I think it makes it a little bit difficult to control how much you use.
As far as the product itself, though, it really does hold onto my foundation (Kat Von D Lock-It) well, and it does a good job of moisturizing as well.

brenda ivette v.
Dec 13, 2012
not worth the price...
on my journey to find a good primer for my oily skin, one of the lady at Sephora convinced me to try this pricey product. at first i was excited to try it only to recently discover that it wasn't as great as she said it was! although it does keep your make up on a little "longer" i still find my self re-touching, and blotting after a 2-3 hrs of applying make-up. im sure there's better primers who do what they say for same price, if not, cheaper. still trying to find a good primer >:(

HG Primer.
This is one of two of my absolute most favorite primers in the entire world. It's liquidy out of the tube but it dries down on your face quickly and really makes your skin feel silky. I've been using this product for about six or seven months at least and I haven't had any negative effects. I have really sensitive skin and have to be careful what I put on. I don't feel like this clogs my pores or anything like that. It just allows my makeup to glide on smoothly. I notice my skin feels different if I put makeup on without this, although I don't think my makeup actually looks any different. I don't feel like my makeup lasts as long if I don't use this primer, either!

Great Primer
I really like this primer especially for the extra dry spots I get from time to time. It really helps seal in the moisture for you face and give you a flawless look. It does not feel greasy or oily on the skin once it dries it feels pretty silky and very smooth. The texture is somewhere between a gel and a lotion, it is interesting to apply a little goes a long way because of this but that just creates more bang for you buck. It also has a strong scent to it when it comes out of the bottle but once applied this quickly goes away is not not noticeable at all. I actually really like the scent it's clean smelling and does not bother my eyes. Great product I'll definitely be buying it again!

Not good for sensitive skin types
I bought this primer in high hopes that I would love it since MUFE has such wonderful products. When I first used it the first thing I noticed was the smell. It has such a pungent perfume smell, it honestly smelled like a light perfume going on my skin. Its not like a gel primer, more like a lotion. It absorbs into the skin rather than sitting on top. Within only a few hours of wearing it, my skin started breaking out in a horrible reaction. Because of the fragrance, it did not go well with my sensitive skin. I had to return the product because of how it make my skin look and feel. I do not recommend this primer if you are acne prone or have sensitivities to fragrance.
Awesome primer provides perfect base!
I love this primer and only recently invested in it. As a makeup artist I have tried lots of primers and this is definitely my new favourite. It smells amazing, a small amount goes a very long way and it leaves your fave feeling super smooth. This primer comes in 7 different versions so you can match it to your skin tone and type, green to neutralize red, purple for sallow skin...ect....... I recently reviewed this on my blog- http://fionahendersonmakeup.wordpress.com

Stephanie H.
Oct 21, 2011
HG Primer!

This Primer is worth every penny. I know some will be turned off by the price of this product. But to me the Pros easily out weighs the Cons of price tag. You can tell from my pictures how well it fills in even the finest lines on the back of my hand. I do not have big pores and this makes my tiny ones invisible. The packaging is of course amazingly designed. It has a pump that gives you the perfect amount of product. The best part of all that this product offers...my make up stays on literally a full 8 to 10 hours depending on what I am doing. My foundation looks even better because of the smooth base it gives my face.
---