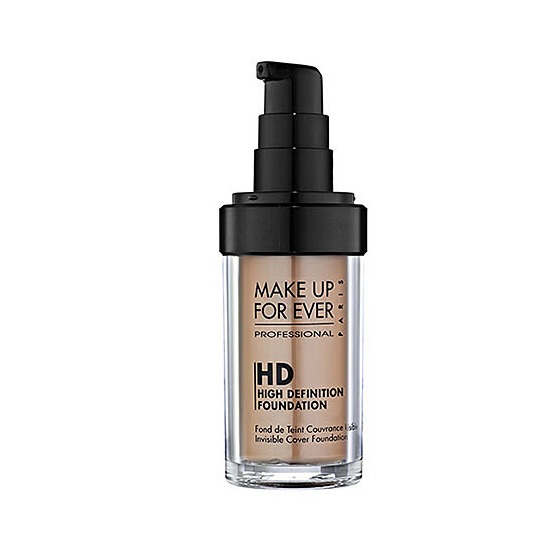 Rollover image to zoom
Reviews

it's okay!
I heard great reviews on this foundation, so I went and purchased it, they matched my skin tone and found the perfect colour. I decided to wear it to a concert to see my favourite band. and by the end of the night / midway into the show, my face looked so pale and shiny. It didn't last long nor give off amazing pictures. It all depends, some days it works excellent and others not really. overall : it's okay.

I will wear this foundation FOREVER.
Simply the best. I have been using this foundation for years now, and don't see myself switching anytime soon. Seriously will make your skin look meticulously flawless. The coverage is insane, but never feels like too much. The application is smooth and feels like velvet on your skin. Most days, I use my fingers to apply it, but if I want fuller coverage I just switch over to a brush. Either way, my skin never looked better. Often when I wear it, I find I don't necessarily need concealer either. Although, the MUFE concealer (which I also adore,) works perfectly with this foundation, as you can match it exactly to your foundation color and/or skin tone. Also they offer a wide variety of shades, which I really appreciate due to my skin's yellow undertones. Invisible Cover offers everything I look for in a foundation: full and flawless coverage, matches my skin perfectly, and lasts for hours and hours! Thank you Make-Up Forever!

Simply the best.
This foundation will make your skin appear meticulously flawless. The coverage is absolutely incredible. And it has a silky smooth application. I usually use my fingers to apply it, but for more coverage will switch to a brush. Usually when I use this foundation, I don't even need to apply concealer. (Although the MUFE concealer works wonderfully with this, and you can match your concealer exactly to the foundation.) They also carry a fairly wide range of shades, which I reaaaally appreciate since my skin has yellow undertones. This is truly the only foundation I have found that has everything I look for in a foundation. It matches my skin perfectly, provides full and even coverage, and stays put for hours and hours. Thank you Make Up Forever!

I like it but could be better
I really wanted this to be my go to foundation, but there are some things I cannot get past! For starters this foundation works perfect for photos, has almost like a luminous/dewy look and is perfect for dry skin. There are things I don't exactly love about it like the blending is terrible I have to really sit there and blend this for a long time so it does not look streaky with a brush, I can't find one that matches me perfectly even though they have a pretty good color selection and it does not last very long. I can wear this if know I won't be out for too long Because that dewy look turns into an oil slick!! I have pretty dry skin which is why I was surprised it did that I have to carry a powder with me. I do have a small tip a make up friend of mine told me that if you use a beauty blender damp this foundation does blend much better which it does but since it doesn't last long I knocked a star off. I still use it when I know photos are involved AND if I won't be there long.

I absolutely love this makeup so much it provides great coverage, and it drys to a matte finish, only down side is that its a bit pricey , but well worth it.

Stephanie M.
Oct 02, 2012
Best!
Without a doubt, this foundation is beyond amazing. I have used countless foundations from high-end to drugstore over the years. The coverage, feel, staying power, It's all there. This is truly the ideal foundation for me. A little bit goes a long way, a bottle last a long time. The pump also makes application easy, but can get a little messy over time. Great product.

Covers everything, without looking/feeling like cake icing!
I normally use Duo Mat, or Face and Body from MUFE, but after reading the reviews about a year ago, I picked up a bottle on my way to work ( I was running late and without makeup!) I will say first of all, that I love getting foundations by this company because they create true olive-toned foundations where most companies do not. I thought this looked too light in the bottle, but when the SA at Sephora took it to my neck and blended up it matched perfectly. Upon getting to work and applying it myself I found it had really great coverage abilities, without at all looking like I had makeup on. I did set it with a loose powder and MB's Rosewater Refreshing spray and it looked impeccable. The only reason I took a half a star way was because the staying power is not incredible without quite a few touch-ups with powder throughout the day, and even with setting spray, occasional powdering can take away the beautiful finish it gives alone. I would recommend having a SA test it out on you due to the color not appearing as it really looks in the bottle. It does oxidize instantly after applying, but it does not continue to do so throughout the rest of the day.
---