Reviews

Such a beautiful colour!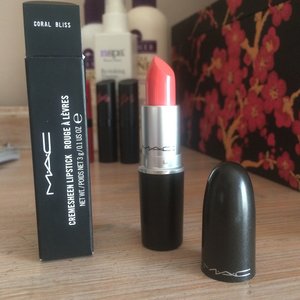 Decided to finally order a mac lipstick, and I chose the shade coral bliss! It is so beautiful! It's very creamy and moisturising, (the texture is a cremesheen) so I didn't need to apply a lipbalm before use which was great. Gorgeous orangey- toned coral and looks amazing on my skintone which is really light although I feel it would suit most skin tones.

Perfect!
I recommend this shade if you have blue eyes because your eyes will appear much brighter & bigger. Mac lipstick is my favorite brand. It lasts for hours. You can eat or dink & it will still stay on. I actually have a problem getting it off because thats how long lasting it is. I definitely recommend Mac if you are searching for a long lasting lipstick!

Mac " Coral Bliss" is the best colour I have ever used!! I love all the lipsticks from Mac but this is by far the best!! It looks even better with clear lipgloss on top!

This color looks a lot brighter in the tube than it is when it goes on... but that's great IMHO! I'm a big fan of the Cremesheen lipsticks and I was worried that I wasn't going the like the new line with the pearl added... luckily, they apply just the same and look gorgeous on. This color is a gorgeous sheer coral peach/pink with a very minimal shimmer as opposed to the others in the new line... perfect color for someone like me with pale skin looking for a subtle way to brighten my everyday makeup... I've been wearing this everyday since I bought it... I'm sure Shy Girl's happy I'm giving her a rest... LoL!
---