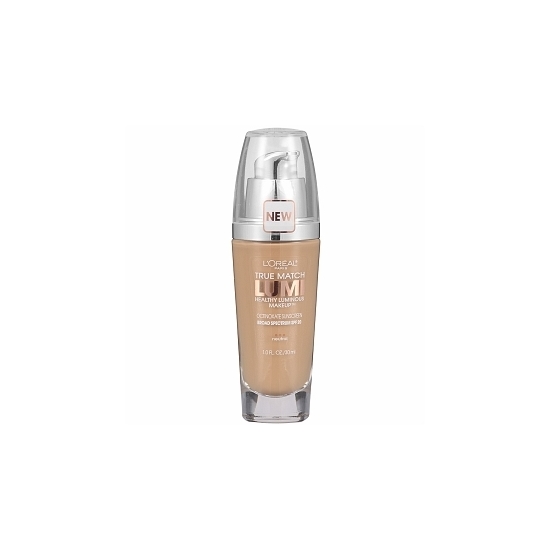 Rollover image to zoom
Reviews

Great drug store foundation, sheer to medium coverage.
I bought this foundation in terms that I am a high end user. I wanted something I could use everyday, without the hassle of dishing out too much money for a foundation. I have dry skin, and live in a humid climate so I'm not sure how this would look in the cold. It does what it says it does, provides a dewy finish. Pros: Dewy finish Buildable coverage Water based Sanitary Blends easily Doesn't dry out
Cons: Doesn't last the full 8 hours it promised to last, the foundation does erase a bit. I dont think this might be a good foundation for acne prone skin types.
A good product very similar to this would be Neutrogena's healthy skin liquid makeup, so if you are acne prone I would dump this altogether and look into Neutrogena's foundation as they might be safer to use.

An Inexpensive Alternative to my Costly HG Product!
I normally wear and am loyal to MUFE Face & Body foundation, so when I heard this was a light, water-based, and sheer-medium coverage with a satin finish I had to try this stuff out. I purchased this for around $11.00 at my local Walmart, which is on the pricier side for a drugstore foundation. When I saw this had a pump, I got extremely happy because I refuse to buy a foundation that doesn't come with a pump, no matter how great the product itself is. I also noticed the shade line up while vast, is somewhat discombobulated: N5 was too light and pink for me, N4 appeared darker than N5, W6 was more olive, but too dark and W5 was too yellow but just the right depth. IT WAS IRRITATING BEYOND BELIEF. So I just grabbed Sun Beige because I figured I could just work with it, or return it when I have the patience to spend 20 minutes testing for the best shade in a crowded store. When I actually got to put it on, I noticed the consistency was like a very creamy and watery emulsion (think Lubriderm body lotion). This product didn't dry very quickly so it gives me more time to blend, or too build up extra product where I need to. The coverage is indeed sheer to medium. It evened out my tone, slightly blurred any existing blemishes I did have while all while still showing my natural skin. The finish is a very nice satin finish which basically just feels semi-matte. It lasted on me about maybe 3 hours my first time before I had to blot, and so the second time I wore this I decided to set with a loose setting powder and it lasted for about 6 hours without getting too oily (which is the norm with me and almost every foundation anyway.) The foundation faded a bit by the end of a long day, but when I got home I still had quite a bit of product rinsing off in the sink so I was happy with that. The incorrect color match I had was really distracting me from what I liked about this foundation, so I eventually decided to go back and play with different shades and found that Buff Beige WAS actually neutral unlike the other "neutrals", and the depth of color was perfect for my skin tone and my problem was solved.
Overall, I am impressed with this foundation, and it has become one of my new drugstore foundations. It has not caused me any breakouts or irritation, created excessive shine, and it just makes me look great without making me look like someone else. As if right now I would definitely repurchase this for winter use because it's more moisturizing and more nourishing than my other foundation but I will honestly probably stick to my F&B foundation in the summer because it's sweat and water resistant and feels lighter on the skin. In response to the negative reviews about this product pertaining to the "need" to re-apply every two hours,lack of coverage and the dewiness: If you completely read the instructions, you are ONLY supposed to reapply this every two hours if you are using this solely as a sunscreen. And for the lack of coverage and dewy finish? Do you guys not read product descriptions before you just buy them? This is NOT marketed, or intended to be a matte, full or even a medium coverage foundation. You can't give a foundation a bad review for not doing what it wasn't intended to do.z
EDIT: I have recently just started breaking out with this foundation all over my cheek and jaw area. I love the finish and effect and just everything about this foundation, but if it breaks me out this badly I would need to purchase something with fuller coverage anyway to cover up all the blemishes it gives me. I knew it was either this or MAC strobe cream, but I continued getting new blemishes days after I had quit using the strobe cream. Returned today and purchased Neutrogena Shine Control.
---