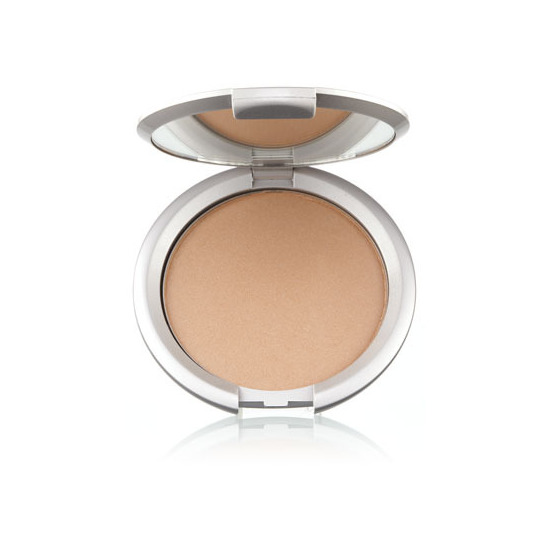 Rollover image to zoom
Reviews

Loving it as a highlight!
I guess they want you to dust this all over your face, which I suppose you could do but I have been using this as a cheek color/ high light and it has been working out lovely. I have a deluxe sample size that I got from the Glitz and Glam Sephora box. If the sample packaging is like the sample, it will drive me insane. The lid always looks slightly ajar to me. I suppose that doesn't matter too much but I'm just sayin'!
It is a very smooth application and very very blendable. I can see it starting to get too powdery if you use too much of it, but this isn't a product you are meant to pack on your face. I may repurchase but I have to say I am quite interested in Candlelight by Too Faced. However this color works beautifully for me since I can use it a a flush of color on my cheeks with a little heavier application OR a highlight because it sheers out quite nicely.

Love this product, wrong shade for me
So, on my first ULTA trip this past summer, I got hooked into getting this. I wasn't even looking for a highlighter until this sales chick wrangled me over (of course I love highlighters as similar as they can be- all chock full of mica). She showed me this beautiful silver compact with a gorgeous, luxe highlighter nestled within. There's a good deal of product in the compact, despite the price. It looked peachy beige in store, but when I swatched it on my cheekbone, the opalescence shimmer stood out, not the peachy tone. I was hooked right away and she knew it! Spotlight was their last one in stock, and of course they wanted to get rid of it that day. It was dim outside and the bright lighting deceived me into thinking it wasn't so coppery. When I wore it at home and swatched it, the peachy shade really stood out. Sometimes it would photograph really well, other times the peach shade would stand out and made me look tanned where I didn't want to look bronzed! So I'm still a little miffed that I got sold the wrong shade and the best way I can rock this is just on the cheekbones with a similar peachy bronze shade. I love the creamy texture of this and I KNOW that Luminous would be PERFECT for me. My next Ulta trip this fall was also OK with a somewhat rude sales girl who wasn't at all interested in helping me. The nearest Ultas to me are all three hours away, so despite the minor disappointments they are still a treat for me. So, just make sure you get the right hue. That being said this is one of the BEST highlighters on the market!

Catherine D.
Jun 06, 2011
New holy-grail highlight!
I received a sample of this, and I will definitely be purchasing a full size when this runs out- if it ever does, I've barely made a dent and it's been months! It leaves a nice, subtle shimmer on my combination skin without it looking gross and greasy.
---