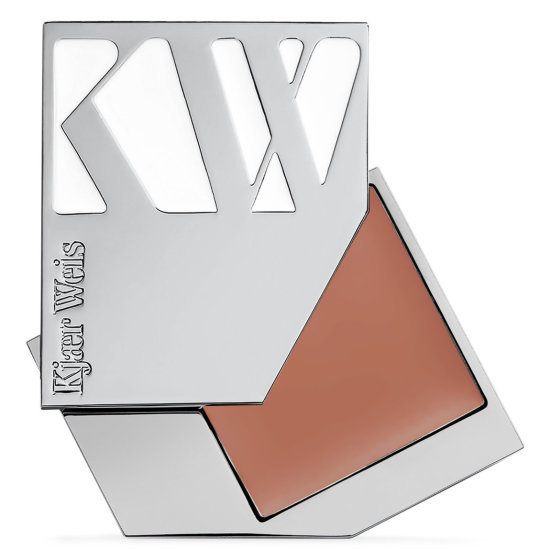 Rollover image to zoom
Reviews

Worth it to me
I love this blush. I'm someone who is happy to invest in really excellent products as I maintain a very small collection of pieces I really love, but $56 for a small cream blush is steep. I have very light skin, so I typically need to make sure I go easy on the blush, or I can easily veer into clown territory. With this blush, I find myself going back into the pan several times to build up the color. I would describe the shade "Desired Glow" as less a color product and more of a base product - it just makes your skin look glowy and really beautiful. I also find it somehow neutralizes some of the redness in my skin.
Every time I wear this (aka every day since I've gotten it), I find myself staring into the mirror and tilting my head back and forth to admire this blush.

A Luxury
I discovered Kjaer Weis by watching a video for fair skin cosmetics. The presenter raved about this being her all time favorite. I was thrilled when I opened the beautiful packaging. Very artistic and beautiful. A bit heavy, but I still carry it in my bag for touch ups.
The blush goes on like silk, blends well, and can be applied with a brush but I prefer my fingers. The warmth seems to melt it into the skin. I do find that I have to reapply throughout the day.
The ingredients also drove my purchase. I have become more aware of our skin being an organ and have been choosing natural ingredients even at this late stage of my life! I would recommend this for fair skin that is looking for a natural bronzer or a peach blush. It gives a healthy glow, but is not shimmery which is best for mature skin.
A bit pricy, but a luxury buy you will love!

Little goes a long way
I was falling in love with the Kjaer Weis packaging at first. The box looks like Cartier red box and the package is heavy which feels very lux. When I saw this color first I thought it might be too dark on me. I'm asian and have fair skin but Desired Glow is the perfect natural peach glow shade for me and give me a healthy glowing look. I apply it with the Wayne Goss #1 brush, it's easy to apply and stays all day. The fact Kjaer Weis is all natural is the cheery on top!
---