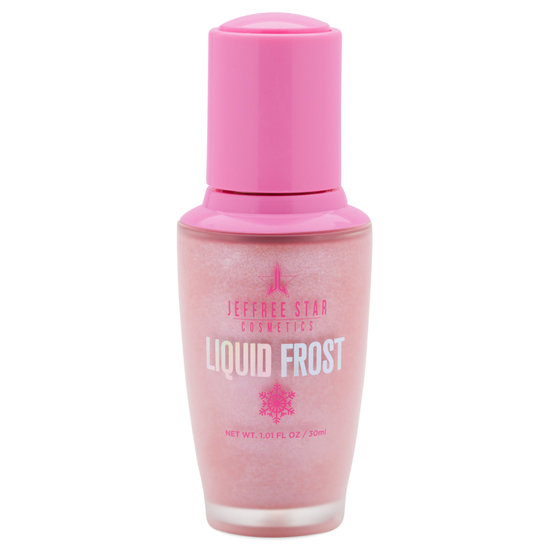 Rollover image to zoom
Reviews

LOVE! it's blinding!
Highlighters are my favorite beauty products…and these liquid frost highlighter is BLINDING! You have to use it carefully. I pumped far too much out by accident. This was a bad idea because the product is super pigmented and you hardly need any for an unreal shiny highlight. It's a little tricky to apply but it looks amazing!
You want bling? Get this.
I LOVE this highlighter! It is long lasting, and a little goes a long way. I literally wear it almost everyday to work and after twelve hours, it's still there, shining like the high heavens. I mixed it into my foundation and it added a lovely glow. It's definitely got some glitter vibes, but I bathe in the stuff, so it doesn't bother me. I use my fingers to tap it onto my cheekbones till it's blended. Do I recommend? Heck yes!

Stephanie S.
Oct 19, 2018
It has a weird smell
I'm a big Jeffree Star fan, and always purchase something from every launch he has, with that said, the highlighter works great and shines beautifully. But when I try using the pump to get product nothing really seems to come out. I checked to see how much product was in it and didn't seem like much. Not only that but mines smelled like kids glue which was unappealing to put on the skin. Maybe some slight modifications to this product can make it almost perfect

Magnificent M.
Oct 15, 2018
My New Favourite!
I was a little nervous in trying a liquid highlighter, let alone this shade so late in the year but the promise of purple-pink just pulls me in no matter what, so I took the plunge.
I'm pretty new to the world of contour and highlight, so I have some kinks to work out in my makeup routine, but this was easy to use, easy to apply and doesn't dry so fast that it can't be blended out, but it doesn't disappear too quickly when I move it around either. I feel like if some people are having issues with having to put it on too thickly, that may be their indoor lighting, because this just blows up on the face at any level of application.
Before this, I have used low and high-end powdered (Buttered, KvD) and cream (Fenty) (Hard Candy) highlighters and even a few eye shadows as highlight along the way and by far have gotten the longest lasting, best looking and most complimented looks with the JS Liquid Frost.
I feel like the volume received is going to last a long while and I love the dropper dispenser/container and will be ordering another shade in his line asap.

Absolutely love it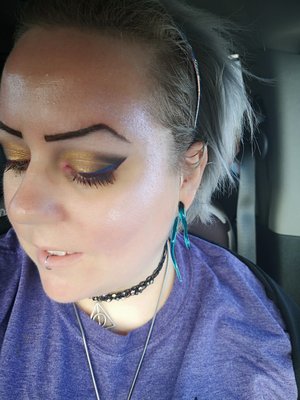 I purchased ice queen and frostbite. (haven't tried frostbite yet) but ice queen is amazing. I really enjoy how shiny/sparkly it makes me look. I usually use powdered highliters but now I'm obsessed with these. Gives me a beautiful unicorn shine. And the best part is you don't need very much so a bottle will last a long time. Next purchase will be crowned jewel!

Glitter!!
I hate that I dont love these!! But I know Jeffree Values his customers opinions so.. 1. The swatches do not look ANYTHING like whats on my hand...there's hardly any base to it...you can tell its water based, and it blends out to a pinky lavender fine, fine glitter. It would probably be cute on the body, but its fall now.. I cant see blending it with foundation, bc I think it would just get lost in it.. Its just strange.. I like the drugstore one way, way more.. You kinda have to pat it on thick to get a base..it is very pretty though. ..so I won't be returning it Its like the liquid version of "Neffree". The packaging is the best part!! I dont think Ill be buying anymore..but I do like it more now, that Ive learned you need to pat it on a little thicker to make it opaque..and if you blend it out, you"ll just get a glitter reflect.. Ice Queen is gorgous though..you tried Jeffree, you tried!! I need to work with it more...but I LOVE the shade!! It dries quick, and little transfer.❤❤❤
---