Blue Blood Eyeshadow Palette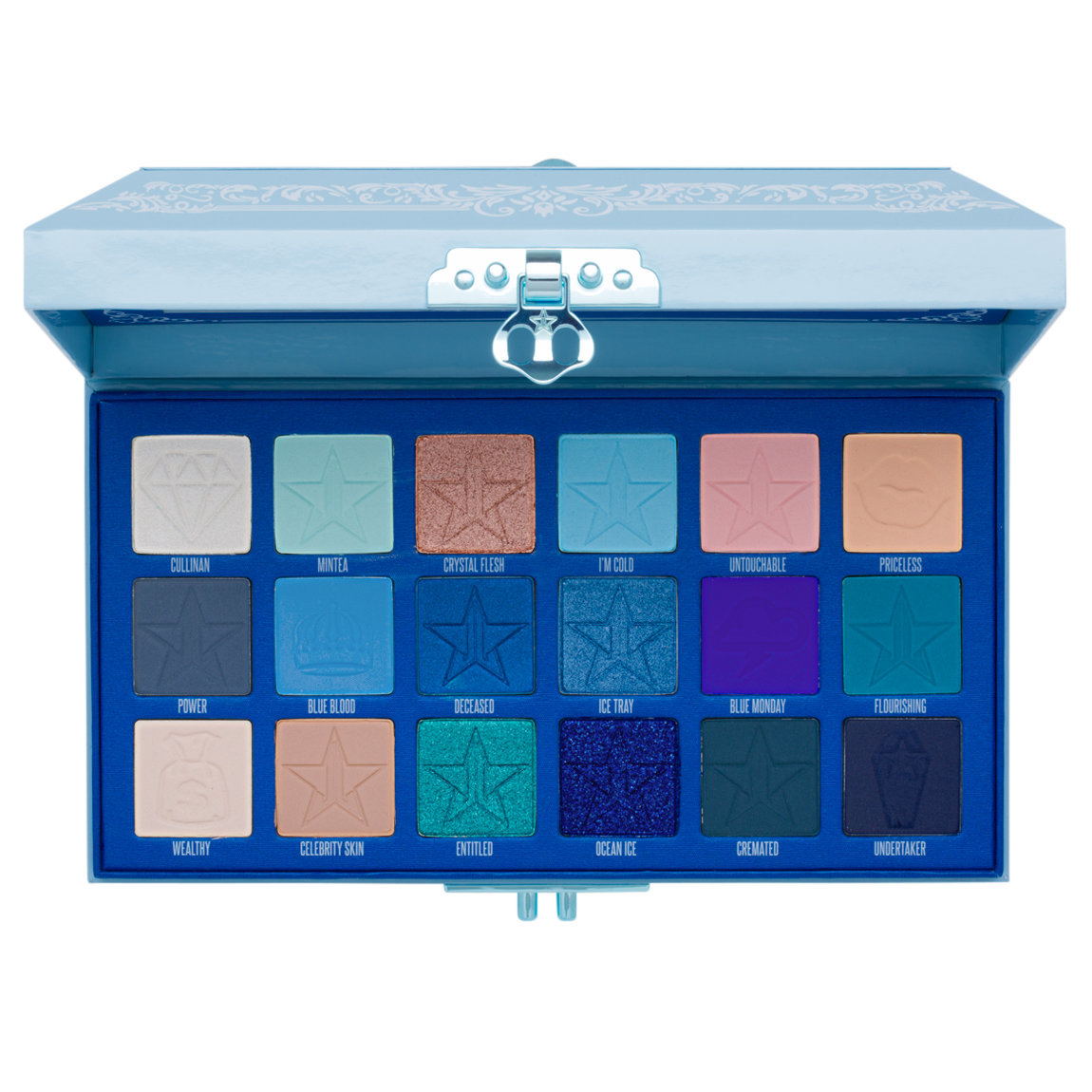 Get the Set

Product Description

About Jeffree Star Cosmetics Blue Blood Eyeshadow Palette

Treat yourself like royalty with the Blue Blood Eyeshadow Palette from Jeffree Star Cosmetics. Jeffree's sixth eye shadow palette includes 18 pans of pigmented color housed within a jewelry box-inspired case. Featuring rich blues in matte and metallic finishes and complementary shades of peach and pink, this palette is sure to bring out your inner queen.

About the Shades

Cullinan: Icy white with a metallic finish
Mintea: Mint with a matte finish
Crystal Flesh: Champagne with a metallic finish
I'm Cold: Powder blue with a matte finish
Untouchable: Soft peach pressed pigment with a matte finish
Priceless: Peachy tan with a matte finish
Power: Deep slate gray with blue undertones and a matte finish
Blue Blood: Sky blue with a matte finish
Deceased: Deep cayenne blue with a metallic finish
Ice Tray: Soft pale blue with a metallic finish
Blue Monday: Vibrant blue pressed pigment with a matte finish
Flourishing: Bright teal with green-blue undertones and matte finish
Wealthy: Soft beige with a matte finish
Celebrity Skin: Soft brown with a matte finish
Entitled: Metallic teal with a glitter reflect
Ocean Ice: Metallic royal blue pressed pigment with a glitter reflect
Cremated: Dark gray-green with a matte finish
Undertaker: Deep blue with a matte finish

Why It's Special

Create subtle to electric blue eye looks with this diverse selection of icy shades
The high-pigment formula melts into skin for easy mixing, matching, and blending
Features a variety of finishes, including matte, metallic, and glitter reflect

How to Use

Apply to lids, creases, and brow bone with your choice of eye shadow brush.

Other Details

Size: 18 x 1.5 g / 0.05 oz per pan
Vegan
Cruelty-Free
Paraben-Free
Gluten-Free

Ingredients

Shipping & Returns

Free Shipping

Beautylish offers free shipping to the U.S. on all orders $35 and up. For all other orders, we offer $5 flat rate shipping.

Fast Delivery

We ship using FedEx Express (2 business days from order shipment date) and FedEx Ground (3-5 business days from order shipment date).

Satisfaction Guaranteed

If you are less than completely satisfied with your purchase, you may return your order within 60 days (from the delivery date) for a full refund. We'll cover the cost of return shipping within the U.S..

World-Class Customer Care

Beautylish's team of makeup artists and beauty experts are here to help. If you need assistance in anything from color matching to your perfect skin care regimen, we're here to help.

Phone: 1-877-992-5474

Email: service@beautylish.com

Reviews

Quality product!

Not only do I love the gorgeous blues with the different shades and finishes I love that there is a matte brow bone color a transition color some people are saying you can't get a complete look with this palette I completely disagree I have and I can't wait to make more! I love a shimmer on the lid and there are plenty to choose from. And as usual the pigment in his palettes are always outstanding and blend beautifully. Love this and can't say enough good things about it.

Blends beautifully and plays well with sibling Blood Sugar

Colors are beautiful, my be intimidating at first site but once you jump in the palette quickly becomes a favorite. At first use I mixed with its sibling Blood Sugar and the shades play extremely well together and alone.

More wearable than you may think.

At first, I wasn't sure about this palette. I thought who wants to look like Mimi Bobeck from Cleveland Rocks? LOL Some of the looks on instagram & Youtube are very editorial. I took a chance and ordered the palette. Happily, it has a nice mix of colors. You can get some very wearable looks out of the palette. The shadows blend nicely.

I'm so glad I have it! in a sea of neutral palettes, its a real stand out in my collection. There is nothing on the market quite like it. I appreciate that!

I love it BUT

I was so excited to receive my J⭐️ Blue Blood Palette! However, upon receipt I realized the pans are lifting and loose. A big disappointment for something that is so costly. On a side note, the colors are beautiful and I am looking forward to trying this. I'm just hoping the pans don't fall out..

Umm...Amazing!?

I got it in today and immediately started to play with it. I swatched a few shades prior to using it. I used a concealer as the primer and did not set it. It blended out beautifully. I used the technique Mitchell and Nikkietutorials do for eyeshadow and the blended like a dream. I'm so happy I purchased this!! The pigment is amazing, they're buttery and a great price! Jeffree, never disappoints.

Gorgeous but damaged v.v

I got my palette today and was so excited and lucky to be one of the lucky ones to get it.....but when I opened it I noticed the outer box was damaged and on the inside there was what looked like eyeshadow dust on the palette itself that's all fine....but then 3 of the pans were damaged v.v I'm really upset about this I dont think it was shipping due to the main box it was shipped in the fact there was like 8 sections of bubble wrap I think the product itself was damaged before being packed to ship really sad about it...but everything else was great :/

Happy!!

I have waited a few days so I could play with this palette and use every shade a couple of times before I wrote this review. I can honestly say I am very happy with the palette!! In fact, I do believe this is my favorite palette from JS. I have purchased all of his palettes and was so afraid this was going to be another Thirsty palette, I sent that back as I thought that palette was so disappointing, no payoff, colors didn't work well with others, but, this palette has blown my mind! The colors are far more wearable than I thought. I do wish the light non blue shades were deeper, but, I use the Alien palette instead, Phone Home is a perfect pinky shade to use instead of the colors in this one, way more intensity and payoff, but, I didnt dock the star as I self tan year round, so, maybe those shades will work for others. I had no issues blending the colors out, no issues with saturation. I DID have issues with the amount of fall out, it doesn't really effect me, but, you have to accept that fact. The shade range is beautiful, the palette itself is his best work yet! Feels so much more luxurious than the Blood Sugar, never thought he could top that one but he did!! There are some stand out shades, all of them!! I can't name a favorite shade as each and every one are perfect! So happy with my purchase! I did not have any issues with pans uneven, broken, none of that. I just wish I had purchased the lip shades, will pick them up when they come back. All in all, this palette is so much prettier than the pics or youtube videos, when you open the box your breath is just taken away, you know it is something special. I can see myself using this every day, something I didn;t think would happen. My blue obsession is satisfied!! No need for any other blue palettes!!

Really great. Some minor issues though

I have 4 JSC palettes now and this one is the best when it comes to the quality of the shades. Even better than blood sugar which some shades were really drying and patchy in blood sugar. Anyways, there is one shade called Undertaker that is a bit dry and patchy but it still blended really well. Ocean Ice is super weird for me, like it's super chunky with a jelly like feel to it even though it's dry. When blended out it sort of looks like a dark blue with some sparkle to it. Not super metallic looking like I hoped it would. But it's still beautiful just not what I expected.

The shades Blue Monday and Flourishing are not what I saw in videos and pictures. It could be that the lighting in those were making them look different or there were filters. They are still pretty colors just Blue Monday is purple not electric blue and Flourishing reminds me of a medical doctor or nurse scrubs teal. I hope that made sense. It's just more of a green than a blue and I don't really like it and I don't think either flow with the color scheme. But it did blend really well and it looks prettier blended.

One other thing I noticed is that the shades crystal flesh, ice tray, and entitled are not sitting evenly in the palette. Like its just the pan isnt glued very evenly. One side is up higher than the other. So it looks like it's going to pop out of the palette. Which might be why some people are getting broken ones. I don't think it was a shipping thing, just that they were not glued right on some palettes, I've seen broken ones come from the morphe store as well. But that's just my guess from looking at my palette that is not broken. Overall would 10/10 purchase again I love it. I just wanted to share some things I don't really mind that some people might want to consider.

All in all I'm glad I bought the set together because I probably would have missed out on the palette. I always have awesome service with beautylish and they came within 3 days of ordering and it was free shipping. Also got a free Becca sample.

Really the best I've gotten from Jeffree Star Cosmetics so far in quality and formula wise. The unit carton is a super soft cardboard that's beautiful blue but kind of flimsy unlike the cartons for thirsty or bloodsugar. The unit itself is very sturdy it's a nice weight not super heavy and not super light. The outside is super smooth with the words and filigree carved in. The clasp does feel a bit cheap but I'm guessing it's because its a blue plastic not metal like blood sugar was. The mirror is amazing as well. I didn't have trouble opening mine, it opened rather easily. It smells like feux leather on the inside and eyeshadow lol

Really great product and worth the money id say. I cant attach a photo because my camera is broke but when it's fixed I will so I can show the pan offset I noticed.

3.5 stars

The shadows are creamy and so pretty! And while the packaging is absolutely beautiful, it's also a bit bulky (still easier to tote around than Alien).

I am having some issues with the darker colors going on patchy and not blending out nicely, and the fallout is FOR REAL an issue. I strongly recommend doing eyes first, and using makeup remover to clean up under the eyes because using just setting powder and then dusting it off isn't enough.

I am not having the "chunk" issues others have mentioned, and it came in perfect condition.

The whole top row is my life right now but I'm loving stepping out of my comfort zone with different shades.

Pros: *beautiful packaging, as always from Jeffree. *creamy *what a color story!! *long lasting *easy to use for dramatic or simple or any look you may want, it's versatile

Cons: *bulky packaging *fallout and kickback make under eyes look dark *patchy darker shades *have to swatch before use because color is different from what you see in the pan when applied to skin

I'm very happy I got it!

Amazing quality

This palette is so good!! Honestly I wouldn't expect anything less from Jeffree Star Cosmetics!! They are extremely pigmented & practically blend themselves. The shades are very complementary of each other. If you love blue eyeshadow, I highly recommend this!!