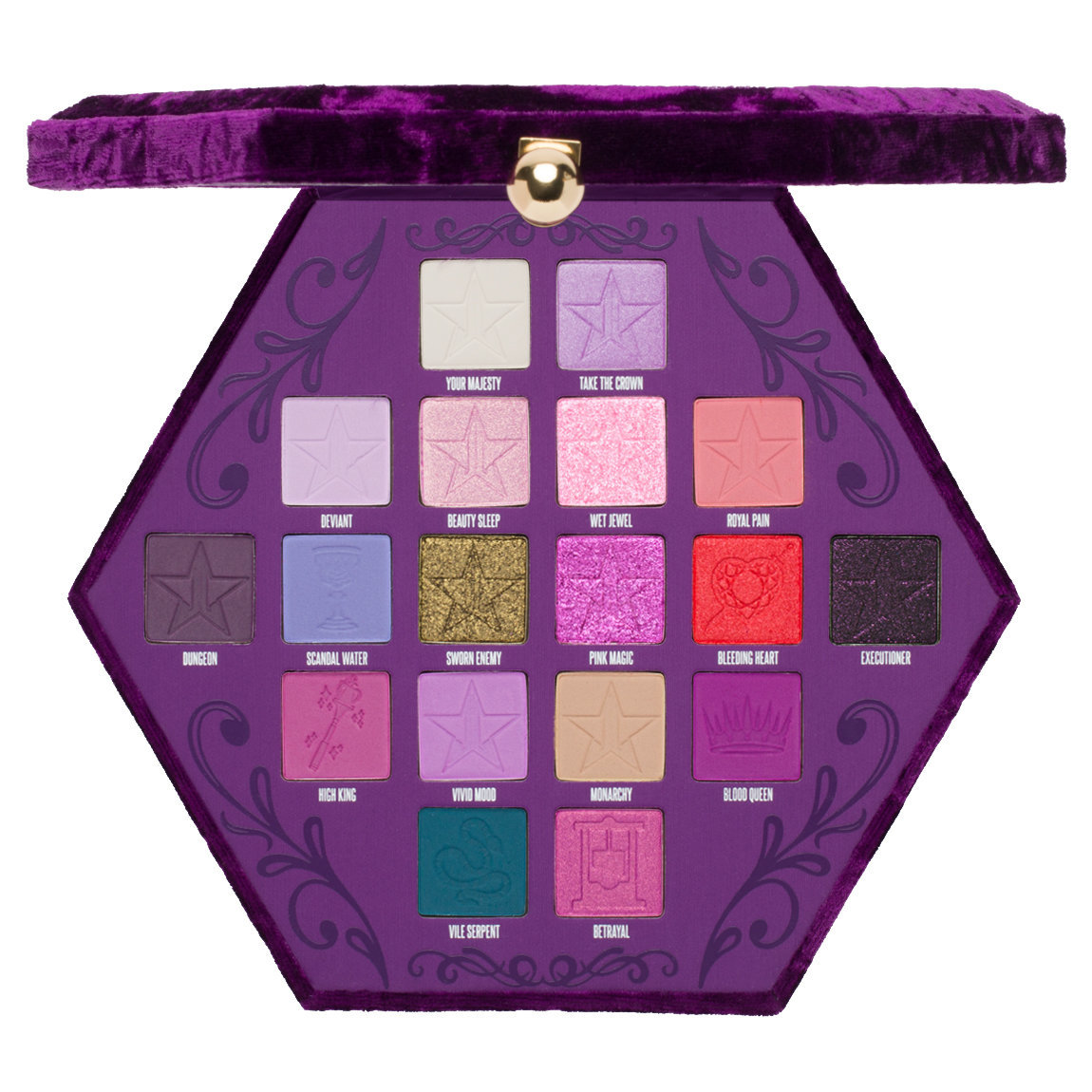 Get the Set

Product Description

About Jeffree Star Cosmetics Blood Lust Eyeshadow Palette

The follow-up to the internet-breaking Conspiracy Palette is here: introducing Jeffree Star Cosmetics Blood Lust Eyeshadow Palette! Inspired by love and passion, the palette includes 18 eclectic shades of royal purples, dainty pinks, and devious darks. Mixing a variety of finishes, the dramatic palette features Jeffree Star's iconic matte, metallic and duochrome formulas along with a brand new "extreme wet" finish that contains blinding pearls and liquid binders for an intensely sexy wet effect. The next-level shades are presented in a crushed velvet hexagon case with protective bumpers and a gold metal clasp for a mischievously royal finishing touch.

About the Shades

Your Majesty: Ivory bone with a matte finish
Take the Crown: Icy lavender with a metallic finish
Deviant: Light lavender with a matte finish
Beauty Sleep: Pink with gold reflects and a duochrome finish
Wet Jewel: Light pink with a wet metallic finish
Royal Pain: Red mauve with a matte finish
Dungeon: Dark plum with a matte finish
Scandal Water: Light violet with a matte finish
Sworn Enemy: Gold with green reflects and a duochrome finish
Pink Magic: Hot pink with a wet metallic finish
Bleeding Heart: Fire red with a metallic finish
Executioner: Black with purple-pink reflects and a duochrome finish
High King: Berry purple with a matte finish
Vivid Mood: Bright lavender with a matte finish
Monarchy: Muted brown with a matte finish
Blood Queen: Vibrant eggplant with a matte finish
Vile Serpent: Teal with a matte finish
Betrayal: Purple with gold reflects and a duochrome finish

Why It's Special

18 deeply pigmented purples, pinks, and darks to create extra depth and perfectly blended looks
Iconic matte, metallic, and duo-chrome eye shadow formulas known for high color payoff and long-lasting stay without fallout—plus a brand-new "extreme wet" finish only in this palette
Easy mixing, matching, and blending for next-level, show-stopping eye looks

How to Use

Using an eye shadow brush, apply to your eyelids with a sweeping or patting motion for bold, unique looks.

Other Details

Size: 18 x 1.5 g / 0.05 oz
Vegan
Cruelty-free

Ingredients

Shipping & Returns

Free Shipping

Beautylish offers free shipping to the U.S. on all orders $35 and up. For all other orders, we offer $5 flat rate shipping.

Fast Delivery

We ship using FedEx Express (2 business days from order shipment date) and FedEx Ground (3-5 business days from order shipment date).

World-Class Customer Care

Beautylish's team of makeup artists and beauty experts are here to help. If you need assistance in anything from color matching to your perfect skin care regimen, we're here to help.

Phone: 1-877-992-5474

Email: service@beautylish.com

Reviews

Wow!

Can't believe I got this so quickly, I literally ordered it yesterday when it launched! Anyway, the packaging is gorgeous, love the color story and the formulas. Have seen the amazing dramatic looks people who got it in or did on YouTube but I am into more wearable looks and am happy to say that although these shadows are pigmented, you can build them up- which is how I like apply eyeshadow, and they blend beautifully. The formulas were all very nice. Attaching a photo of me with an anyday look using this palette (I applied the shadow with my finger to the inner corner, the glitter under the eye is not fallout it's just me forgetting to tidy that area up)

A fantastic palette!

When J* first revealed inside the palette, I will say, I was a bit underwhelmed. So I decided to try to dupe the colors in the palette with single eyeshadows so I could play with it, and it started to grown on me. I also watched youtubers who had gotten the palette in PR, and I will say the colors looked so much better in their videos. May Jeffree just had some weird lighting in his reveal video. Anyways, I did buy the bundle here off of Beautylish, but I decided to go to the Morphe store in Chicago and pick up the palette, because I didn't want to wait! This was my first look with the palette. I'm still super new to makeup but I like what I did.

I didn't use all of the colors yet, but I will say, I had mega fallout with the black color Executioner. Be warned! Other than that, the colors I did use were all very good, nothing was patchy at all, and they all had excellent color payoffs. I barely had to dip into any of the colors and they went on very strong.

My duped palette contained colourpop and coastal scents single shadows. So while I don't think this is a purely purple palette, I do now have loads of complimentary colors including lots of darker purples to use with this palette!

Elizabeth H.

Feb 23, 2020

a purple lover's dream

Purple is my favorite color, so HOW could I say no to this? Not possible! This is my 2nd time purchasing Jeffree Star products and I have yet to be disappointed. I will say that ordering through Beautylish was ten times faster AND cheaper than ordering through JFC directly. 2 days from launch to get here with FREE shipping?? That's insane. Completely the opposite of the experience with JFC. Mind you my 1st experience was during the shane dawson launch craziness. I will say this...if you're a purpleholic you most likely will have similar colors already to these. I'm sort of disappointed that there isn't more darker bluish purples. Even Blood Queen looks a bit more reddish/pinkish purple than true royal purple. The pigment is INSANE for purple though...and just a warning...primer goes a long way with these. Otherwise you may have some staining. It's still a gorgeous palette and the metallic glittery shades like wet jewel are just a whole other level of amazing. But just giving my two cents in hopes of getting my more dark blue purples...affectionately known as "blurples" in a palette some day. Scandal water teased me....come on Jeffree...I know it's hard but I know you wanna give us some more blurples ;)

Amazing delivery! Bought this at release at 1pm EST and got it at 10am EST this morning, a day later! The only reason I'm giving this four stars is because the mirror was scratched to hell. 😔 Not a bitch deal because I use a different mirror to apply my makeup anyway, but it was a bummer to see it so torn up. Now onto the palette... amazing as always! I own 80% of Jeffree's palettes and nowadays I don't really use a lot of other brands besides my ride or dies I've had forever. Bleeding Heart and Executioner have to be my favorites. Once you see these colors in person, you realize just how perfect the color scheme really is and how well it works to create a purple fantasy! Amazing!!! 💜

One of a kind

The packaging on the palette is beyond amazing and out of this world! The color story is different and I very much like it. The pigmentation is up to Jeffree's standards which is really really good. But I also wanted to give a big thank you to Beautylish for making the transaction so easy and the shipping is awesome. I am one new happy beautylish customer and I will for sure be ordering again from beautylish!

So many options!!

Received this early through PR, but am buying a backup now on Beautylish. I adore purples and pinks, and have read that they are among some of the harder shades to produce..? The selection here is amazing! So many shades to fit your mood. The packaging is stunningly luxe, and makes me want to buy the full bundle. Quality is typical Jeffree Star; velvety smooth, easy to blend, and the pigment..!!! You get one swipe payoff, but can go in light enough to build up if you prefer a less dramatic effect. The mattes are awesome for a nice neutral work look. I just add a metallic on the center lid for going out later. Gorgeous palette, and so grateful to have cool colors like these for Spring. I love Executioner for a liner, but used a damp brush and found it crumbled a little once it dried.. The mirror on mine had a thin, plastic film, that you can pull off, to reveal the actual mirror.. Hope that helps. Also, loving the new "wet" shades. Very innovative.

Best formula and SHADE!!

First of all this pallet is amazing , I wish Jeffree would do a 'All metallic/shimmer' Pallet. I love his new formula! Its so icy! Even for a collectors item you dont wanna miss this!!!

So Beautiful!

I cant believe I ordered this palette yesterday afternoon and received it this morning. The tissue paper was so cool with all the grapgics! The beautiful purple velvet is stunning. The shadows are super pigmented and there was no fall out. Super excited to play with all the different shades. I love that I can do a dramatic look but also time it down for an everyday look. Super happy and can't wait for the next palette.