Honey Potion Renewing Antioxidant Hydration Mask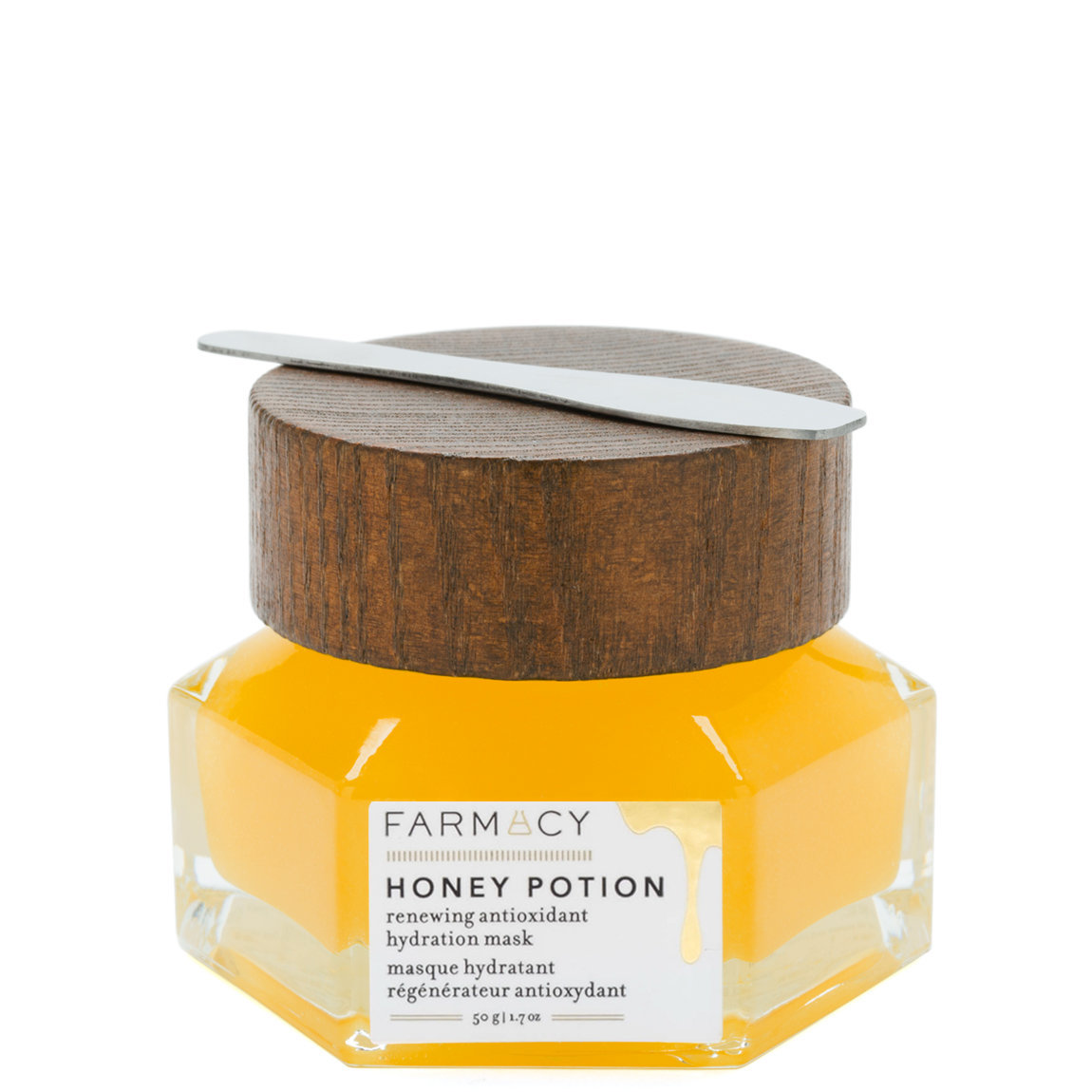 Farmacy
Honey Potion Renewing Antioxidant Hydration Mask
$38
Product Description

About Honey Potion Renewing Antioxidant Hydration Mask

Heal damage and reveal a fresh-faced glow with Farmacy's award-winning healing honey mask. Infused with antioxidant-rich Echinacea GreenEnvy™ honey, this intensely hydrating mask warms when activated to revitalize and moisturize skin.

Why It's Special

Locally sourced honey comes from Farmacy's farm in upstate New York, where happy, healthy bees pollinate Echinacea GreenEnvy™ flowers to infuse the honey with potent antioxidants.
Healing honey, soothing propolis, and amino acid-rich royal jelly nourish dry skin and give it the support it needs for a younger appearance and a dewy glow.
The clever magnetic spatula attaches to the top so you'll never lose it, ensuring hygienic and hassle-free application.

How to Use

Scoop out a generous amount with the magnetic spatula and apply to clean, toned skin. Spread a thick layer across your face from forehead to chin, avoiding eye and lip areas. Massage for 1-2 minutes as the mask warms and transforms into a rich, white cream. Leave on for 10-15 minutes before rinsing thoroughly.

Key Ingredients

Echinacea GreenEnvy™ Honey: Hydrates, purifies and heals with potent natural antioxidants.
Propolis + Royal Jelly: Supports skin renewal for a younger appearance.
Essential B Vitamins: Help to smooth dry skin and renew its look.
Glycerin: Attracts moisture to skin and hydrates for a soft, supple look and feel.

Other Details

Paraben-Free
Synthetic Fragrance-Free
Phthalate-Free
Mineral Oil-Free
Cruelty-Free

Ingredients

Shipping & Returns

Free Shipping

Beautylish offers free shipping to the U.S. on all orders $35 and up. For all other orders, we offer $5 flat rate shipping.

Fast Delivery

We ship using FedEx Express (2 business days from order shipment date) and FedEx Ground (3-5 business days from order shipment date).

Satisfaction Guaranteed

If you are less than completely satisfied with your purchase, you may return your order within 60 days (from the delivery date) for a full refund. We'll cover the cost of return shipping within the U.S..

World-Class Customer Care

Beautylish's team of makeup artists and beauty experts are here to help. If you need assistance in anything from color matching to your perfect skin care regimen, we're here to help.

Phone: 1-877-992-5474

Email: service@beautylish.com

Reviews

UNREAL HELP TO CHRONIC DRY SKIN AND ECZEMA!

My eczema has been flaring up all over my face recently. I've tried everything, including anything honey, anything hydrocortisone, anything oatmeal, anything with the word "eczema" on, balms, coconut oils, and even prescription gels and ointments and nothing works. It drives me mad because those flare ups are genuinely rashes on my face, and it appears like acne, even though the treatment is vastly different. Literally nothing worked and it gets really frustrating, obviously. I used this mask on my EXTREMELY dry, sensitive, flared-up skin and immediately everything calmed down. The next day everything looked better. Now I am using it daily to get rid of anything. Allergy season is showing up on my face so I have to kinda keep fighting it, but this thing, literally just 10-15 minutes a day of this thing, is all the magic I need. Now I know this review looks almost weird because of how much praise I'm giving but I'm not affiliated with anything and I bought it with my money just because lol. Proof that I love it is in this picture of me with the mask on. I am soooo obsessed I can't even begin to explain how obsessed I am. If you have eczema, dry skin, dry patches, stuff like that — this is crazy good. It feels warm and tingly but not in a bad way. It's so weird how amazing it is. I love masks and I legit never had a mask perform this well and this quickly. I'm absolutely shocked! SHOOOOCKED!

Magic in a Jar

First off, I love the spatula that magnetizes to the lid!

The thick gel mask turns into a white creamy texture after you message it into your face. After leaving on for 10 minutes, I felt a tingly heat sensation and it intensified a bit more when I rinsed it off. I found out afterwards that the sensation is normal due to the glycerin reaction that binds the moisture to your skin. For that reason, I would not recommend using an exfoliant beforehand.

The next day, I could instantly tell my dull skin was revitalized. While I initially tried this to help nourish my skin, I found that it also helped to reduce the small blemishes I had since honey is antibacterial too. Couldn't ask for more in a mask!

Amazing!!

This mask is in a league of its own! I have normal to dry skin which is also dehydrated. It's warming and turns white when massaged into the skin. Made my skin a lot brighter, and very moisturised. I have dry areas around my nose and chin. These areas were instantly hydrated using this mask. Can't wait to try more from this brand.

HOLY OMG!!!!!!

I have been having HORRIBLE hormonal /cystic acne issues lately. So much so, that I've made an appointment with a dermatologist next month. I've inherited this lovely skin condition I've suffered with my entire life called "Keratosis Pelaris" on top of that. They're tiny red bumps on the backs of my arms and on my face - so it looks like red, ruddy rough patches on my cheeks and arms. The only thing I've found that diminishes their appearance (somewhat) is tanning.

Since I dont want to mess up my skin with tanning anymore, I'm back to the drawing board. I digress, I needed a new face cleanser, and since I really enjoy their face cleansing balm and a sample of Farmacy honey salve I recieved from Beautylish I decided to pick up their honey bee cleanser in Sephora ....and serendipitously I recieved a sample of this honey mask from The Sephora girl. I think I got it last Sunday- so almost a week ago. After cleaning my face with the cleanser- I decided, what the hell, might as well try the mask since my face is such a wreck right now.

OH MY GOD!!!!!!

This Honey mask is a miracle. That's all i can say. I want to cry and hug the founder in personal gratitude for what a radical change this honey potion has made on my poor, cystic acne hormonally inflamed, ruddy cheeked face in less than a WEEK.

After I dug into what was left of the remains of the tiny sephora sample for every last drop that I could use, I checked the price online, and my face fell in disappointment because I'm flat broke right now. I could NOT wait another week for payday, or wait over the weekend to recieve the $38 size in the mail (sorry Beautylish)

This mask is *THAT* good. The only size my local Sephora has in store is the largest jar for $56+ tax. I've been using this twice a day btw so that's why I used up the sample so quickly.

Like a damn lunatic, or a junkie scraping up money for a fix 😂 I scraped up the change from my change drawer, returned a couple of recent "meh" makeup purchases to Macys and I MADE IT HAPPEN. $$$

I hate returning stuff too, Just to get this honey miracle Mask!!!

I'm not sure that it treated my acne.

It definitely reduced the redness and inflammation tho. HOWEVER the red ruddy patches on my skin are disappearing. For the first time in my life, my cheeks feel smooth, my face feels more hydrated and plump. The warm tingling almost burning feeling made me wary at first, but after the 3rd or 4th application I dont even notice it anymore.

I am so in love with this product, that after going a whole day and a half without it, I eagerly unwrapped the packaging and put it on in the car for my drive home (at 9pm. ) I use this twice a day- Once in the morning once at night. If my face (or wallet) tells me to chill out a bit I'll reduce it to once a day, or once every other day. Yes, $56 is expensive. I live in Seattle so the climate really does a number on my skin. If anyone reading this suffers from what I'm suffering from-give this a shot.

It's worth skipping out on another eyeshadow palette, or ....like one lipstick from Tom Ford😂 or a few lattes for a couple of weeks.

Take whatever else you have sitting in your Beautylish cart and press "save for later" and get this if you feel squeamish about the price. Ask for a sample. Their official website also has great deals too.

I cannot wait to be able to afford to add other products into my routine.

One thing is for sure- I cant ever imagine not having this honey potion mask on my vanity. The packaging is super cute bonus too. Farmacy could sell this in a plastic Garbage bag and I'd still buy it. I'm going to use it on the backs of my arms just to see what happens and I'll update my review. I cant think of enough glowing praises to write down. I definitely see why their "Best Of" limited edition packages with multiple products are always sold out. 11/10 for me.

Godsend for oily/acne-prone, but dehydrated skin

This product is AMAZING for my oily skin, yet dehydrated skin. I accidentally left this on my face for, oh I don't know, 8 hours? It left my skin suuuuuuuper hydrated. This didn't break me out and didn't clog my pores. I attack my face with retinols, AHA's and BHA's, and a derma roller, so this is a great nourishing treat for my skin. I wish they made this for my entire body!

Obsessed!

I have excessively oily skin, but sometimes feels super dehydrated. It's hard for me to find skin care products that hydrate while balancing oil production, but Honey Potion does the trick!

The consistency of the mask is thick and in between a wax and a gel. When you massage it into the skin, it turns into a creamy white texture and begins to feel warm. I really love how it doesn't turn dry or cause my skin to feel dry or tight while it's on.

Once I wash it off, my face feels brand new! Hydrated, brighter, and more radiant. Most masks cause my skin to purge, breakout, or react, but I've been using this mask for almost three weeks and I'm completely blemish free!

Not the best

I was truly expecting more from this product being that I love the makeup remover item I purchased. I also know that honey is very good for hydration However sadly this sort of burns and does not leave my face as hydrated as I was hoping. I love the packaging and that the scooper is magnetic. I will continue using if it gets better I will update this review. Try Pharmacy's makeup melter that is a great product

Farmacy is quickly becoming my favorite skincare brand, and with products like the Honey Potion it's no wonder why. The honey scent, the gorgeous consistency, the warming effect, and the almost instantaneous results are sure to win you over. My skin felt immediately and deeply nourished and balanced after using this mask and I can't wait to use it again.

Oh and shout out to the clever magnetic packaging- no more lost spatulas!

Warming, calming, and refreshing!

When I was massaging this product in for the recommended 1-2 minutes, I fell in love immediately after the warming sensation. I know I'm not the only one that likes to know that a mask is doing something good for me, and this one I could feel sinking into my skin and giving me that much needed hydration. I have been using peels, and overnight exfoliators so my skin is very dry, and even peeling in some spots. When I woke up this morning after doing this mask, my face looks plumper, no flaking, and I have an amazing glow. I'd recommend this to any skin type!